Sale: 366 / Rare Books including Marine Art, May 17./18. 2010 in Hamburg

Lot 543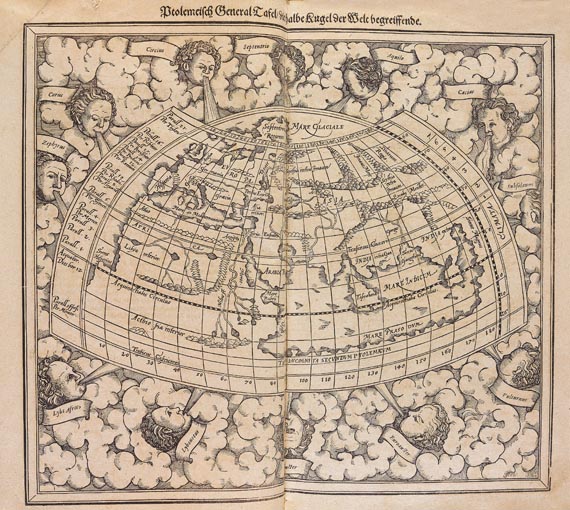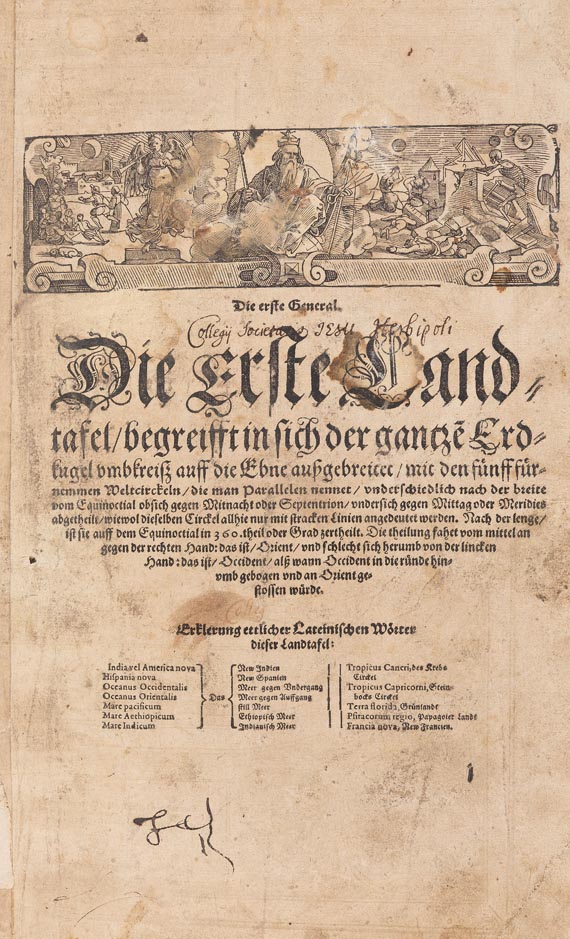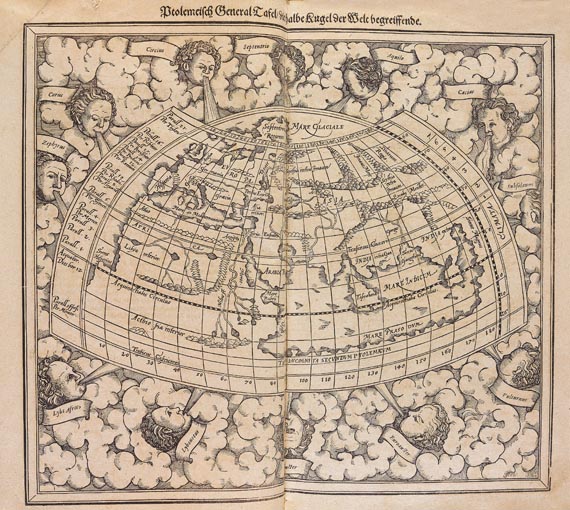 543
Cosmographey. Basel 1598.
Estimate:
€ 8,000 / $ 7,920
Sold:

€ 10,200 / $ 10,098
(incl. 20% surcharge)
[Münster, S., Cosmographey: das ist, Beschreibung aller Länder, Herrschafften und fürnemesten Stetten des gantzen Erdbodens, sampt ihren Gelegenheiten, Eygenschafften, Religion, Gebräuchen, Geschichten und Handtierungen .. Jetzt aber mit allerley Gedechtnuswirdigen Sachen bis ins 1598 jar gemehret ..]. Mit 26 doppeblattgr. Holzschnittkarten zu Beginn (Vortextkarten), 66 doppelblattgr. Ansichten, Karten und Pläne in Holzschnitt (st. 67), 2 großen gefalt. Holzschnitt-Panoramen sowie ca. 1075 Textholzschnitten, darunter ca. 100 kolor. Wappendarstellungen. [Basel, S. Henric-Petri 1598]. Blindgepr. Schweinsldr. d. Zt. über Holzdeckeln auf 6 Bünden, mit 2 Messingschließen. 52 Bll. (Vortextkarten), 1416 (st. 1461) röm. pag. S., 4 Bll.

Burmeister 83. - VD 16, M 6706. - BM STC, German Books S. 632. - Sabin 51395. - Eine der umfangreichsten Ausgaben von Sebastian Münsters berühmter Kosmographie. - Zu Beginn die beiden Karten der antiken und modernen Welt, des weiteren Holzschnittkarten von Europa, Asien, Afrika und Amerika, Deutschland, Frankreich, Italien, Polen, England, und anderen europäischen Ländern, Schwaben, Bayern, Franken, Pommern, Schlesien und 3 Rheinkarten. Die beiden Panoramen zeigen Heidelberg und Wien, unter den doppelseitigen Holzschnitten befinden sich Ansichten und Pläne von Jerusalem, Konstantinopel, Kairo, Rom, Florenz, Venedig, Neapel, Paris, Bordeaux, Lyon, London, Basel, Genf, Augsburg, Köln, Lübeck, Straßburg, Ulm etc. sowie die Darstellung mit den Seeungeheuern und "Meerwundern"; es fehlt die Ansicht von Frankfurt am Main. - Münsters Kosmographie, die 1544 erstmals erschien, ist eine umfassende Sammlung der geographischen Kenntnisse der damaligen Welt; sein Werk stützt sich auf Quellen namhafter Gelehrter, enthält jedoch auch Berichte über sagenhafte Tiere und Völker. Die Beschreibung der deutschen Länder, mit zahlr. weiteren Ansichten im Text, ist besonders ausführlich gehalten. - Fehlen zu Beginn 14 Bll. Text (darunter der Titel mit dem Holzschnittporträt), von denen jedoch 4 Bll. aus dem Register ans Ende des Buches verbunden sind; ferner fehlen die S. 957-962, am Ende S. 1419-34 u. 1439-61 und das letzte Blatt. - Gleichmäßig leicht gebräunt, die ersten 10 Bll. in der oberen Ecke mit Wasserrand, Karte der modernen Welt tlw. wasserfleckig und links oben mit Knickspuren, 1 Textbl. stark fleckig, die Panoramaansicht von Heidelberg im Falz mit 2 hinterl. kl. Fehlstellen, die Ansicht von Cusco unten m. kl. Eckabriß und Randeinriß, die Ansicht von Kairo an den Seitenrändern mit kl. Läsuren und Wasserflecken sowie die linke Bildhälfte verso mit leicht durchschlagenden Tintenspuren, Vorsätze erneuert. Einbd. etwas berieben.

One of the most comprehensive editions of the Cosmographey. 26 woodcut maps preceding the text, 2 folding panoramic woodcut views of Vienna and Heidelberg, 66 (of 67) double-page woodcut views, plans and illustrationes and about 1075 wood cuts in the text. Contemp. blindstamped pigskin over wooden boards with 2 brass clasps. - Throughout evenly slightly browned, the first 10 leaves waterstained in upper corner, the modern worldmap waterstained in places and with creases in upper left corner, the panoramic view of Heidelberg with two small rebacked defective spots in fold, the view of Cusco with torn-off corner and small marginal tear, the view of Cairo with fraying in margins and waterstaining, its left half with ink marks on verso, slightly shining through. Endpapers renewed. Binding somewhat rubbed.


543
Cosmographey. Basel 1598.
Estimate:
€ 8,000 / $ 7,920
Sold:

€ 10,200 / $ 10,098
(incl. 20% surcharge)
You might also be interested in
Sebastian Münster - lots sold by Ketterer Kunst