Sale: 405 / Rare Books, May 27./28. 2013 in Hamburg

Lot 446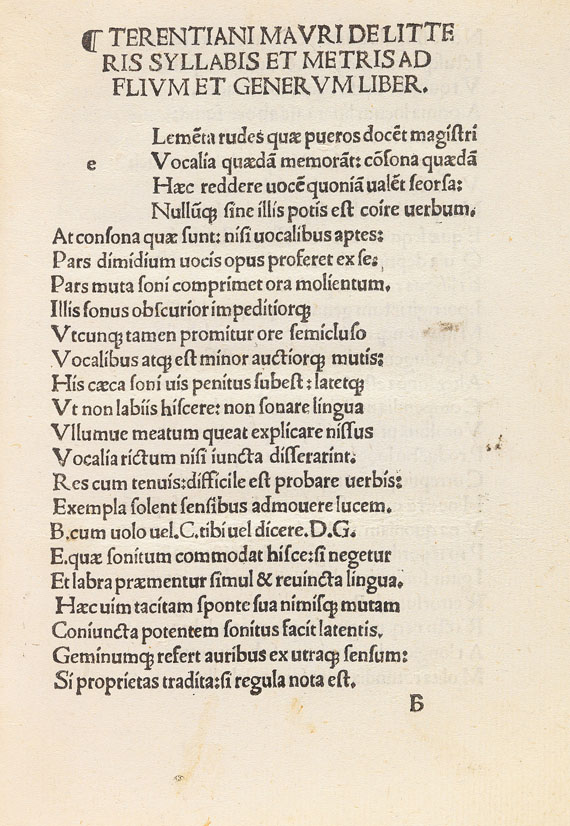 446
Litteris Syllabis (1503)
Estimate:
€ 1,000 / $ 1,140
Sold:

€ 960 / $ 1.094
(incl. 20% surcharge)
Lot description
Terentianus Maurus, De litteris syllabis et metris Horatii. Venedig, Giovanni Tacuino, 10. Juni 1503. Pp. d. 18. Jhs. 4to. 58 (st. 60) nn. Bll.

Äußerst seltene zweite Ausgabe , ein Nachdruck der ebenso seltenen Editio princeps von 1497 bei Scinzenzeler in Mailand. Kein Exemplar im JAP und im ABPC. - Hautpwerk des spätantiken Grammatikers Terentianus Maurus, verfaßt in den jeweils behandelten Versmaßen. Aus diesem - nur unvollständig überlieferten - Lehrgedicht stammen die berühmten Worte Habent sua fata libelli , aufgrund deren Terentianus Maurus bis heute zitiert wird. "Die in der Spätantike viel benutzten (grammatischen) Gedichte waren im Mittelalter verschollen und sind erst 1493 in einer Bobienser Handschrift wiederentdeckt worden, die - ihrerseits verloren - der editio princeps zugrunde liegt" (Kl. Pauly V, 591). - Fehlen die Bll. P1 und P4 (letzte Bl. mit der Druckermarke), beide unauffällig auf altem Papier faksimiliert. Im ob. Bundsteg durchgeh. wasserrandig, wenige Bll. am Ende leicht fleckig, letzte 2 Bll. (inkl. Faks.) mit Randläsur im Kopfsteg; Vorsätze erneuert. Pp. etw. fleckig.

Edit 16, CNCE 67433. - BM STC, Italian Books S. 663. - Schweiger II, 1046. - Kristeller 326 (Druckermarke). - Nicht bei Adams.

Extremeley scarce second edition, just as rare as the editio princeps from 1497. Not in ABPC and JAP. 18th cent. boards. - 58 (of 60) nn. leaves, lacking P1 and P4 (with device), both supplied in well-done facsimiles on old paper. Some dampstaining to inner upper margin, last leaves with slight spotting, last 2 leaves (incl. facs.) with paper loss in upper margin.


446
Litteris Syllabis (1503)
Estimate:
€ 1,000 / $ 1,140
Sold:

€ 960 / $ 1.094
(incl. 20% surcharge)
You might also be interested in