Sale: 366 / Rare Books including Marine Art, May 17./18. 2010 in Hamburg

Lot 41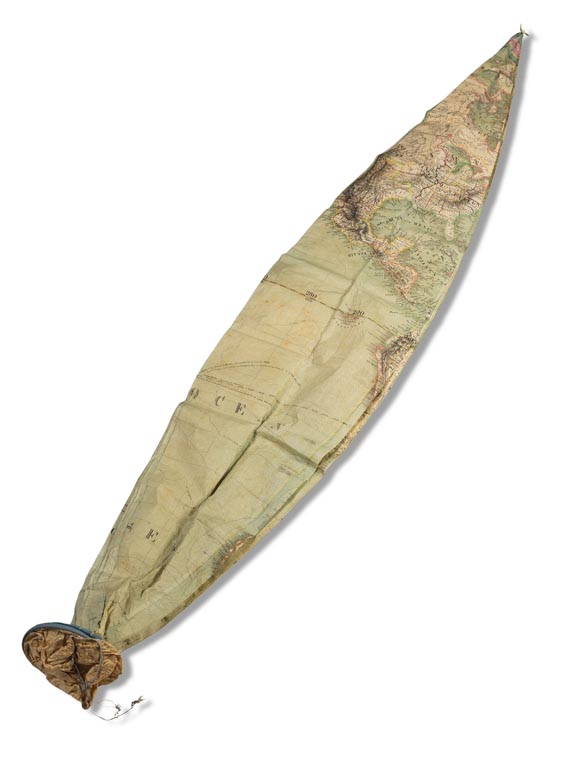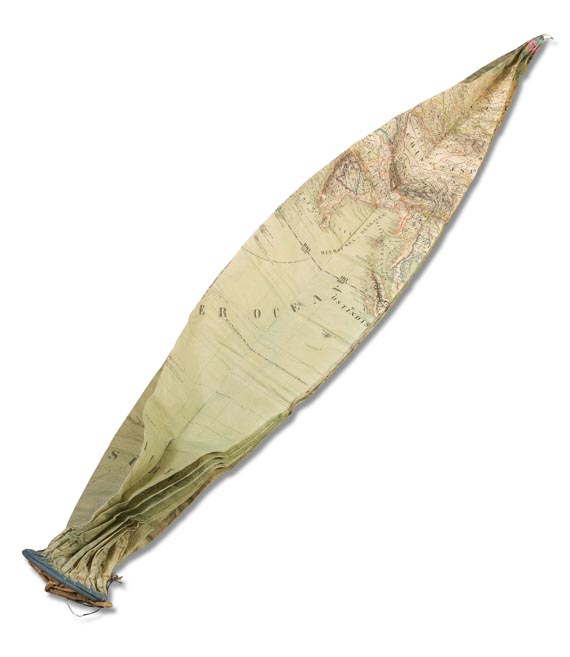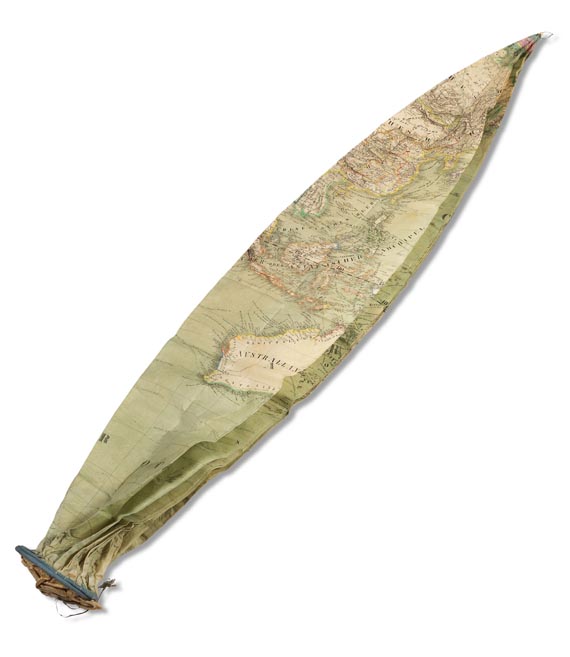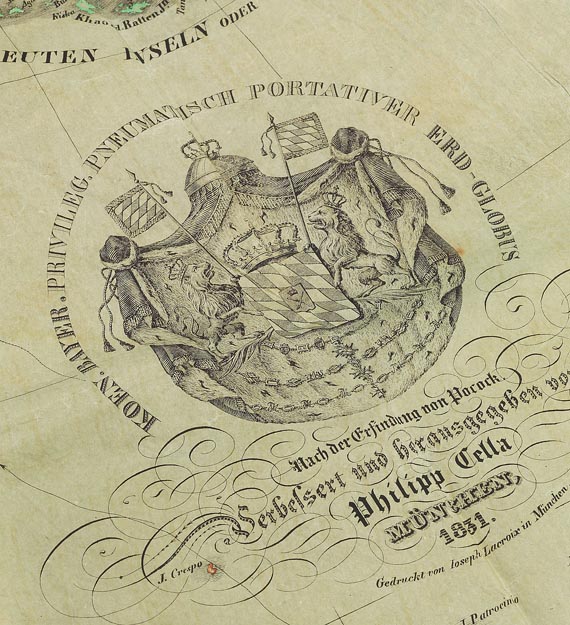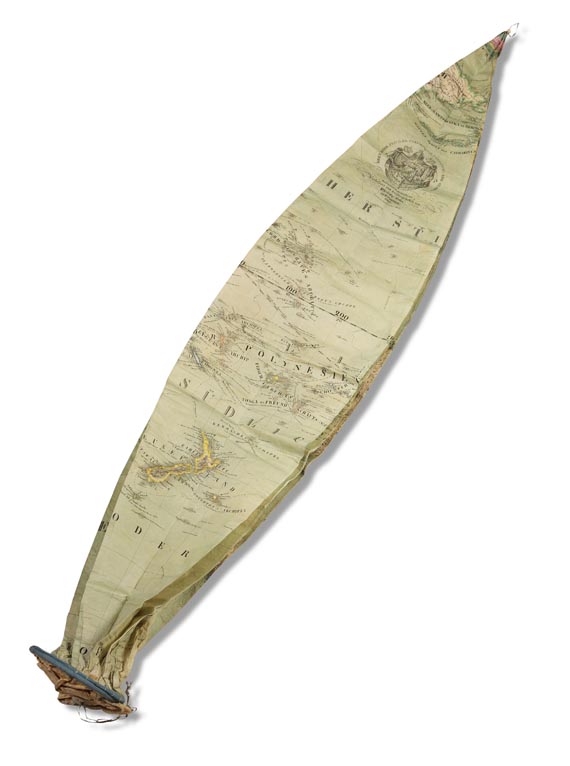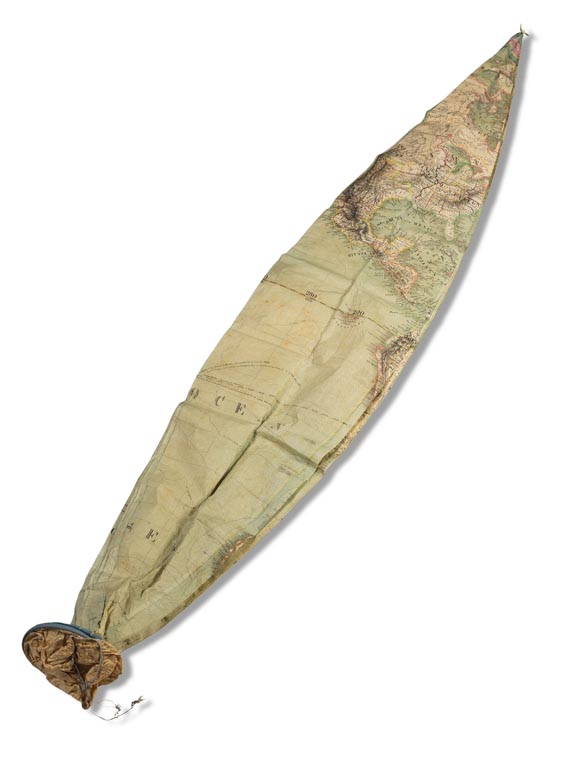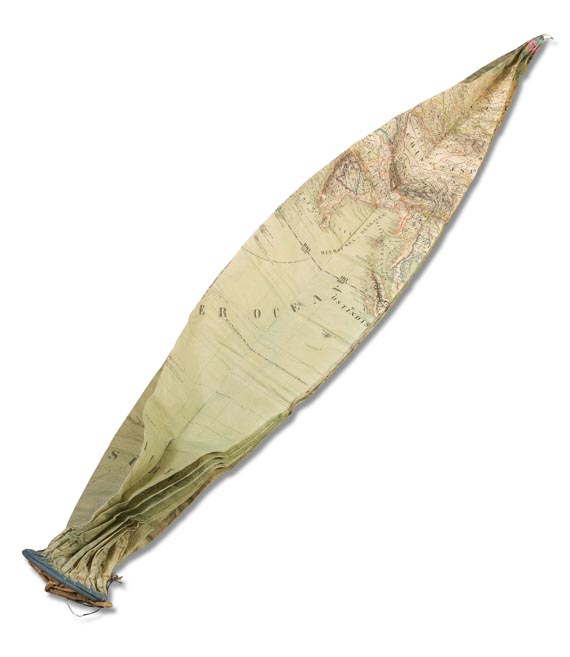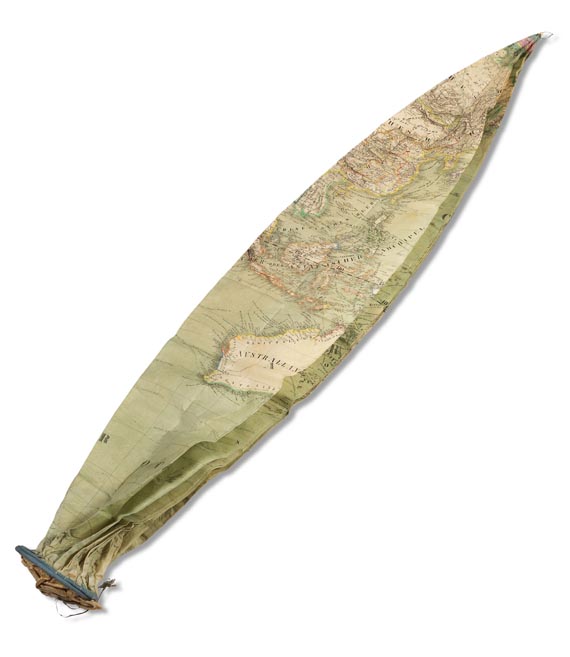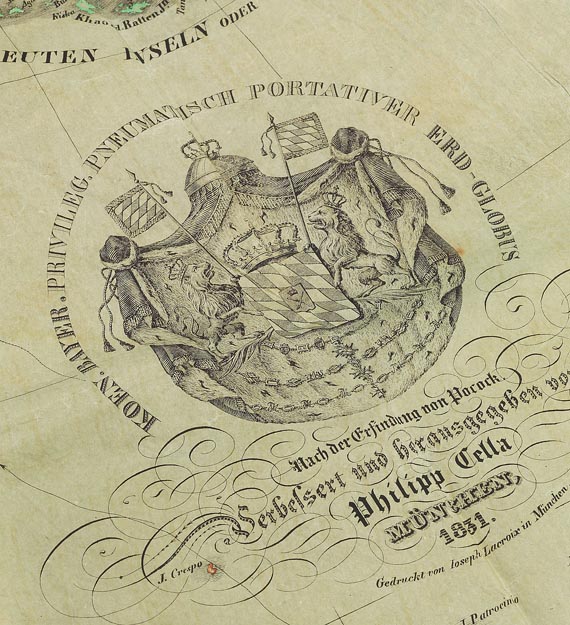 41
Cella, Ph., Pneumat. portativer Erdglobus. In Schachtel. 1831.
Estimate:
€ 8,000 / $ 7,920
Sold:

€ 9,000 / $ 8,910
(incl. 20% surcharge)
Globus. - Koen. Bayer. privileg. pneumatisch portativer Erd-Globus. Nach Erfindung von Pocock verbessert und herausgegeben von Ph. Cella. Grenzkolor. Lithographie auf engl. Seidenpapier in 12 mont. Segmenten und mit Nordpolkappe, mit Öffnung (Durchm. 12,5 cm) und Ventil-Papierschlauch am Südpol. München, J. Lacroix 1831. Durchmesser ca. 115 cm. Gefaltet in Orig.-Pp.-Schachtel mit mont. gest. Deckelschild mit Wappen und 2 kl. Globen. - Beilieg.: 1 Textheft Erläuterungen zu dem .. Erdglobus von A. Klein. München 1831. OBrosch. 8vo. 1 Bl., 15 S. - 1 Maßband für Breiten- und Längengrade, am Nordpol applizierbar. - 1 kl. Pp.-Verschlußkappe.

Fauser, Globen 68. - Engelmann I, 68. - Tooley, Mapmakers I, 249. - Sehr seltener aufblasbarer Papierglobus nach G. Pocock. Ph. Cella (geb. 1790), in Nürnberg im kaufmännischen Beruf tätig, hielt sich in dieser Eigenschaft 16 Jahre in England auf, u. a. in Bristol, wo er Pococks aufblasbaren Globus kennenlernte und - nach eigenen Angaben - verbesserte. 1830 erhielt er das kgl. bayer. Druckprivileg. - Der Globus verzeichnet u. a. die Reisen von 11 Entdeckern, darunter Cook 1771, 1772 und 1778, Clerk 1779 und Gore 1780, außerdem ist der Ort der Meuterei von der Bounty 1788 einzeichnet. Den Nordpol umkreist ein Reifen mit den Sternzeichen, im Titel befindet sich eine große Wappendarstellung. - Der Globus wurde ursprünglich entweder aufgehängt u. mithilfe eines Blasebalgs aufgeblasen, oder durch eine Prozedur in Form gebracht, die durchaus einiges Geschick erforderte: "Man nimmt den Globus .. beym Reife, der die Oeffnung am Südpole bildet, und schüttelt ihn seiner ganzen Länge nach auseinander. Nun hält man den Reif vertikal und schwingt mit der rechten Hand gegen die linke, den Globus horizontal durch die Luft, ergreift den Reif sogleich mit der linken Hand und schwingt ihn ebenso wieder zurück usw., wodurch die Luft in die Oeffnung eindringt und die Falten ausdehnen. Dieses horizontale Durchführen durch die Luft .. kann fünf bis sechsmal wiederholt werden, bis man endlich .. dem Globus so einen geschickten Schwung zu geben sucht, daß .. die Oeffnung zu Boden fällt, und das Knöpfchen am Nordpole oben sich befindet. Bei diesem Knöpfchen hebt man jetzt den Globus .. läßt ihn fallen, hebt ihn wieder u. s. f. Bei mehrmaliger Wiederholung pumpt sich die Luft durch die Oeffnung von selbst nach und nach dergestalt ein, daß der Globus gefüllt auf dem Boden steht." (Erläuterungen, S. 3-4). Auch in nicht aufgeblasenem Zustand läßt sich der Globus verwenden, indem man ihn in der Länge auslegt und die einzelnen Segmente wie Buchseiten umblättert. Das Maßband kann am Nordpol angebracht werden, wodurch es den Meridianring ersetzt. - Zustand: Fehlt der Blasebalg. Nur stellenw. leicht gebräunt od. stockfleckig, mit fachmännisch restaur. Hakenriß von ca. 20 cm Gesamtlänge südlich von Australien; der Ventilschlauch mit einem kl. hinterl. Einriß am Ring und einzelnen kl. Wurmlöchern. In dieser Erhaltung sehr seltenes Exemplar des ungewöhnlichen Globus.

Rare inflatable globe by Ph. Cella after E. Pocock. Lithograph with outline color on English silkpaper, in 12 mounted gores and 1 North Pole calotte, the South Pole with mounted tube to blow the air into the globe. In orig. cardboard box incl. an instruction book (by A. Klein), tape measure and small cap. - Without bellows. Only partly stained, with one longer tear of about 20 cm in the area south of Australia, skillfully restored.


41
Cella, Ph., Pneumat. portativer Erdglobus. In Schachtel. 1831.
Estimate:
€ 8,000 / $ 7,920
Sold:

€ 9,000 / $ 8,910
(incl. 20% surcharge)
You might also be interested in
Globus - lots sold by Ketterer Kunst