Sale: 373 / Rare Books including Marine Art, Nov. 22. 2010 in Hamburg

Lot 2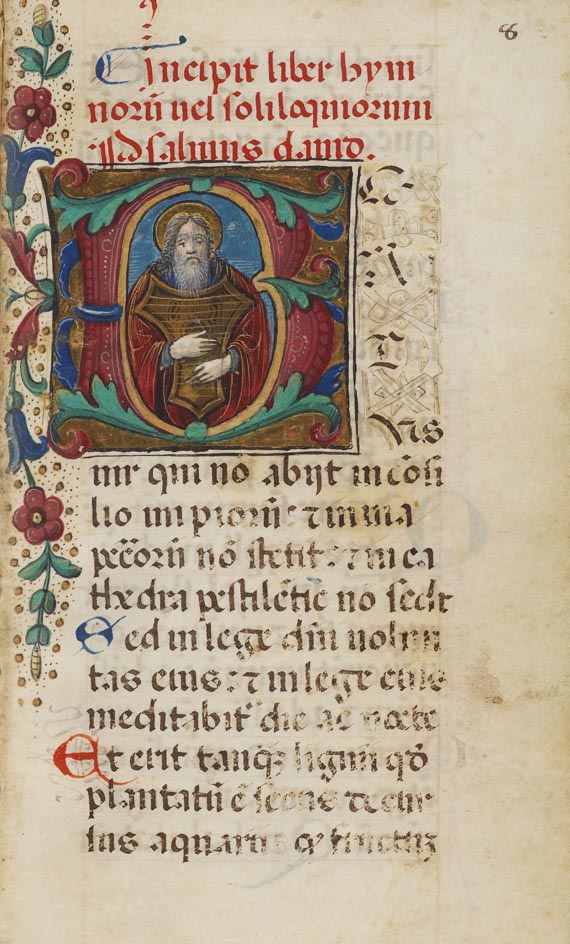 2
Psalterium. Um 1500.
Estimate:
€ 8,500 / $ 10,115
Sold:

€ 8,400 / $ 9.996
(incl. 20% surcharge)
Lot description
Psalterium. - Lateinische Handschrift auf Pergament für den Gebrauch in Italien. Norditalien, spätes 15. Jh. 194 Bll. (st. 198), das erste unbeschrieben. Blattgr. 13,8 : 7,7 cm, Schriftspiegel ca. 11 : 5 cm. Späte Textura in brauner Tinte, mit durchgehend in Rot und Blau eingemalten Lombarden, 20 Zeilen, schwach regliert. Mit 1 großen historisierten Initiale in Farben und Blattgold mit farb. Randbordüre aus Blättern, Blüten und Goldpunkten, ferner mit zahlr. ein- oder zweizeiligen Initialen in Rot oder Blau mit auslaufendem Federwerk (tls. über die ganze Seitenhöhe). - Brauner Maroquinband Mitte des 16. Jhs. über Holzdeckeln mit reicher Rücken- und Deckelvergoldung im Grolier-Stil : Rücken auf 4 Bünden mit Blatt- und Blütenstempeln in den Feldern; Deckel von Tripelfileten eingefaßt, Innenfeld mit symmetrisch angelegter Kartusche aus Doppelfileten, Eckfelder mit schraffierten Blattranken, Innenfeld mit ungefüllten Blattornamenten um ein leer belassenes Medaillion im Zentrum; Stehkantenfilete und Ganzgoldschnitt.

Schönes und ungewöhnlich kleinformatiges Psalterium mit Litanei und Totenoffizium, in einem prachtvollen italienischen oder französischen Renaissance-Einband (vgl. ein ähnliches Beispiel bei Goldschmitt, Gothic & Renaissance Bookbindings, Nr. 199, Taf. LXXIV). Der Psalter dürfte nach Duktus und Ausstattung in Italien entstanden sein, möglicherweise in Florenz (Anrufungen des Hl. Zenobius und Antoninus). Die prächtige Initiale zu Beginn (etwa 4 : 4 cm) zeigt König David mit der Harfe und scheint ebenfalls eine florentinische Arbeit zu sein, möglicherweise von Gherardo del Fora (vgl. Garzelli, Miniatura Fiorentina del Rinascimento, Bd. II, Abb. 924 und 1077). Vorgebunden sind 4 Bll. mit lateinischen Gebeten von einer anderen zeitgenöss. Hand, die letzten 6 Bll. (Litanei) ebenfalls in etw. abweichendem Schriftduktus, wohl der Schreiber in einem späteren Lebensalter. - Nahezu vollständige Handschrift in Lagen zu 8 und 10 Bll., mit vertikal geschriebenen Reklamanten und Pagination von spät. Hand (diese tls. fehlerhaft). Es fehlen die ersten 2 Bll. der vierten Lage, das 8. Bl. der sechsten Lage sowie das 9. Bl. der 15. Lage. - Insges. 13 Bll. mit Randabschnitt (vereinz. bis in den Text). Wenige Bll. etw. abgegriffen, sonst sauber. Vordergelenk sowie Seitenkante an den ehemaligen Schließen-Ansätzen unauffällig restauriert. Insgesamt sehr gut erhalten.

Fine and unusually small Northern Italian late 15th century psaltery with litany and liturgy, in a brown mid 16th century morocco binding with rich gilt tooling on boards and spine in Grolier style: spine on 4 bands with leaf and blossom stamps in fields; front board with triple fillet border, center panel with symmetric cartouche of double fillets, corner panels with hatched tendrils, corner panel with blank ornamental leaves around a blank medallion in center and gilt edges. 194 ll. (of 198), the first blank. Size of sheet 13,8 : 7,7 cm, text area ca. 11 : 5 cm. Late textura in brown ink, with lombards in red and blue drawn in all the way through, 20 lines. With 1 large historicized initial in colors and sheet gold with border in colors of leaves, blossoms and gilt dots, also with numerous initials in red or blue in one or two lines with penwork decoration extending into the margin. - Together 12 ll. with marginal cutout, partly barely affecting printed matter in places. Few ll. somewhat worn out, else clean. Front joint and side edge inconspicuously restored at lip of former clasps. All in all very well-preserved.


2
Psalterium. Um 1500.
Estimate:
€ 8,500 / $ 10,115
Sold:

€ 8,400 / $ 9.996
(incl. 20% surcharge)
More Images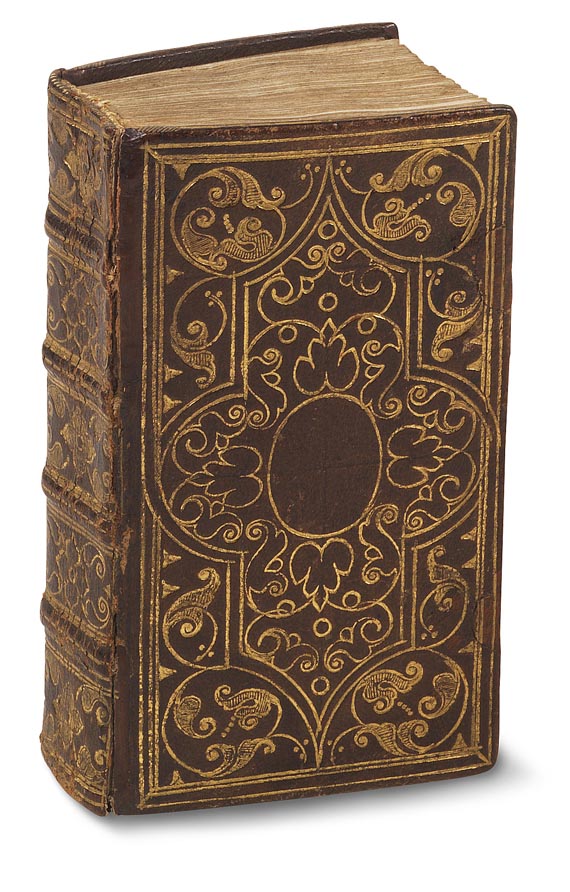 Cover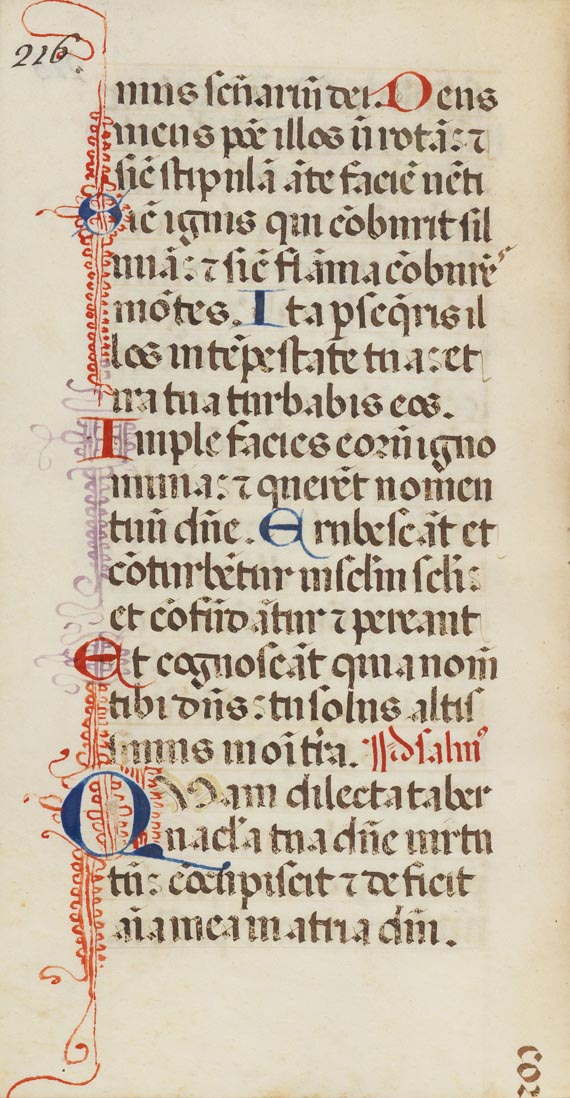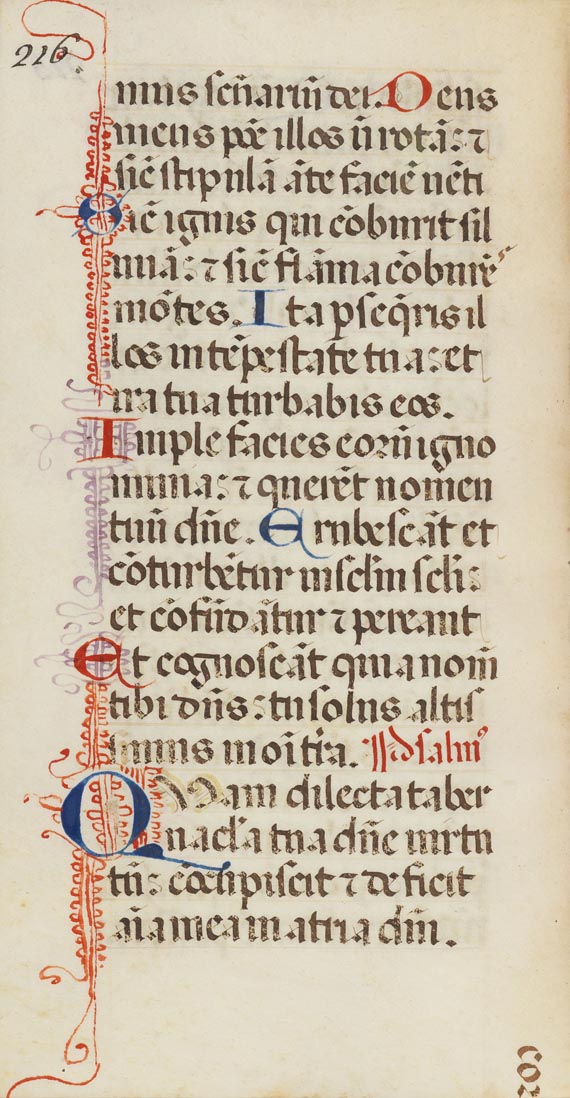 Manuskripte - lots sold by Ketterer Kunst