Sale: 379 / Rare Books, May 23. 2011 in Hamburg

Lot 109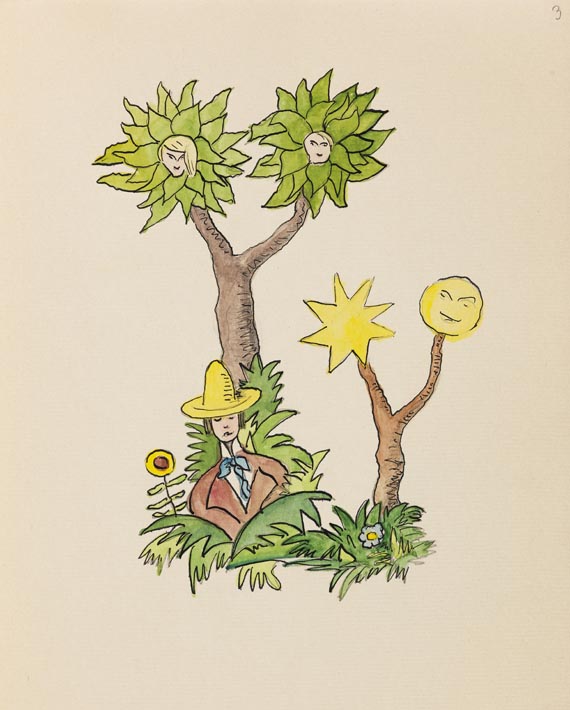 109
Piktors Verwandlungen. Manuskript mit Aquarellen., 1910.
Estimate:
€ 10,000 / $ 11,000
Sold:

€ 13,200 / $ 14,520
(incl. 20% surcharge)
Hesse, Hermann. Piktor's Verwandlungen. Eigh. Manuskript . [Montagnola, um 1945]. Mit aquarellierter Titelkartusche, aquarellierter Kartusche mit Verfasserangabe "Geschrieben und geschmückt vom Verfasser Herman(n) Hesse" sowie 13 aquarellierten Federzeichnungen (davon 1 blattgroß). 9 Doppelblätter auf Bütten, davon 18 S. beschrieben. Mit Lederband und Kordel geheftet in Pergament-Umschlag d. Zt. 23,4 : 18 cm.

Sehr schönes und prachtvoll erhaltenes Manuskript des bekannten Märchens, das Hesse für Freunde und Verehrer in immer neuen Variationen sorgfältig abschrieb und reizvoll illustrierte. Entstanden 1922 für seine zweite Ehefrau Ruth Wenger, erschien es erst 1954 als Faksimileausgabe. Hesse selbst schreibt im Nachwort: "Bis heute war es nur als Handschrift käuflich. Ich habe es in früheren Jahren manche Male abgeschrieben und Bildchen dazu gemalt, jedesmal etwas andere. Zusammen mit den Zwölf Gedichten , die ich noch heute gelegentlich mit der Hand schreibe und mit kleinen Landschaften schmücke, hat es mir viele Jahre ermöglicht, Freunden in der Not zu helfen, hat aber gelegentlich in Zeiten eigener Bedrängnis auch mir selbst als eine kleine Erwerbsquelle dienen müssen .. Jetzt, wo ich den Piktor mit eigener Hand nicht mehr schreiben und illustrieren kann, habe ich nichts mehr dagegen, ihn vervielfältigt zu sehen." - Laut einem beiliegenden Brief aus dem Besitz des Juristen und Bankiers Alfred von Schulthess, Neffe des bekannten Sammlers und Hesse-Freundes Hans C. Bodmer. Schulthess berichtet, daß er Hesse als junger Student in den vierziger Jahren besucht und dabei das Manuskript käuflich erworben habe. - Nach Mileck fertigte Hesse über vierzig verschiedene Exemplare an, die meisten handschriftlich (vgl. Mileck II, 111, A 2).

Very nice and fantastically preserved manuscript of the famous fairy tale that Hesse carefully copied and illustrated by hand for friends. With title cartouche in watercolors, cartouche in watercolors with indications on author, as well as 13 feather drawings with watercolors (of which 1 full-page). 9 double sheets on laid paper, of which 18 pp. with writing. Bound with leather strap and cord in contemp. vellum wrapper.


109
Piktors Verwandlungen. Manuskript mit Aquarellen., 1910.
Estimate:
€ 10,000 / $ 11,000
Sold:

€ 13,200 / $ 14,520
(incl. 20% surcharge)
You might also be interested in
Hermann Hesse - lots sold by Ketterer Kunst