Sale: 405 / Rare Books, May 27./28. 2013 in Hamburg

Lot 95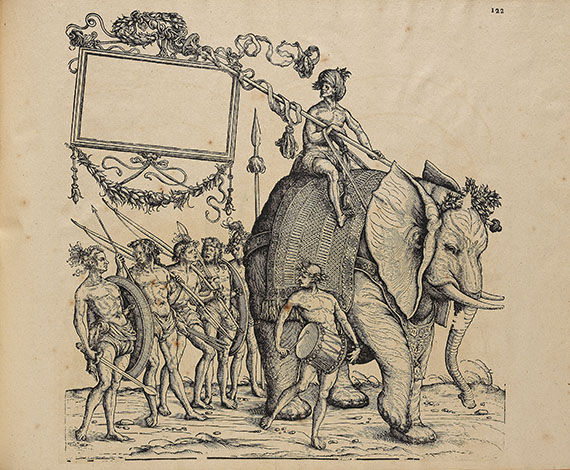 95
Maximilian I., Triumph. 1796
Estimate:
€ 20,000 / $ 22,800
Sold:

€ 19,200 / $ 21.887
(incl. 20% surcharge)
Lot description
Burgkmair, H., Kaiser Maximilians I. Triumph. Le triomphe de l'empereur Maximilien I.. accompagnées de l'ancienne description dictée par l'empereur à son secrétaire Marc Treitzsaurwein. Mit 135 Holzschnitt-Tafeln . Wien, M. A. Schmidt 1796. Roter Halbmaroquinband d. 19. Jhs. mit Carrée-Vergoldung und Fleur-de-Lis-Stempeln. 41 : 53 cm. Titelbl., 30 S., 1 Bl.

Von den Originalstöcken gedruckte Ausgabe der monumentalen Holzschnitt-Folge , nach dem Theuerdank, dem Weißkunig und der Ehrenpforte das letzte der großen Tafelwerke, mit dem Maximilian sich selbst und seine Taten nach altrömischem Vorbild in Szene setzte. Obschon der Triumphzug rein imaginär ist und in der Wirklichkeit nicht stattgefunden hat, sind die prächtigen Holzschnitte von großer kunst- und kulturgeschichtlicher Bedeutung, nicht zuletzt aufgrund der prächtigen Darstellungen von zeitgenöss. Kostümen, Rüstungen, Waffen, Standarten, Musikinstrumenten etc. "The most grandiloquent expression of the art of engraving" (D. Bliss, History of Wood-Engraving, S. 126).
Von den ursprünglich geplanten 210 Illustrationen waren beim Tod Maximilians 137 fertiggestellt. Die Arbeit wurde zunächst beseitegelegt, 1526 erfolgte im Auftrag seines Enkels Erzherzog Ferdinand ein erster Abdruck der Holzstöcke. Erst 1777 erschien eine zweite Ausgabe nach den in Ambras und Graz wiederentdeckten Stöcken, und 1796 folgte die vorliegende dritte Ausgabe , die erstmals alle überkommenen Holzstöcke vereinigt und darüberhinaus das detaillierte Triumphzug-Programm von Treitzsaurwein nach den Vorgaben Maximilians enthält (zweisprachig in Deutsch und Französisch). "Die Schriftbänder teilweise ausgeschnitten, daher weiß. Von [Dürers] Burgundischer Heirat nur mehr das Gespann abgedruckt" (Meder).
Albrecht Altdorfer und seine Werkstatt hatte die Folge nach genauen Anweisungen Maximilians zunächst in Miniaturmalerei auf Pergament entworfen, nach denen dann Burgkmair und die namhaftesten Künstler die Holzschnitte zeichneten. Neben Burgkmair, von dem laut Meder 66 Holzschnitte stammen, sind dies Altdorfer, Beck, Springinklee, Schäufelein, Huber und auch Dürer . Von ihm stammt der Holzschnitt Kleiner Triumph Wagen , der die Hochzeit Maximilians mit Maria von Burgund verherrlicht und ursprünglich aus zwei Blöcken bestand, von denen jedoch nur der zweite mit dem Gespann erhalten blieb. Er bildet als die 135. Tafel den Abschluß der großartigen Folge.
Zustand: Mit minimaler gleichmäßiger Papierbräunung und einzelnen kl. Stockflecken, einige der größeren Holzschnitte wie üblich knapprandig oder ganz leicht angeschnitten. Einbd. etw. berieben. Gest. Wappen-Exlibris. Insgesamt sehr gut erhaltenes Exemplar mit klaren und kräftigen Abdrucken.

Hollstein V, 120. - Dodgson II, 96ff. - Lipperheide Sba 2. - Thieme/B. V, 255. - Burkhard, Burgkmair 126/III. - Meder, Dürer S. 223f. - Mayer, Wien II, 62.

Fine copy of the monumental woodcut series by Burgkmair, Altdorfer, Beck, Schäufelein, Springinklee, Dürer and others. With 135 magnificent woodcuts printed from the original 16th century blocks. Third edition with cuts of all the preserved blocks and with the full description of the Triumphzug by Treitzsaurwein after Maximilian himself, printed in German and French. Maximilian, conscious of the grandeur of the Habsburgs but constantly short of money, had no funds to hold a triumphal procession. His place in the imperial Roman tradition was nevertheless guaranteed through the truly monumental scale of these purley imaginary compositions on paper. - Bound in 19th cent. red morocco, spine with gilt title and fleur-de-lis stamps. - Minimal even browning and some single foxing stains, few of the larger woodcuts as usual slightly trimmed. Pastedown with ex-libris. Binding somewhat rubbed. In general well-preserved copy with clear and strong impressions.


95
Maximilian I., Triumph. 1796
Estimate:
€ 20,000 / $ 22,800
Sold:

€ 19,200 / $ 21.887
(incl. 20% surcharge)
More Images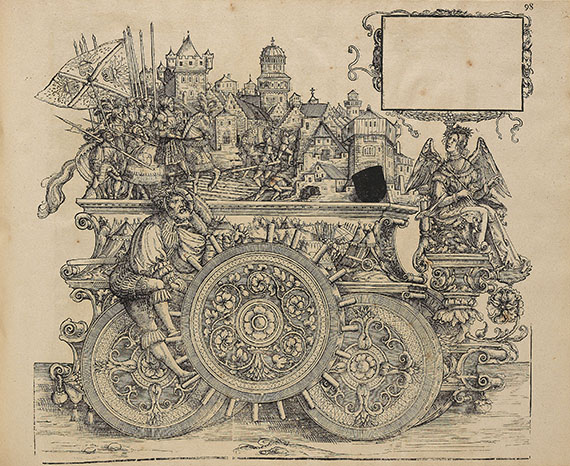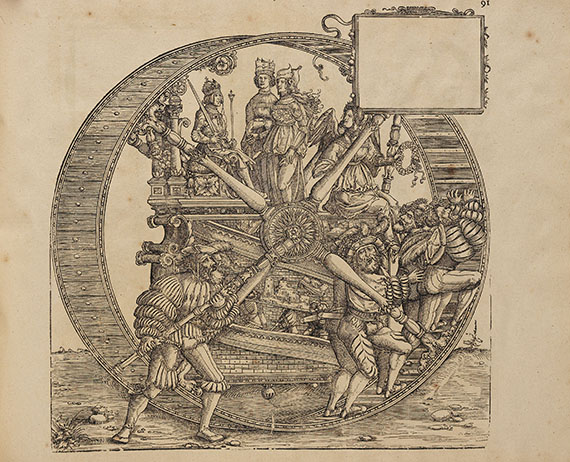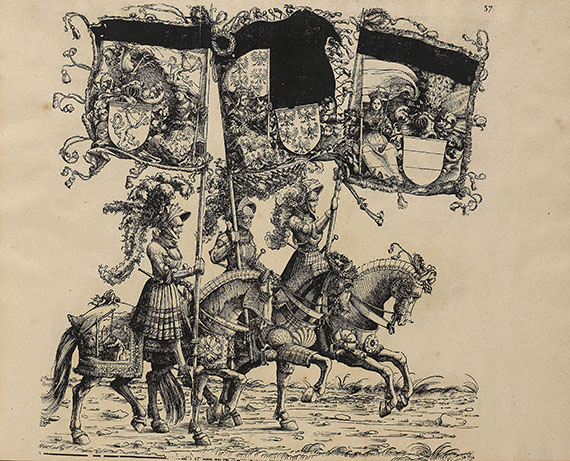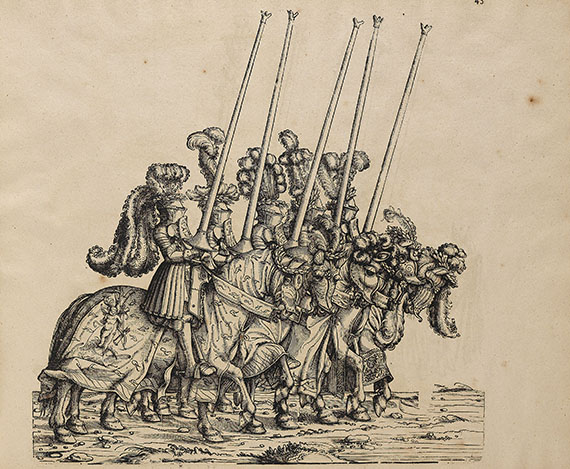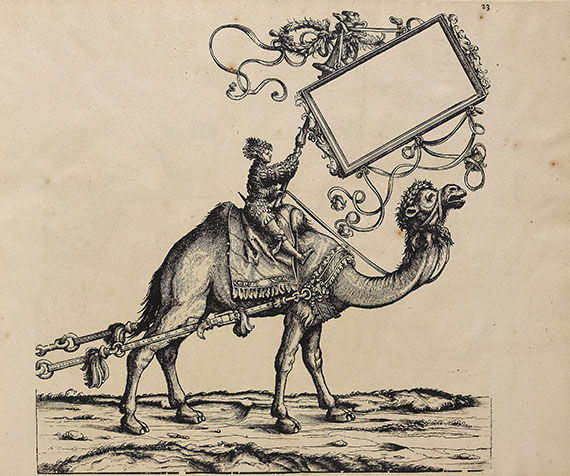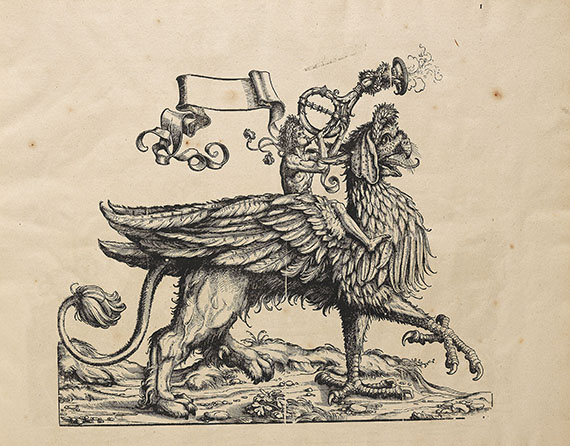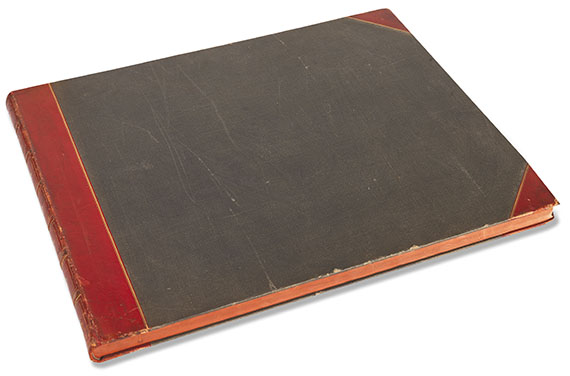 You might also be interested in

Hans Burgkmair - lots sold by Ketterer Kunst