Sale: 379 / Rare Books, May 23. 2011 in Hamburg

Lot 100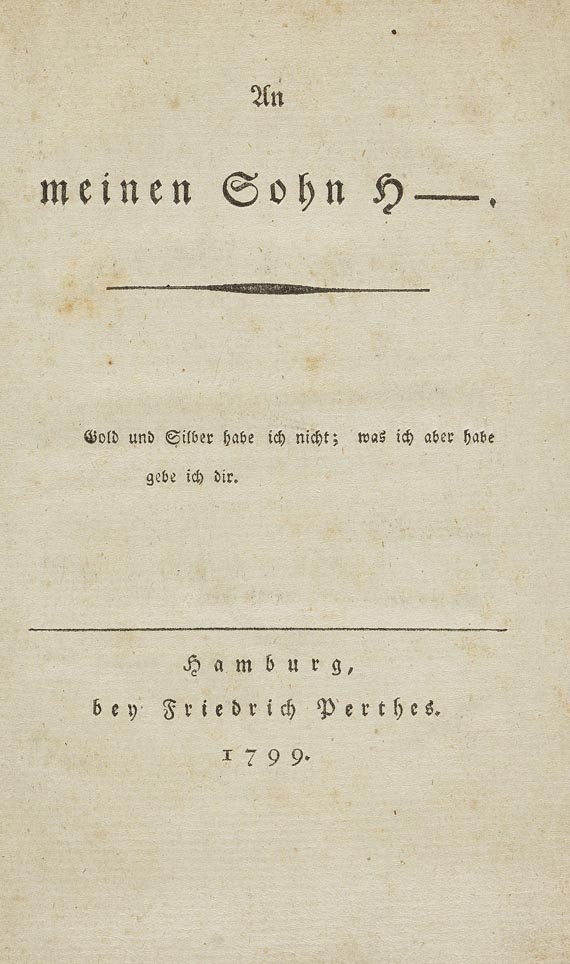 100
An meinen Sohn H-. 1799
Estimate:
€ 1,200 / $ 1,320
Sold:

€ 1,200 / $ 1,320
(incl. 20% surcharge)
[Claudius, M.], An meinen Sohn H-. Hamburg, Fr. Perthes 1799. Orig.-Heftstreifen. Kl.-8vo. 16 S.

Goedeke IV/1, 981, 30. - Borst 834. - Wilpert/G. 32. - Erste Ausgabe der berühmten Schrift von Matthias Claudius , erschien ohne Verfasserangabe als Brief und Weggeleit an seinen Sohn Hans, als dieser mit 16 Jahren sein Elternhaus verließ, um in Hamburg eine kaufmännische Lehre anzutreten. Die Schrift stellt eine Quintessenz seiner persönlichen Einstellungen und Überzeugungen dar, die der Vater seinem Sohn mit auf den Lebensweg gibt. - "Hänge dein Herz an kein vergänglich Ding .. Die Wahrheit richtet sich nicht nach uns, lieber Sohn, sondern wir müssen uns nach ihr richten .. Es ist leicht zu verachten, Sohn; und verstehen ist viel besser .. Thue das Gute vor dich hin, und bekümmre dich nicht, was daraus werden wird .. Gehorche der Obrigkeit, und laß die andern über sie streiten .. Wolle nicht immer großmüthig seyn, aber gerecht sey immer .. Thue keinem Mädchen Leides, und denke daß deine Mutter auch ein Mädchen gewesen ist .. Sage nicht alles was du weißt, aber wiße immer was du sagest .. ".

First edition of the famous writing by Matthias Claudius. Orig. paper with paper strip. Small 8vo. 16 pp. Intended as spiritual counsel for his son Hans when he left his parents' house at the age of 16.


100
An meinen Sohn H-. 1799
Estimate:
€ 1,200 / $ 1,320
Sold:

€ 1,200 / $ 1,320
(incl. 20% surcharge)
More offers for Matthias Claudius
You might also be interested in
Matthias Claudius - lots sold by Ketterer Kunst