Sale: 379 / Rare Books, May 23. 2011 in Hamburg

Lot 5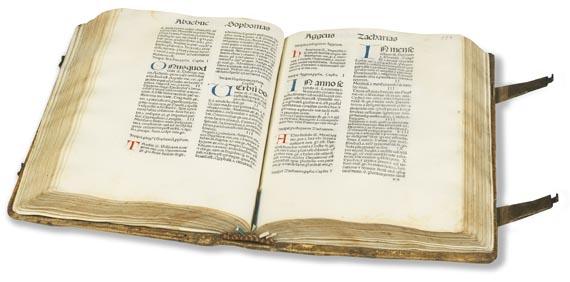 5
Mammotrectus super bibliam. 1476 10(1)
Estimate:
€ 8,000 / $ 8,480
Sold:

€ 18,000 / $ 19,080
(incl. 20% surcharge)
Marchesinus, Joh., Mammotrectus super Bibliam. Blatt a1 (Prologus) reich illuminiert mit einer großen Eingangsinitiale in Gold auf farb. Grund und 1 historisierten Initiale in Gold und Farben (Darstellung des hl. Ambrosius) sowie vierseitiger Rankenwerksbordüre mit farb. Blüten und Goldpunkten und einem Kranzmedaillon unterhalb. Ferner mit zahlr. eingemalten Lombarden in Rot und Blau . Venedig, Franz Renner und Nikolaus von Frankfurt, 1476. Zeitgenöss. Schweinsledereinband über abgeschrägten Holzdeckeln mit reicher Blindprägung: Rahmenaufbau aus Streicheisenlinien, Außenfelder mit eiförmigen Lilienstempeln sowie Eck- und Innenfelder mit Pelikanstempeln; 2 Messingschließen. 4to. 228 nn. Bll. (das erste u. letzte weiß). Got. Type. 2 Spalten. 39 Zeilen.

Hain/Cop. 10557. - GW M20827. - Goff M 236. - BMC V, 194. - Nicht in der BSB und bei Polain. - Frühe Ausgabe des Bibellexikons bei Franz Renner und Nikolaus von Frankfurt. Die zwischen 1470 und 1521 in über 30 Drucken erschienene spätmittelalterliche Sammlung von Bibelzitaten war eine Art Lehrbuch für Kleriker, in dem "alle in der hl. Schrift und im kirchlichen Stundengebet vorkommenden schwierigen Worte etymologisch und grammatikalisch erläutert werden" (Wetzer/Welte VIII, 586). Der größte Teil des Werkes beruht auf G. Britos Summa und wurde von Luther als "Mönchemist und Teufelsdreck" verdammt. - Die Eingangsseite prachtvoll von italienischer Hand illuminiert, vgl. die sehr ähnliche Ausführung in dem Abrams-Exemplar der Epistolae des Hieronymus, Parma 1480 (Sotheby's 16./17. Nov. 1989, lot 65). - Stellenw. leicht wasserrandig und breite Ränder vereinz. gering stockfleckig, erstes w. Bl. seitl. hinterlegt. Bl. A2 (Register) und Bl. n6 mit altem Stempel des Franziskanerordens in Riva del Garda. Insges. sehr schönes und vollständiges Exemplar in einem prachtvoll erhaltenen Holzdeckeleinband des Klosters Wiblingen (vgl. Kyriß 156). Exlibris H. Legel.

Early edition by Franciscus Renner de Heilbronn & Nicolaus de Frankfordia of this frequent printed collection of bible quotations, called by Luther "monk shit and devil's muck". Magnificent copy with illumination by Italian hand on leaf a1 (Prologus): large opening initial in gold on color ground and 1 historicised initial in gold and colors (depicting Saint Ambrose) as well as a four-side tendril border with blossoms in colors and gilt spots and a crown locket below. Also with numerous lombards drawn in red and blue. Bound in a contemp. pigskin binding over slanted wooden boards with rich blind-tooling: Frame of slant iron lines, panels with egg-shaped lily stamps as well as corner and center panels with pelican stamps; 2 brass clasps. 4to. 228 unnumb. ll. (first and last blank). - With slight waterstains in places and with isolated minor foxing in broad margins, first blank leaf rebacked at side. L. A2 (index) and l. n6 with old stamp from the Franciscans in Riva del Garda. All in all very nice and complete copy in a splendid and well preserved wooden boards binding of the monastery Wiblingen (cf. Kyriß 156). Ex-libris H. Legel.


5
Mammotrectus super bibliam. 1476 10(1)
Estimate:
€ 8,000 / $ 8,480
Sold:

€ 18,000 / $ 19,080
(incl. 20% surcharge)
You might also be interested in
Johannes Marchesinus - lots sold by Ketterer Kunst