Sale: 385 / Rare Books, Nov. 21. 2011 in Hamburg

Lot 1000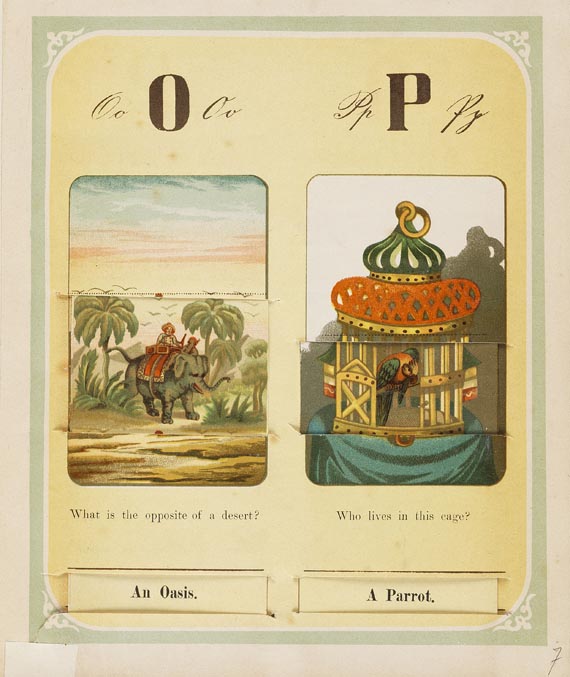 1000
ABC illustrated. (187), 1860.
Sold:

€ 960 / $ 979
(incl. 20% surcharge)
ABC-Bücher. - ABC - illustrated. With instructive questions and answers for good children. Mit 10 farblithogr. Tafeln mit beweglichen Ziehelementen. O. O. u. J. [um 1860]. Goldgepr. OHLwd. mit mont. farb. VDeckelillustration. 4to. 1 Titelbl.

Nicht in der Osborne Coll., bei Düsterdieck und Schug. - Selten. - Vermutl. erste Ausgabe. - Die Tafeln zeigen meist 2 Buchstaben des Alphabets, denen jeweils eine Illustration und eine dazu passende Frage zugeordnet sind. Durch Betätigung des Ziehmechanismus erscheint dann in Bild und Wort die jeweilige Antwort. Auf den Rückseiten der Tafeln gibt es zu den einzelnen Buchstaben kleine Geschichten, welche die gesuchten Begriffe auf den Tafeln erläutern. So kann der Leser auf spielerische und anschauliche Weise die Welt der Buchstaben und Worte entdecken. - Einbandgestaltung und die Art der Numerierung lassen vermuten, dass das vorlieg. Werk aus dem Fürther Verlag Schaller & Kirn stammt. - Funktionstüchtiges Ziehbilderbuch.

Not in the Osborne Coll., in Düsterdieck and Schug. - Rare. - Presumably first edition. With 10 color-lithogr. plates with movable elements. Gilt-tooled orig. half cloth with mounted illu. in colors on front board. 4to. 1 title l. - Functioning movable book.


1000
ABC illustrated. (187), 1860.
Sold:

€ 960 / $ 979
(incl. 20% surcharge)