Sale: 385 / Rare Books, Nov. 21. 2011 in Hamburg

Lot 1009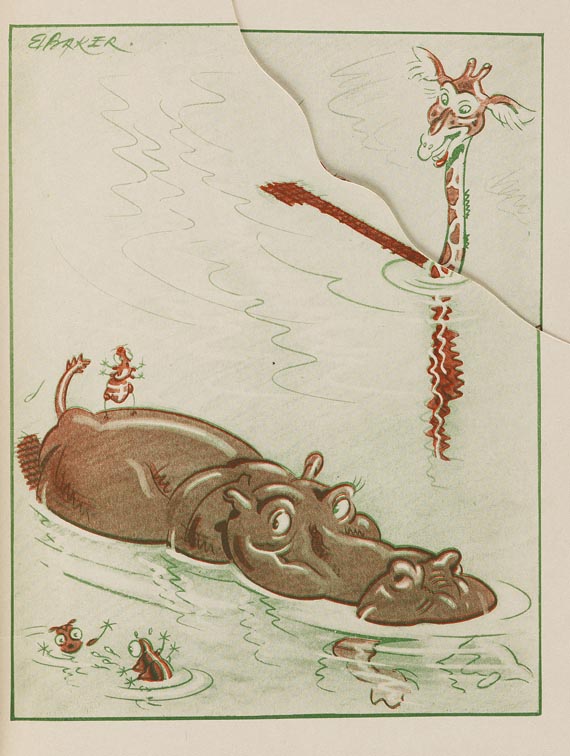 1009
The torn book. 1913 (L Nr. 10)
Sold:

€ 300 / $ 306
(incl. 20% surcharge)
Baker, B., (eigentl. Baker, A. Z.), The torn book. Mit 28 (24 ganzseit.) farb. Illustrationen. London und New York, D. Appleton 1913. OLwd. mit mont. farb. VDeckelillustration. Gr.-8vo. 30 Bll.

Nicht bei Düsterdieck und Schug. - Erste Ausgabe. - Tierisches Bilderbuch mit den "zerrissenen" Blättern: Die Blätter sind im Wechsel an der oberen und unteren Ecke so beschnitten, daß ein Teil der nachfolgenden Illustration bereits sichtbar ist. Beim Blättern werden nach und nach die zuvor verdeckten Bildelemente freigelegt und so entstehen überraschende Veränderungen. Jeder Illustration der insgesamt 4 Bilderzyklen, die sich im Wesentlichen um die tierische Wildnis und ihre Bewohner drehen, ist ein kleines spaßiges Gedicht beigefügt.

Not in Düsterdieck and Schug. - First edition. With 28 (24 fullpage) color illustrations. Orig. cloth with mounted front board illustration in colors. Large 8vo. 30 ll.


1009
The torn book. 1913 (L Nr. 10)
Sold:

€ 300 / $ 306
(incl. 20% surcharge)