Sale: 385 / Rare Books, Nov. 21. 2011 in Hamburg

Lot 112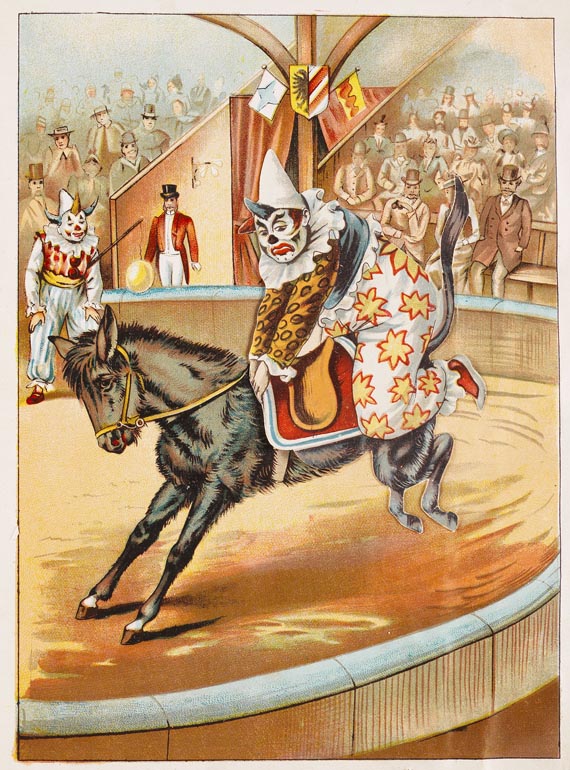 112
Boum-boum. (20), 1900.
Sold:

€ 528 / $ 638
(incl. 20% surcharge)
Lot description
Bourgade, A., Boum-Boum du Cirque d'été. Mit 4 farblithogr. Tafeln mit beweglichen Ziehelementen und 7 (4 farb.) Illustrationen. Paris, A. Capendu [um 1900]. OHLwd. mit farb. VDeckelillustration. Kl.-4to. 1 Titelbl.

Noesser 123. - Vermutlich erste Ausgabe. - Seltenes Ziehbilderbuch mit den farbenfrohen beweglichen Tafeln, welche die akrobatischen Kunststücke des Clowns Boum-Boum und seiner Kollegen zeigen. - Mit heiterem Zirkusradau wird der Leser beim "Betreten" der Manege auf der ersten Seite begrüßt: Boum! boum! boum! . - Zim! boum! boum!! Ran, tan, plan! . boum! zim! boum! Entrez! entrez! petis et grands! . Le clown Boum-Boum, est l'ami des enfants!" So lautmalerisch wie der Text, so lustig und kunterbunt sind die beweglichen Illustrationen der Tafeln. Da springen dressierte Hunde durch einen Reifen, ein Clown jongliert ein kleines Mädchen samt Stuhl auf der Stirn, Boum-Boum und Bob turnen und jonglieren auf- und miteinander und am Ende buckelt das sonst so brave Pony mit dem Clown auf dem Rücken durch die Manege. - 1 Taf. nur wenig bewegbar. Lwd. mit kl. Fehlstellen. - Ansonsten ungewöhnlich sauberes und gut erhaltenes Ziehbilderbuch.

Presumably first edition. - Rare movable book with colorful movable plates. With 4 color-lithogr. plates with movable elements and 7 (4 in colors) illustrations. Orig. half cloth with front board illu. in colors. Small 4to. 1 title l. - 1 plate just slightly movable. Canvas with small blemishes. - Else unusually clean and well-preserved movable book.


112
Boum-boum. (20), 1900.
Sold:

€ 528 / $ 638
(incl. 20% surcharge)
More Images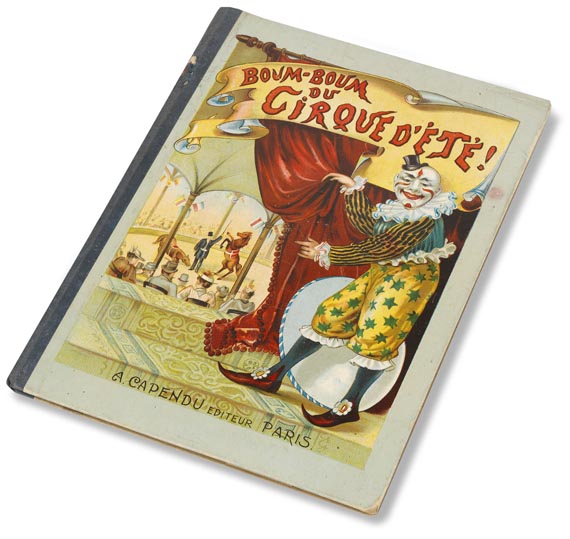 Cover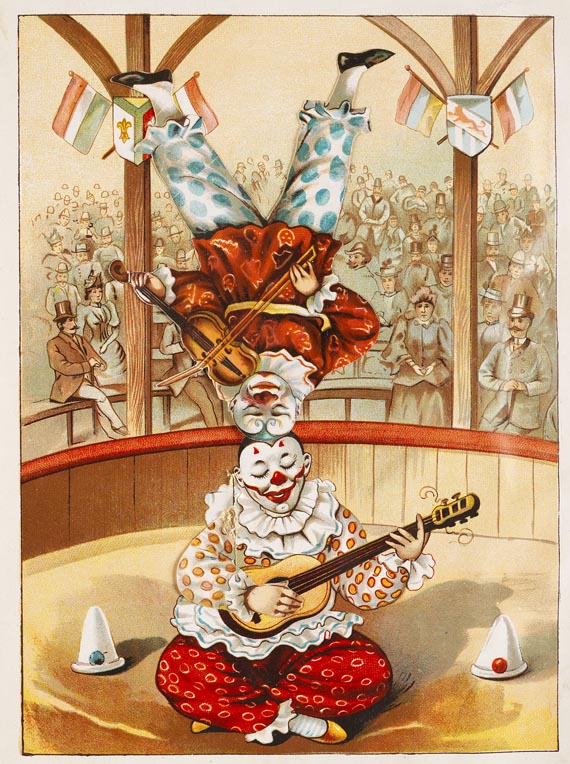 Armand Bourgade - lots sold by Ketterer Kunst