Sale: 385 / Rare Books, Nov. 21. 2011 in Hamburg

Lot 32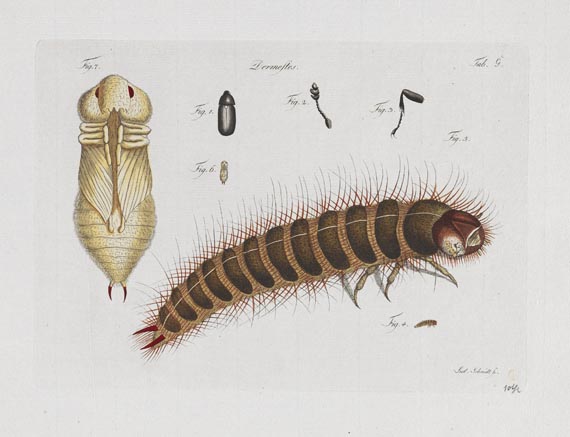 32
Natursystem. Die Käfer. 10 Hefte mit 195 Tafeln. 1785-1806.
Estimate:
€ 1,800 / $ 2,160
Sold:

€ 1,920 / $ 2.304
(incl. 20% surcharge)
Lot description
[Jablonsky, C. G. und J. F. W. Herbst Natursystem aller bekannten in- und ausländischen Insecten. Nach dem System des Ritters C. von Linne bearbeitet. Die Käfer]. Tafelsammlung. 10 Bde. Mit 195 kolorierten Kupfertafeln (von 202). [Berlin, J. Pauli 1785-1806.] Lose Tafeln in 10 zeitgenöss. Pp.-Mappen in 7 (von 10) zeitgenöss. Pp.-Steckschubern mit roten Ldr.-Sch. 4to.

Nissen 2078. - Horn/Schenkling 10130. - Junk, Rara S. 10. - Agassiz III, 1. - Einzige Ausgabe. Nahezu vollständiger Tafelteil der Käfer aus "dieser umfangreichen und schönen Iconographie, welche die erste ist, die sämtliche zur Zeit bekannten Arten abbildet" (Junk). - Die weitgehend unbeschnittenen Tafeln mit prachtvollen und detaillierten Käfer-Darstellungen in schönem Kolorit, mit meist sechs und mehr Darstellungen auf einer Tafel. Jablonskys Natursystem war als Fortsetzung von Buffons Naturgeschichte geplant. Jablonsky selbst erlebte von der Käferreihe nur die Veröffentlichung von Bd. I, die fortführenden 9 Bände bearbeitete J. F. W. Herbst. - 2 Tafeln mit kl. Randeinriß, ansonsten einwandfrei erhalten. Schuber und Mappen etw. berieben. Schönes, ungebundenes Exemplar in einheitlicher zeitgenössischer Aufbewahrung.

Only edition. Collection of 195 col. copper plates (of 202) of the "Käfer" of Jablonsky's "Natursystem". Loose and untrimmed sheets in 10 contemporary cardboard porfolios and 7 slipcases (of 10) with red labels. - 2 plates with small marginal tear, portfolios and slipcases slightly rubbed. Nice and well-preserved collection with numerous and beautifully colored illustrations of beetles.


32
Natursystem. Die Käfer. 10 Hefte mit 195 Tafeln. 1785-1806.
Estimate:
€ 1,800 / $ 2,160
Sold:

€ 1,920 / $ 2.304
(incl. 20% surcharge)
More Images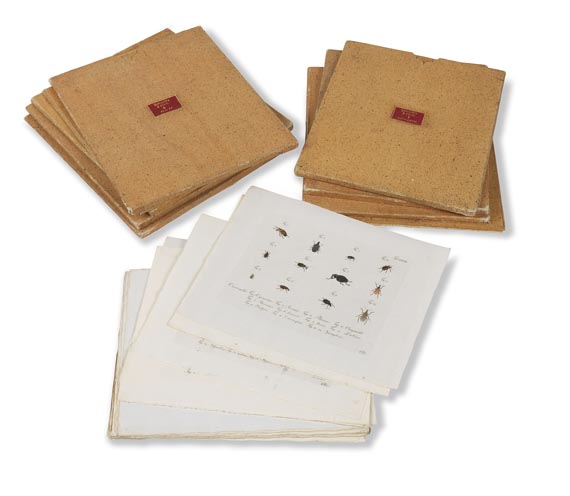 Cover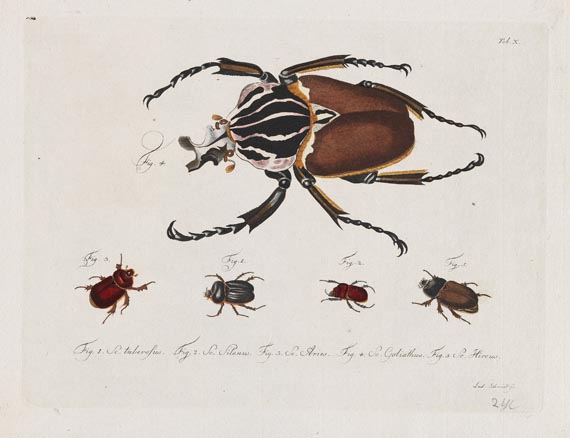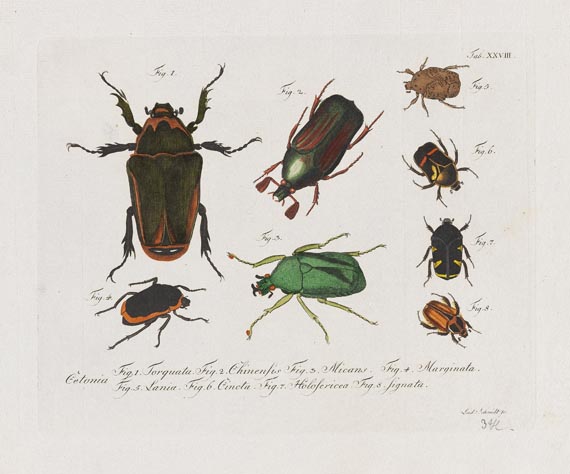 You might also be interested in
Carl Gustav Jablonsky - lots sold by Ketterer Kunst