Sale: 391 / Rare Books, May 21. 2012 in Hamburg

Lot 28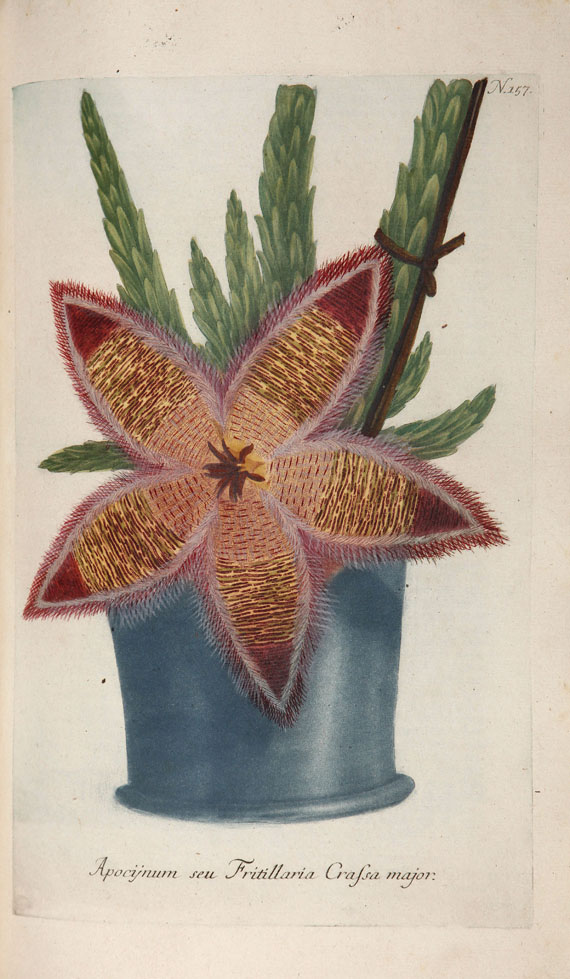 28
Phytanthoza iconographia. 1737-45. 4 Bde.
Estimate:
€ 50,000 / $ 52,500
Sold:

€ 64,800 / $ 68,040
(incl. 20% surcharge)
Weinmann, J. W., Phytanthoza-lconographia, oder Eigentliche Vorstellung etlicher Tausend, so wohl Einheimisch- als Ausländischer, aus allen vier Welt-Theilen, in Verlauf vieler Jahre, mit unermüdetem Fleiß .. gesammleter Pflantzen, Bäume, Stauden, Kräuter, Blumen, Früchten und Schwämme (e)tc.. 4 Bde. Mit gest. Frontispiz und 2 gest. Porträts (jew. Schabkunst in Blaudruck) sowie 1025 Farbstichtafeln (12 doppelblattgr., 5 gefalt.), tlw. koloriert und retuschiert . Regensburg, H. Lenz und (Bd. IV:) H. G. Neubauer 1737-45. Ldr. d. Zt. mit reicher ornamentaler RVerg. und Pgt.-RSch. Folio.

Nissen 2126. - Pritzel 10140. - Plesch Coll. 806. - De Belder 392. - Dunthorne 327. - Hunt II, 494. - Sitwell/Blunt S. 151. - Erste Ausgabe. - Vollständiges und wohlerhaltenes Exemplar des prachtvollen barocken Pflanzen- und Blumenwerkes, geschaffen von J. J. Haid, J. E. Ridinger und B. Seutter, den bedeutendsten Stechern ihrer Zeit. Den Grundstock dieses Werkes bildete die umfangreiche Sammlung von Pflanzendarstellungen des Regensburger Apothekers Joh. Wilh. Weinmann (1683-1741). "Wie hoch damals selbst in Botanikerkreisen dieses Werk geschätzt wurde, dessen über mehr als 10 Jahre sich erstreckendes regelmäßiges Fortschreiten von halbjährlich 50 Tafeln allein schon eine Seltenheit in der botanischen Literatur darstellt, davon zeugt, daß Burmann nicht nur mancherlei Bilder zugesteuert hat, sondern auch dessen Übersetzung ins Holländische auf sich nahm .. Um so beachtenswerter ist dagegen die Art der Wiedergabe: Handelt es sich hier doch um die erste botanische Verwendung des später sogenannten englischen Farbdrucks, und, was Deutschland anbelangt, auch fast alleinige" (Nissen S. 165f.). Seutter hat den englischen Farbendruck hier in sehr umfangr. Form zum ersten Mal ausgeführt, nachdem er 1734 das Privileg für den Druck von Kupferstichen mit natürlichen Farben erhalten hatte. Die Abbildungen in dem neuen Druckverfahren weisen noch einige Mängel auf, die jedoch durch sorgfältige Kolorierung und einige Retouchen ausgeglichen wurden. "The work may be called the first successful botanical book using color-printed mezzotint " (Hunt). - Zu den schönen Darstellungen bietet das Werk auch genaue Beschreibungen medizinischer Nutzpflanzen. Der zweispaltig gedruckte Texte in Latein und Deutsch. - Tafelformat ca. 39 : 24 cm, Plattengröße ca. 21 : 32,5 cm. - Sämtl. Tafeln in der Platte durchnumeriert. - Tlw. etw. stockfl. und gebräunt (ca. 15. Taf. stärker) sowie mit kl. Farbverwischungen (überwieg. in Bd. I), vereinz. (Bd. I) wasserrandig, ca. 10 Tafeln mit kl. Eintragungen bzw. Korrekturen von alter Hd. im unt. Textteil, ca. 15 Taf. mit schwachem Textabklatsch, 3 Falttaf. und 1 Porträt mit Randeinriß (tls. hinterl.), Titel mit getilgtem Stempel. Einbd. stellenw. leicht beschabt, Rücken an den Kapitalen und tls. an den Ecken restauriert. - Insgesamt wohlerhaltenes und schönes Exemplar mit den prachtvollen Pflanzenkupfern in schönem Kolorit.

First edition. Complete and fine copy of this splendid baroque herbal. With engr. frontispiece, 2 engr. portraits (each mezzotint in blue print) and 1025 color engravings, partly colored and finished by hand. Contemp. calf with rich gilt spine and vellum label. - Plates partly with some foxing, ca. 15 stronger browned, text partly foxed and somewhat browned, ca. 15 plates with reversed impression of text, ca. 10 plates with small entries and corrections by old hand, 2 folded plates and 1 portrait with backed tear, title with erased stamp. Binding here and there slightly scraped, spine at ends and partly edges restored. - Altogether fine copy in good condition.


28
Phytanthoza iconographia. 1737-45. 4 Bde.
Estimate:
€ 50,000 / $ 52,500
Sold:

€ 64,800 / $ 68,040
(incl. 20% surcharge)
You might also be interested in
Johann Wilhelm Weinmann - lots sold by Ketterer Kunst