Sale: 405 / Rare Books, May 27./28. 2013 in Hamburg

Lot 159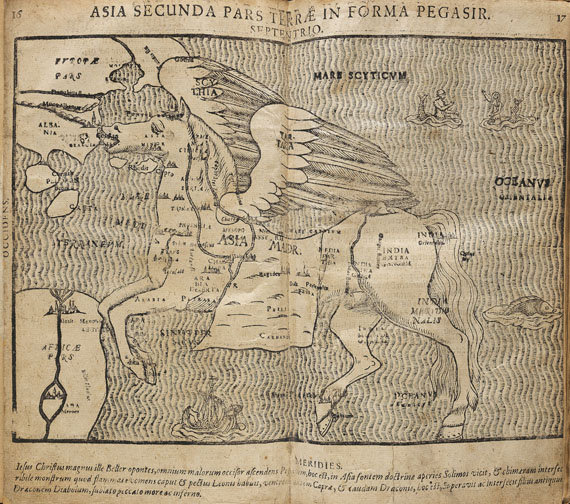 159
Reisebuch. 1616. Angebunden: Strigenitz, Jonas. 1602.
Estimate:
€ 1,500 / $ 1,785
Sold:

€ 1,320 / $ 1.570
(incl. 20% surcharge)
Lot description
Bünting, H., Itinerarium Sacrae Scripturae. Das ist: Ein Reisebuch, uber die gantze Heilige Schrifft, in vier Bücher getheilet .. Zuvor gemehret mit einem Büchlein, De monetis et mensuris ..4 Tle. in 1 Bd. Mit 10 Holzschnitt-Karten (8 doppelblattgr.) und 1 doppelblattgr. Holzschnitt (st. 2) sowie 1 Titelholzschnitt zu Tl. 3. Magdeburg, A. Betzel für A. Kirchner 1616. Schlichter HLwd. d. 19. Jhs. (fleckig). Folio. 8 Bll., 239 (st. 241) S., 3 Bll.; 3 Bll., 102 S., 4 Bll.; 38 S.; 3 Bll., 27 (st. 28) S.

Seltene Ausgabe des beliebten Werkes, das seit seinem ersten Erscheinen 1581 beinahe jährlich neu aufgelegt bzw. nachgedruckt wurde. Neben den beiden Hauptteilen (AT und NT) umfaßt es noch den dritten Teil Über das Buch Josua und den vierten Teil De monetis et mensuris. "Das Itinerarium wird als die vollständigste Zusammenfassung des damaligen Wissens über die biblische Geographie betrachtet, sowohl des Alten als auch des Neuen Testaments" (van der Heijden). - Von besonderer Bedeutung sind die eigenwillig gestalteten Karten, darunter ein Weltkarte mit den drei alten Kontinenten in Kleeblattform, Europa als Königin und Asien als Pegasus. - Fehlen in Tl. 1 die S. 36-37 (mit Holzschnitt) und in Tl. 4 das letzte Bl. - Nahezu sämtliche Karten verbunden und mit Randläsuren (unschön angerändert und hinterlegt, vereinz. beschnitten), dadurch tls. etw. Bild- oder Textverlust (5 Karten stärker). Insges. etw. gebräunt, tls. fingerfleckig und leicht wasserrandig, - 1 weiteres Werk vorgebunden (G. Strigenitz, Jonas, das ist, Außlegung der Histoiren von dem Propheten Iona. Leipzig, Voigt 1602).

VD 17, 23:322033W. - Van der Heijden Nr. 35.

Scarce edition from 1616 by Kirchner in Magdeburg. Contains 10 woodcut maps and 1 double-page woodcut (of 2) as well as 1 title woodcut. Simple 19th cent. half cloth (stained). - Lacking pp. 36-37 in part 1 and last leaf in part 4. Maps mostly misbound and with marginal defects (unattractively remargined and backed, here and there trimmed), therefore partly some loss of printed matter (5 maps stronger); in general some browning, partly finger- and slight waterstaining. 1 further work bound in (G. Strigenitz, Jonas. Leipzig 1602).


159
Reisebuch. 1616. Angebunden: Strigenitz, Jonas. 1602.
Estimate:
€ 1,500 / $ 1,785
Sold:

€ 1,320 / $ 1.570
(incl. 20% surcharge)
Heinrich Bünting - lots sold by Ketterer Kunst