Sale: 405 / Rare Books, May 27./28. 2013 in Hamburg

Lot 445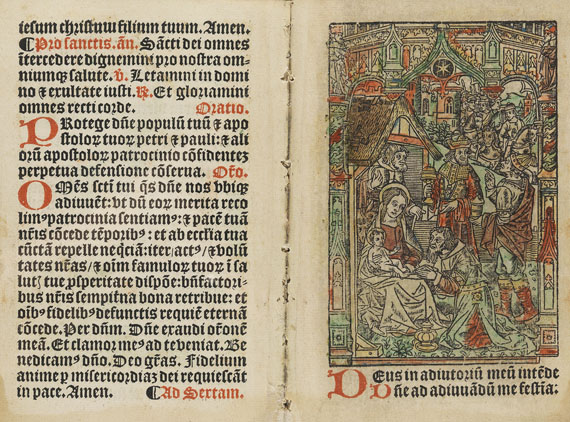 445
Hore intemerate Marie virginis. (1511)
Estimate:
€ 5,000 / $ 5,700
Sold:

€ 5,760 / $ 6.566
(incl. 20% surcharge)
Lot description
Stundenbücher. - Hore intemerate Marie virginis ad usum Romanum noviter Impresse. Mit 12 kl. Kalender-Holzschnitten und 13 ganzseit. Textholzschnitten in Altkolorit sowie 3 kl. figürl. Text-Holzschnitten zu den Evangelien-Perikopen und Titel mit Holzschnitt-Lilie in Rot. Paris, [Raoul Couturier?] 26. Februar 1511. HLdr. d. 18. Jhs. 8vo. 119 (st. 120) nn. Bll.

Extrem seltenes Pariser Stundenbuch , nach unseren Recherchen das einzige bekannte Exemplar dieser bisher nicht erfaßten Ausgabe. Das Kolophon nennt nur eine Verlagsadresse, nicht aber den Verleger: "Finiunt hore beate Marie virginis ad usum Romanum) noviter Impresse Parisius in vico Jude iuxta Carmelitas Anno domini Millesimo quingentesimo undecimo. xxvj. mensis Februarij". Nach Renouard verbirgt sich hinter der nicht existenten Adresse In vico Jude iuxta Carmelitas wahrscheinlich der Verleger Raoul Couturier (vgl. Lacombe 188 und 223 Anm.). - Schöner Druck in Rot und Schwarz. Die schönen ganzseitigen Holzschnitte überwieg. nach Pigouchets berühmter Ausgabe von 1497. Die kleinen Kalender-Holzschnitte zeigen versch. Berufe und Lebenssituationen der jew. Monate, mit kl. Sternzeichen oberhalb. - Titel mit zweizeiligem zeitgenöss. niederländischen Besitzeintrag der Mareike Dircks, einer Klarissin in Gouda (Gou): "dit boec hoert tot gebruic va(n) d'marigtje dirckx va(n) die clarissé van der gou". Im Text mit mehreren Marginalien und Korrekturen derselben Hand (1 auf überklebtem Papierstreifen). Mareike Diercks war von 1567-69 (oder bis zum Ende des Ordens im Jahr 1572) Äbtissin des Klarissen-Ordens. - Fehlt Bll. k8. - Ca. 32 Bll. im Unterrand (und tls. im Bundsteg) angerändert oder hinterlegt, Fuß- und Bundsteg tls. wasserrandig oder braunfleckig, die kolor. Holzschnitte meist berieben, Vorsatz mit mont. Holzschnitt. Einbd. bestoßen, Rücken mit ausgebess. Läsuren. Gest. Wappen-Exlibris.

Nicht bei Lacombe, Bohatta, Mortimer, Fairfax Murray, Moreau und French Vern. Books, nicht bei Adams und im BM STC, nicht im KVK, ABPC und JAP.

Extremely rare Parisian book of hours, according to our research the only known copy from an edition of print run unknown so far. Colophon mentions only the publishing house's address, however, not the publisher. With 12 small calendar woodcuts and 13 full-page woodcuts in the text in old coloring as well as 3 small figurative woodcuts in the text on Gospel periscope and title with woodcut lily in red. 18th century half calf. 8vo. 119 (of 120) unnumb. ll. - Lacking ll. k8. - Ca. 32 ll. remargined or rebacked in lower margin (and partly in gutter), head and tail margin with isolated water stains or browning, colored woodcuts mostly rubbed, endpaper with mounted woodcut. Binding scuffed, spine with mended blemishes. Engr. armorial bookplate.


445
Hore intemerate Marie virginis. (1511)
Estimate:
€ 5,000 / $ 5,700
Sold:

€ 5,760 / $ 6.566
(incl. 20% surcharge)