Sale: 391 / Rare Books, May 21. 2012 in Hamburg

Lot 509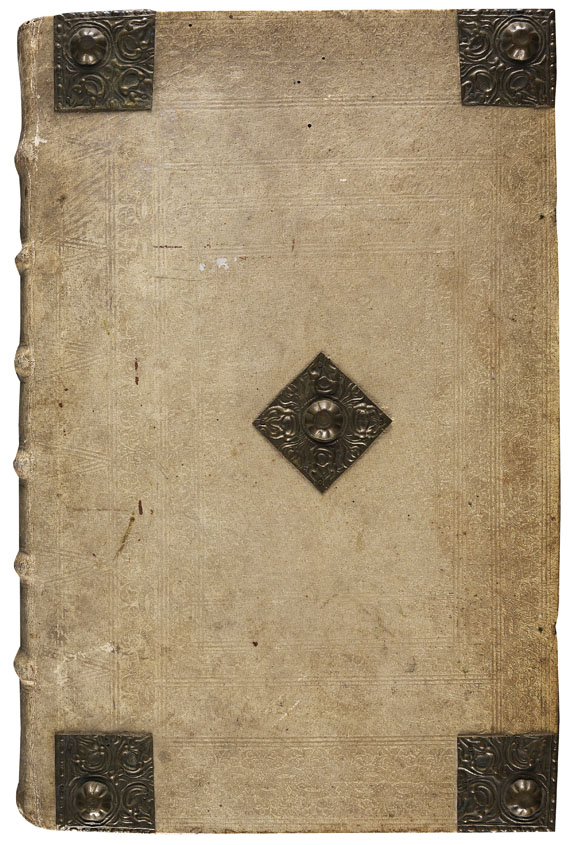 509
Biblia, Heilige Schrift. Zürich 1755.
Estimate:
€ 1,200 / $ 1,404
Sold:

€ 960 / $ 1.123
(incl. 20% surcharge)
Lot description
Biblia germanica. - Biblia. Das ist: Die ganze Heilige Schrift Alten und Neuen Testaments, aus den Grundsprachen treulich wol verteutschet .. herausgegeben durch Joh. C. Ulrich. 2 Tle. in 1 Bd. Mit 2 gest. Frontisp. von J. R. Holzhalb, 2 großen gest. Kopfvignetten , 63 (3 gefalt.) Kupfertafeln und 2 gefalt. Kupferkarten von J. G. Pintz, T. Lobeck, Ch. F. Lottes, J. Chr. Steinberger u. a. nach G. D. Nesenthaler. Zürich, C. Orell 1755-56. Schweinlederband d. Zt. über Holzdeckeln mit reicher Blind- und Rollenprägung, 2 Messing-Schließen, jew. 4 Messing-Eckbeschlägen und -Mittelstück sowie blaugemustertem Schnitt. Folio. 14 Bll., 22, 292, 130, 146 (recte 144) S.; 1 Bl., 182, 66, 118, 371 S.

Bibelslg. Württ. Landesbibl. E 1475. - Leeman-van Elck, Buchschmuck der Züricher-Bibeln S. 100ff. - Darlow/Moule 4253 Anm. - Erste Ausgabe der sogenannten "Ulrich-Bibel". Der Herausgeber war Pfarrer am Großmünster, er vertrat eine mildpietische Richtung und trat für die aufkommenden Herrenhuter Kreise ein. Die Kupfertafeln (jew. mit 3 Darstellungen), erschienen 1729 bei Cotta zur Bibelausgabe von C. Pfaff und eigenständig als Bilderbibelzyklus. Der Züricher Verleger und Buchbinder J. C. Manz fügte die Illustrationen der vorlieg. Bibelausgabe bei. - "Da viele Käufer den aus den Froschauer Bibeln so beliebten Buchschmuck vermissten, wurden diesem Umstand bei der Ulrich-Bibel dadurch Rechnung getragen, dass ein eigens zu diesem Zwecke gedruckter Bilderzyklus durch den Buchbinder beigeheftet werden konnte. Beide Titelblätter dieses Zyklus sind mit einer Triptychon-Kupfervignette versehen und beigebunden. Der Kupferstecher J. R. Holzhalb hat ferner für die beiden Teile der Ulrich-Bibel pompöse Frontispize geschaffen" (Leeman-van Elck). - 4 Faltkupfer (2 Karten) mit längerem Randeinriß, vereinz. kl. Wurmspuren im w. R., Deckel sowie erste und letzte Bll mit. kl. Wurmlöchern. RDeckel im unt. Bezug leicht wellig. Insg. kaum fleckiges Exemplar in einem schönen zeitgenöss. Einband.

First edition of the "Ulrich-Bible". With 2 engr. frontispieces by J. R. Holzhalb, 2 large engr. head vignettes, 63 (3 folding copper plates) and 2 folding copper maps by J. G. Pintz, T. Lobeck, Ch. F. Lottes, J. Chr. Steinberger et al after G. D. Nesenthaler. Contemp. pigskin over wooden boards with rich blind- and roll tooling, 2 brass clasps, each 4 brass corner fittings and centerpiece as well as blue edges. Folio. 14 ll., 22, 292, 130, 146 (recte 144) pp.; 1 l., 182, 66, 118, 371 pp. - 4 folding coppers (2 maps) with longer marginal split, isolated small wormholes in white margin, boards as well as first and last ll. with small wormholes. Rear board slightly wavy in lower part of covering. All in all barely stained copy in a fine contemp. binding.


509
Biblia, Heilige Schrift. Zürich 1755.
Estimate:
€ 1,200 / $ 1,404
Sold:

€ 960 / $ 1.123
(incl. 20% surcharge)