Sale: 391 / Rare Books, May 21. 2012 in Hamburg

Lot 85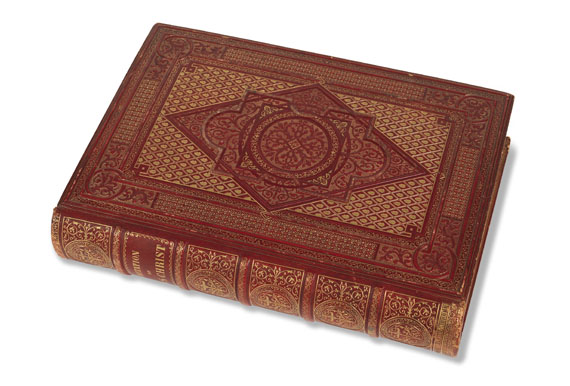 85
Th. à Kempis, L'imitation de Jésus-Christ. 1855.
Estimate:
€ 3,500 / $ 4,095
Sold:

€ 3,240 / $ 3.790
(incl. 20% surcharge)
Lot description
Corneille. - [Thomas à Kempis ], L'imitation de Jésus-Christ. Texte latin suivi de la traduction de P. Corneille. 2 Tle. in 1 Bd. Mit 4 (2 farb.) Titeln mit lithogr. Bordüre, 4 lithogr. Tafeln auf aufgewalztem China, ferner reichem Buchschmuck, tlw. in Farben und Gold, in Form von Randleisten, Initialen und Vignetten, in Lithographie und Holzstich. Paris, Impr. Impériale1855. Roter Maroquinbd. auf 5 Bünden, die im orientalischen Stil gehaltene blindgepr. Grundstruktur des Rückens und beider Deckel reich ausgefüllt mit goldgepr. Ornamentik, Innendeckel mit großem rot- und goldgepr. Zierkreuz auf weißem Grund, sowie Steh- und breiter Innenkantenverg. und GGoldschnitt. Folio. 2 Bll., IV S., 3 Bll., 872 S.

Vicaire II, 1017 (Corneille). - Brunet III, 416. - 1 von 300 Exemplaren, die für die Weltausstellung 1855 in Paris angefertigt wurden, ein in Hinblick auf Buchschmuck und Einbandkunst aufwendig gestaltetes Prachtwerk. Für die Ausstattung des ersten Teils mit farb. Miniaturen und den Buchschmuck, der den latein. Originaltext von Thomas à Kempis enthält, zeichneten der Künstler Steinheil und das Ehepaar Toudouze verantwortlich, die schwarzweiße Ornamentik des zweiten Teils mit der Übersetzung durch P. Corneille gestalteten Gaucherel und Lavoignat, die vier Tafeln wurden wiederum von Steinheil angefertigt. - Exemplar von bemerkenswerter Provenienz: laut zweier auf den vord. flieg. Vorsatz montierten hs. Vermerke wurde das Exemplar von Prinzessin Mathilde (Bonaparte, 1820-1904; zweite Tochter von Jerôme, Napoleons jüngerem Bruder) nach dem Kongress von Paris 1856 für die Friedensverhandlungen über das Ende des Krimkrieges an den türkischen Großwesir Ali Pascha (1815-71) übergeben (eigh. Schreiben m. U. von dessen Sohn). Nach dem Tod des Großwesirs wurde seine Bibliothek 1872 verkauft und das Buch von dem französ. Diplomaten Charles J.-M. de Vogüé (1829–1916), seit 1871 Botschafter in Konstantinopel, erworben, der es wiederum 1891 an den Soziologen und Geographen Henri Lorin (1866-1932) verschenkte (eigh. Schreiben m. U. von De Vogüé). - Leicht stockfleckig, zu Beginn etw. wasserrandig, vord. flieg. Vorsatz unten mit Falzriß und Knickspuren. Einbd. stellenw. leicht berieben.

1 of 300 copies, manufactured for the "Exhibition universelle" in Paris 1855. With rich book decoration consisting of borders and vignettes, partly printed in gold and colors, and few plates. In contemp. red morocco with rich blind and gilt decoration in oriental style. - The copy was a gift from Princesse Mathilde Bonaparte to Grand vizier Ali Pascha on the occasion of the Congress of Paris 1856 (end of the Crimean war), and came afterwards in the possesion of Charles J.-M. de Vogüé, diplomat and French ambassador in Constantinople from 1871, and French sociologist Henry Lorin. - Slightly foxed, with marginal waterstaining at the beginning, one flying endpaper creased and with tear to fold. Binding partly slightly rubbed.


85
Th. à Kempis, L'imitation de Jésus-Christ. 1855.
Estimate:
€ 3,500 / $ 4,095
Sold:

€ 3,240 / $ 3.790
(incl. 20% surcharge)
More Images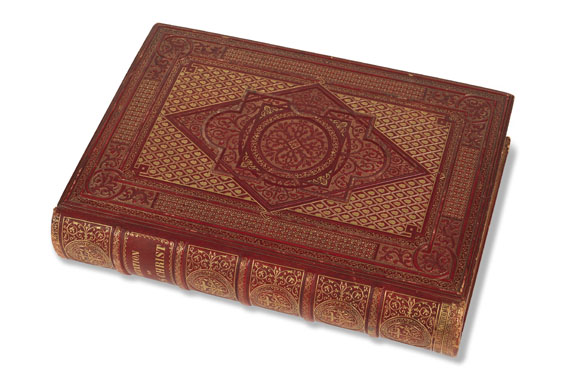 Cover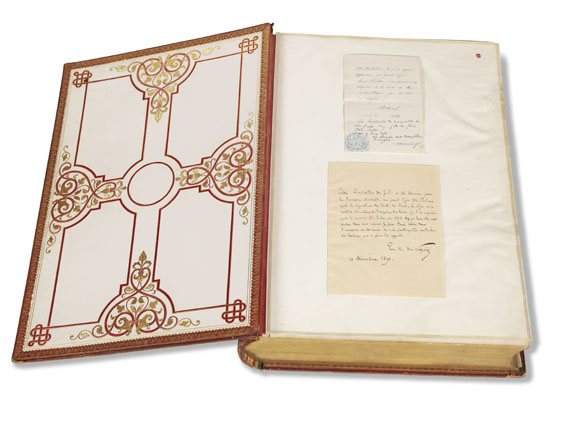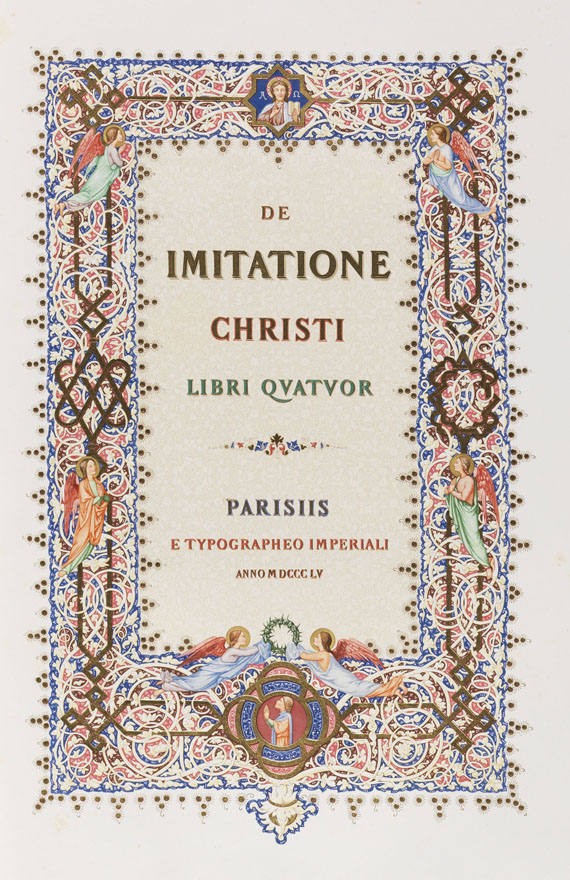 Pierre Corneille - lots sold by Ketterer Kunst