Sale: 391 / Rare Books, May 21. 2012 in Hamburg

Lot 499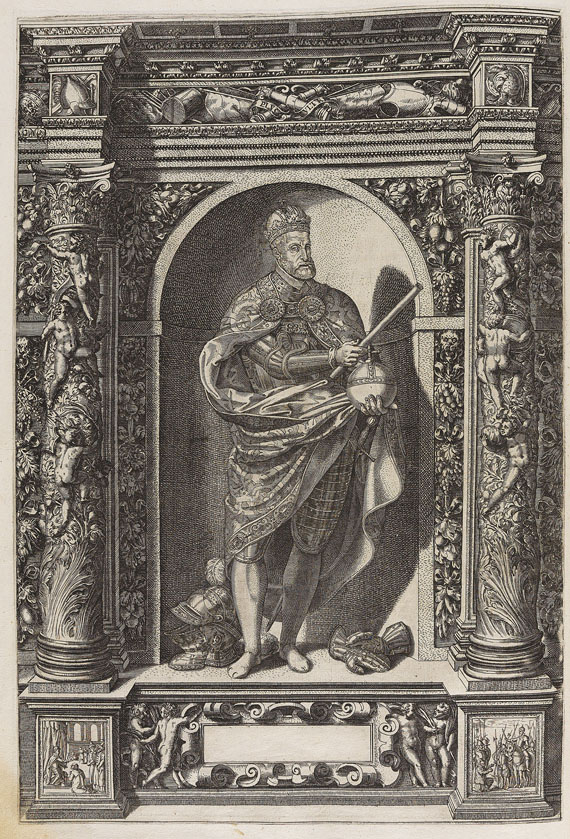 499
Jacob Schrenken von Notzingen
Aller Durchleuchtigisten, 1603.
Estimate:
€ 2,000 / $ 2,340
Sold:

€ 3,000 / $ 3.510
(incl. 20% surcharge)
Lot description
Schrenck von Notzing, J., Der Aller Durchleuchtigisten und Großmächtigen Kayser, Durchleuchtigisten und Großmächtigen Königen und Ertzhertzogen, Durchleuchtigen und Hochgebornen Fürsten, wie auch Grafen, Herren vom Adel .. warhafftige Bildtnussen, und kurtze Beschreibungen. Mit 126 ganzseit. Porträt-Kupfern von Dom. Custos nach J. B. Fontana. Augsburg, D. Baur [1603]. Ldr. d. 18. Jhs. mit floraler RVerg. und 3 kl. hs. RSchn. Gr.-Folio. 130 nn. Bll.

Lipperheide Ci 1. - Colas 2691. - Hiler S. 787. - Graesse VI, 317. - Brunet V, 224. - Ebert 20657. - UCBA II, 1852. - Österr. National-Enc. IV, 594f. - Seltene erste deutsche Ausgabe des sog. Heldenbuches, erschien zwei Jahre nach der lateinischen Ausgabe von J. Agricola in Innsbruck. Die prachtvolle und berühmte Kupferfolge über die Ambraser Rüstkammer wurde von Erzherzog Ferdinand II. von Tirol in Auftrag gegeben und durch seinen Sekretär und Rat Jacob Schrenck von Notzing herausgegeben. Sie zeigt die bedeutendsten Fürsten und Feldherren des 16. Jahrhunderts, zumeist in voller Rüstung und jeweils in reich ausgeschmückter, architektonischer Umrahmung (Plattengr. ca. 43 : 29 cm). Die Namensschilder unter den Porträts nicht ausgefüllt; der Drucktext mit den Lebensbeschreibungen findet sich jeweils auf der Rückseite, eingefaßt von der gleichen figürl. Holzschnitt-Bordüre. Die Kupfer "sind von ausgezeichneter histor. Wichtigkeit für das Waffencostume jener Zeiten" (Ebert). - Titel (recto) und letztes Textbl. (verso) mit dem Stempel der Fürstlichen Fürstenbergischen Hofbibliothek in Donauschlingen, in deren Bestand das Exemplar nach dem Tod des einstigen Besitzers J. von Lassberg (1770-1850) überging. - Auf dem letzten w. Bl. das hs. Alphabetische Verzeichnis der in diesem Werk befindlichen Bildnisse . - Tls. schwach wasserrandig am unteren Rand, vereinzelt etw. fleckig, Gelenke etw. eingerissen. Einbd. beschabt, Kanten bestoßen, Kapitale lädiert. Sonst gut erhaltenes Exemplar.

Rare first German edition of the so-called 'Heldenbuch', released by J. Agricola in Innsbruck two years after the Latin edition. With 126 full-page portrait coppers (of Dom. Custos after J. B. Fontana). 18th century calf with floral gilt spine. and 3 small ms. labels on spine. Large folio. 130 unnumb. ll. - With faint water stains in places of lower margin, some isolated stains, joints somewhat split. Binding scraped, edge worn, spine ends damaged. Else well preserved copy.


499
Jacob Schrenken von Notzingen
Aller Durchleuchtigisten, 1603.
Estimate:
€ 2,000 / $ 2,340
Sold:

€ 3,000 / $ 3.510
(incl. 20% surcharge)
You might also be interested in