Sale: 405 / Rare Books, May 27./28. 2013 in Hamburg

Lot 70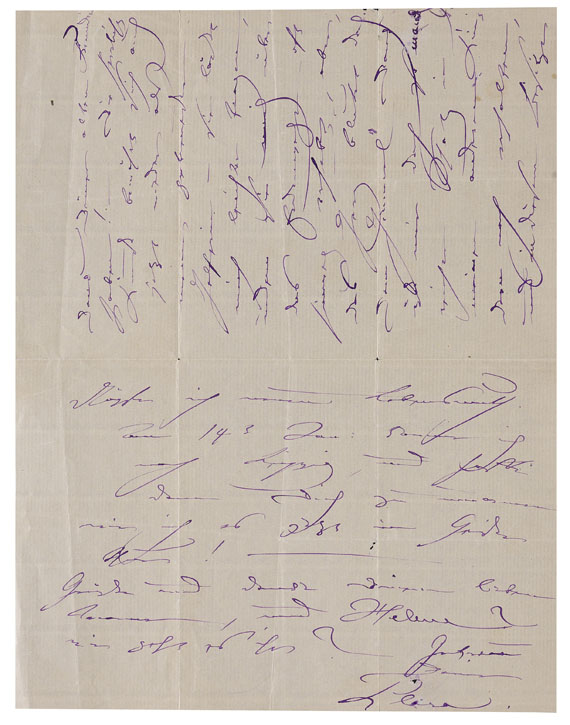 70
Eigh. Brief. 1872.
Sold:

€ 1,140 / $ 1.356
(incl. 20% surcharge)
Lot description
Schumann, Clara, Pianistin und Komponistin, 1819-1896. Eigh. Brief m. U. Wien, 2. XII. 1872. 3 S. 8vo.

Brief an die Freundin Emma Lepoc über den Tod der drittältesten Tochter Julie (1845-72), die wenige Wochen zuvor in Paris gestoben war. ".. Ach, der Schlag, der uns getroffen, ist unendlich schwer! was war die heißgeliebte Julie uns Allen! ihrem Manne der Inbegriff alles Erdenglückes! ich erzähle dir mündlich, meine Liebe! Du sollst heute nur den Dank Deiner alten Freundin haben! - Die herrliche Kunst bewährt sich auch jetzt wieder als meine getreue Helferin - sie läßt mich leichter tragen, indem sie mich über das Erdenweh oft hinweg erhebt, aber, das Herz blutet doch. Dem Himmel sei Dank ist mir doch so manch reicher Schatz in meinen anderen Kindern noch erhalten, und in diesem Besitze schöpfe ich neuen Lebensmuth. Am 14.ten Jan. komme ich nach Leipzig, und hoffe dann dich zu umarmen wie ich es jetzt im Geiste thue! .."

Three page autograph and signed letter by Clara Schumann, piano player and composer, 1819-1896, to her friend Emma Lepoc in Leipzig, about the death of her third-oldest daughter Julie (1845-72) in Paris.


70
Eigh. Brief. 1872.
Sold:

€ 1,140 / $ 1.356
(incl. 20% surcharge)
You might also be interested in

Clara Schumann - lots sold by Ketterer Kunst