Sale: 405 / Rare Books, May 27./28. 2013 in Hamburg

Lot 154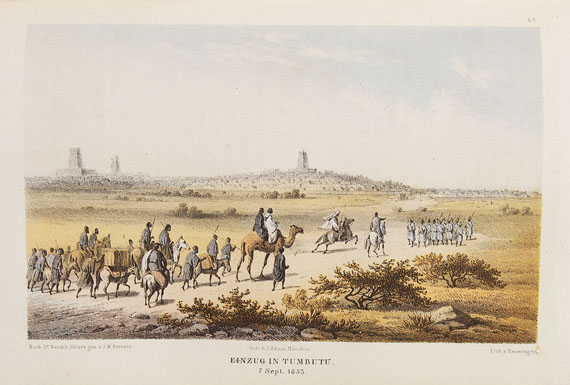 154
Reisen und Entdeckungen in Nord- und Central-Afrika. 1857-58. 5 Bde.
Estimate:
€ 2,000 / $ 2,380
Sold:

€ 2,280 / $ 2.713
(incl. 20% surcharge)
Lot description
Barth, H., Reisen und Entdeckungen in Nord- und Central-Afrika in den Jahren 1849 bis 1855. Tagebuch seiner im Auftrag der Britischen Regierung unternommenen Reise. 5 Bde. Mit 60 lithogr. Tafeln und 16 gest. Faltkarten (tlw. koloriert) sowie Textabbildungen. Gotha, Perthes 1857-58. Neue HLdr. im Stil d. Zt. 8vo.

Erste Ausgabe des Berichtes der von H. Barth 1849-55 unternommenen Reise durch Nord- und Zentralafrika. Bedeutendes Dokument zur deutschen Afrikaforschung des 19. Jhs. - Hauptzweck der von A. Petermann angeregten Expedition war neben der wissenschaftl. Erforschung des Gebietes die Bemühungen um Abschaffung des Sklavenhandels und Anknüpfung von Handelsbeziehungen mit den sudanesischen Staaten. Nachdem Barth als einziger europäischer Überlebender der Expedition 1855 zurückgekehrt war, ließ er seinen Reisebericht in deutscher und engl. Ausgabe erscheinen. "Was vorher bruchstückhaft und unverständlich aus arabischen Berichten .. dagelegen hatte, wurde nun erst verständlich. Barth hat Zusammenhänge aufgedeckt, die weit über sein eigentliches Reisegebiet hinausgreifen. Er war ein nie ermüdender Notierer und Registrierer .. Größte Sorgfalt legte er auf die Routenaufnahme, die auf 18000 Kilometern eine Riesenzahl topographischer Neuheiten erschloß, wodurch die Afrika-Karte ein ganz neues Gepräge erhielt .. Das Hauptgewicht seiner Forschungen liegt auf historisch-ethnographisch-linguistischem Gebiet, das .. in ungeahnter Weise bereichert wurde." (Henze I, 180f.) - Die schönen Lithographien wurden nach Barths Skizzen von dem bekannten Afrika-Maler J. M. Bernatz angefertigt, die Karten stammen von A. Petermann. - Gleichmäßig etw. gebräunt. - Exlibris.

Ibrahim-Hilmy I, 53. - Kainbacher I, 17. - Gay 207. - Henze I, 182. - Griep/Luber 81. - Abbey, Travel 74.

First edition of Barths journal about his expedition to North and Central Africa in the years 1850-55. Important documentation of the history of German exploration of Africa during the 19th century. 60 lithogr. plates and 16 folding maps (partly with color). Modern half calf. - Evenly somewhat browned. - Bookplate.


154
Reisen und Entdeckungen in Nord- und Central-Afrika. 1857-58. 5 Bde.
Estimate:
€ 2,000 / $ 2,380
Sold:

€ 2,280 / $ 2.713
(incl. 20% surcharge)
More Images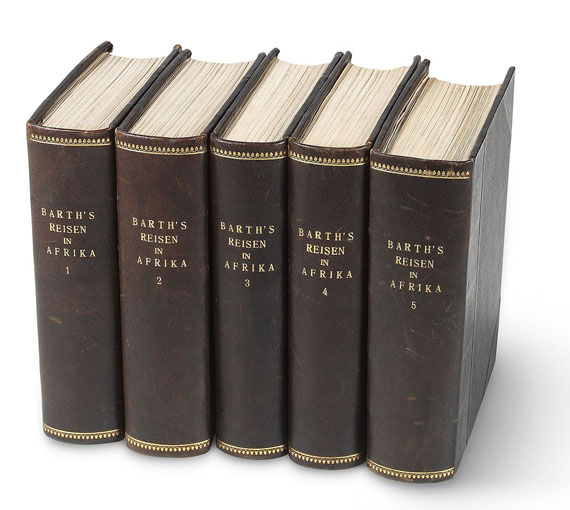 Heinrich Barth - lots sold by Ketterer Kunst