Sale: 405 / Rare Books, May 27./28. 2013 in Hamburg

Lot 97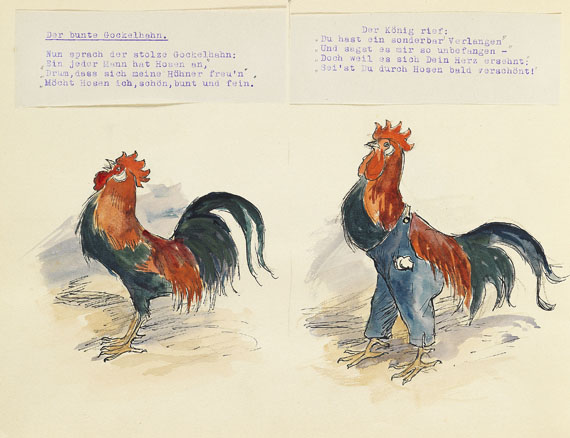 97
Original Manuskript, "Was die lieben Tiere vom Löwen", 1926.
Sold:

€ 5,160 / $ 6.140
(incl. 20% surcharge)
Lot description
Dill. - Marnet, W., Was die lieben Tiere vom Löwen für Geschenke erhielten. Orig.-Manuskript als Druckvorlage mit 52 aquarellierten Orig.-Federzeichnungen von Otto Dill. München o. J. [1926]. OHLwd. mit mont. farb. Orig.-Deckelillustration und eigh. Titel von O. Dill. 21 : 28 cm. 27 nn. Bll.

Wunderschön aquarelliertes Kinderbuch-Manuskript von Otto Dill (1884-1957). Der deutsche Tiermaler und Graphiker war u. a. Meisterschüler des Tiermalers Heinrich von Zügel, ab 1922 Mitglied der Münchner Sezession, 1924 erlangte er die Professur. Die Impressionen seiner zahlreichen Afrikareisen brachten ihm den Spitznamen "Löwen-Dill" ein. - Das nach unseren Recherchen unveröffentlicht gebliebene Kinderbuch in kraftvollen leuchtenden Farben. Zu den einzelnen Illustrationen wurde jeweils der typogr. Text ausgeschnitten und aufmontiert. Das Buch erzählt die Geschichte von den Wünschen verschiedener Tiere an den Löwen, die dieser erfüllt. So erhält der Regenwurm einen Schirm, der Pudel einen Mantel, der Hahn eine Hose, der Esel einen Ohrenschutz, der Hirsch eine Laterne, das Schwein Stiefel, der Hasen Eierfarben, die Ziege einen Bart, die Kuh eine Glocke, der Affen eine Brille, das Schaf eine Trompete, das Eichhörnchen eine Flöte, das Pferd einen Sattel u. v. m. - Beiliegend 5 Orig.-Typoskripte und -Manuskripte m. U., darunter 1 zweiseitiger Orig.-Vertrag zwischen der Pfälzischen Verlagsanstalt Carl Liesenberg, Otto Dill und Wilhelm Marnet, von allen 3 Parteien eigh. signiert, dat. 27. XI. 1926; 1 Postkarte von W. Marnet und O. Dill bzgl. Erhalt der vereinbarten Auszahlungssumme; 1 eigh. Empfangsbescheinungung Marnets m. U. über die Summe von 1000 RM; 2 Typoskripte "Geburtstagsfeier bei König Löwe" mit hs. Marginalien in Bleistift (alte Fassung und neue Fassung mit einem überarbeiteten Text von Otto Wilms). - Vereinz. etw. fleckig (Deckeltitel etw. stärker). - Einzigartiges Kinderbuch Otto Dills in leuchtenden Farben.

Unique, fine children's book manuscript with 52 orig. pen drawings by Otto Dill, painted in watercolors. Attached: orig. contract, 2 orig. text typescripts with marginalia, orig. postcard from Marnet to Dill and orig. certificate of receipt money. Orig. half cloth. Text mounted at each page. - Minim. staining (front cover slightly stronger).


97
Original Manuskript, "Was die lieben Tiere vom Löwen", 1926.
Sold:

€ 5,160 / $ 6.140
(incl. 20% surcharge)
More Images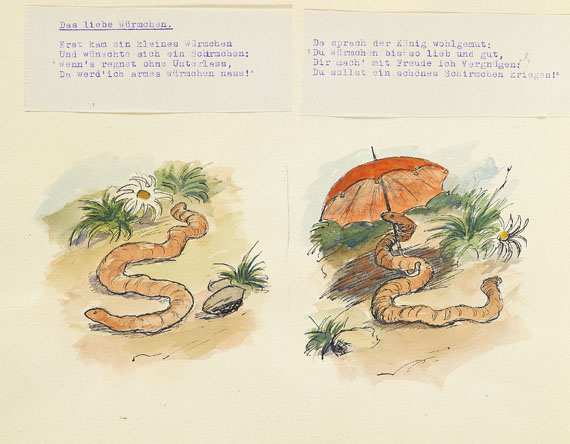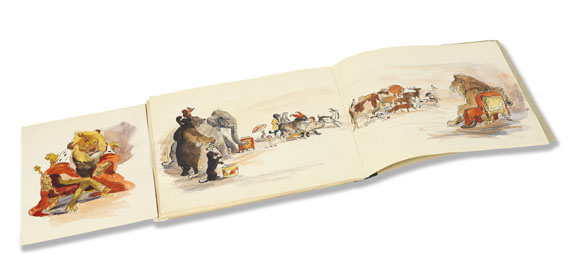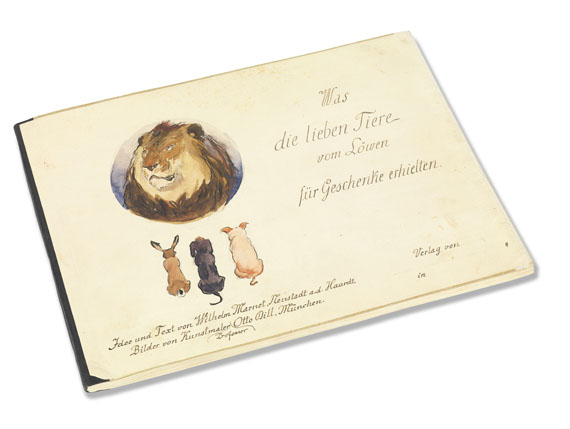 You might also be interested in

Otto Dill - lots sold by Ketterer Kunst