Sale: 405 / Rare Books, May 27./28. 2013 in Hamburg

Lot 1026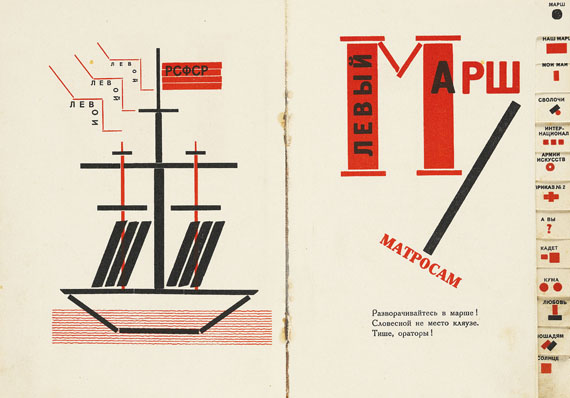 1026
Dlja golosa. 1923.
Estimate:
€ 2,000 / $ 2,340
Sold:

€ 2,880 / $ 3.369
(incl. 20% surcharge)
Lot description
Lissitzky. - Majakowski, V. W., Dlja golosa (dt. "Für die Stimme" oder "Zum Vorlesen"). Typographische Gestaltung von El Lissitzky . Berlin, RSFSR 1923. Farb. illustr. OBrosch. mit Griffregister, in priv. Pp.-Schuber. 18,8 : 13,4 cm.

Erste Ausgabe, "eine Gipfelleistung der Buchkunst des Konstruktivismus ". - Lissitzky selbst schildert die Entstehungsgeschichte des Buches folgendermaßen: Majakowski "eröffnete mir, daß der Staatsverlag sein Buch herauszugeben beabsichtigt. Damals gab es in Berlin eine Filiale des Staatsverlages. Er machte mir den Vorschlag, als Grafiker die Gestaltung des Buches zu übernehmen, während er als Autor und Lilly Brik als Redakteur fungierten. Wir wählten 13 Gedichte aus. Das Buch war zur Rezitation bestimmt. Um dem Vorleser schnelles Auffinden der einzelnen Gedichte zu ermöglichen, kam ich auf die Idee, das Prinzip des Registers anzuwenden (d. h. die alphabetische Ordnung).. Der Setzer war ein Deutscher.. Für jede Seite hatte ich ihm eine Skizze gemacht. Er dachte, wir seien verrückt. Während des Arbeitssprozesses waren die Leitung der Druckerei [Lutz & Vogt] und die Setzer von diesem ungewöhnlichen Büchlein fasziniert und verstanden, daß der Inhalt dieser originellen Gestaltung auch sehr merkwürdig sein müsse. Sie baten um Erklärung. Und ich übersetzte ihnen die Verse" (Lissitzky-Küppers). - Jedes Gedicht wird von einer Illustration, einer "großartigen typographischen Erfindung" Lissitzkys, eingeleitet (Lang). So formen die einzelnen Blätter ein unvergleichliches, in seiner Schlichtheit und schwarz-roten Schlagkraft eindrucksvolles Gesamtkunstwerk, das den Zeitgeist des Konstruktivismus in Form und Inhalt bis heute widergibt: "So wie bei dem Dichter aus dem Gedanken und dem Laut das Einheitsgebilde, das Gedicht entsteht, so wollte ich eine gleichwertige Einheit aus dem Gedicht und den Elementen der Typographie schaffen" (Lissitzy-Küppers). - Griffregister fingerfl., 2 Zeilen aus Zensurgründen geschwärzt, Innengelenke verstärkt, Brosch. etw. ausgebessert.

Splendid Pages (Bareiss Coll.) S. 58-59. - Lang S. 110-114 (Abb. 146-151). - Lissitzky-Küppers 94 und S. 21-22 sowie S. 381-82. - Papiergesänge (Kat. München 1992) Nr. 42. - From Manet to Hockney 68. - Bowlt/ Hernard 91.

First edition, "a masterpiece of constructivist book art". Typographic design by El Lissitzky. Illustr. orig. wrappers in colors with staples and thumb index. An incomparable work of art, in its plain appearance and black and red vigor an impressive piece that illustrates the Zeitgeist of Constructivism both in terms of form and content. - Index thumped, 2 lines blackened (censorship). Joints strengthend, orig. wrappers somewhat restored.


1026
Dlja golosa. 1923.
Estimate:
€ 2,000 / $ 2,340
Sold:

€ 2,880 / $ 3.369
(incl. 20% surcharge)
You might also be interested in

Wladimir Majakowski - lots sold by Ketterer Kunst