Sale: 405 / Rare Books, May 27./28. 2013 in Hamburg

Lot 843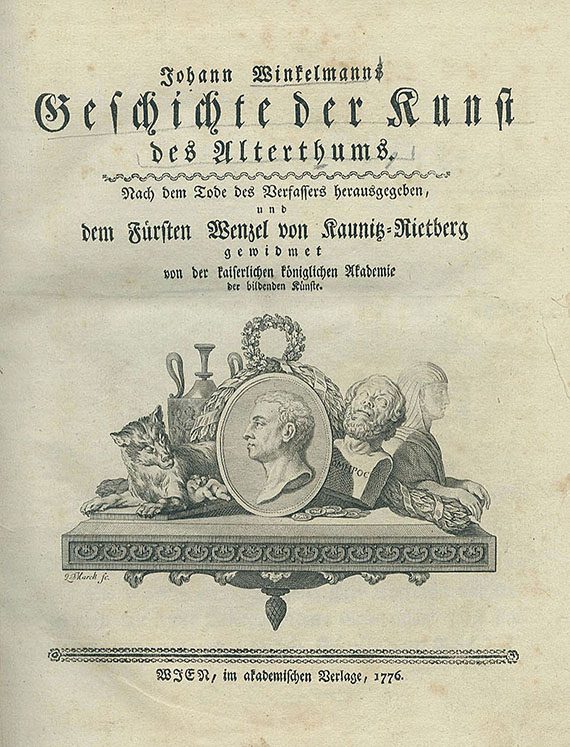 843
Johann Joachim Winkelmann
Geschichte der Kunst. 1776
Sold:

€ 264 / $ 314
(incl. 20% surcharge)
Lot description
Win(c)kelmann, J. (J.), Geschichte der Kunst des Alterthums. 2 Bde. Mit 2 gest. Titelvignetten und 20 Textkupfern . Wien, Akadem. Verlag 1776. Neuer Pgt. mit marmor. Bezugspapier. 4to. 2 Bll., LXXII, 618 S.; Titel, S. 619-881, 28 Bll.

Zweite völlig umgearbeitete Ausgabe von Winckelmanns Hauptwerk, dem Standardwerk für Kunsthistoriker. - ".. with the publication of his masterpiece, the 'History of the Art of the Ancient', his fame had become widespread. This was indeed the first work in the German language to achieve universal claim. Winckelmann had drawn attention for the first time to the importance of Greek ideals for the modern world .." (PMM). "Die in der Geschichte der Kunst des Alterthums entwickelte Auffassung griechischer Kultur prägte in ihrer einzigartigen Verbindung von sinnlicher Anschauung und sittlichen Maßstäben eine ganze Epoche der deutschen Geistesgeschichte." (KLL) - Stellenweise stockfleckig, die ersten 3 Bll. sowie die letzten 35 Bll. wasserrandig (davon 4 Bll. etw. sporfl. u. mit Fehlstellen). Einbd. berieben, Rücken verblichen. Breitrandiges Exemplar.

Goedeke IV/1, 301, 12. - UCBA II, 2152. - Rümann 1276. - Vgl. PMM 210 und Arntzen/Rainwater H 130.


843
Johann Joachim Winkelmann
Geschichte der Kunst. 1776
Sold:

€ 264 / $ 314
(incl. 20% surcharge)