Sale: 405 / Rare Books, May 27./28. 2013 in Hamburg

Lot 125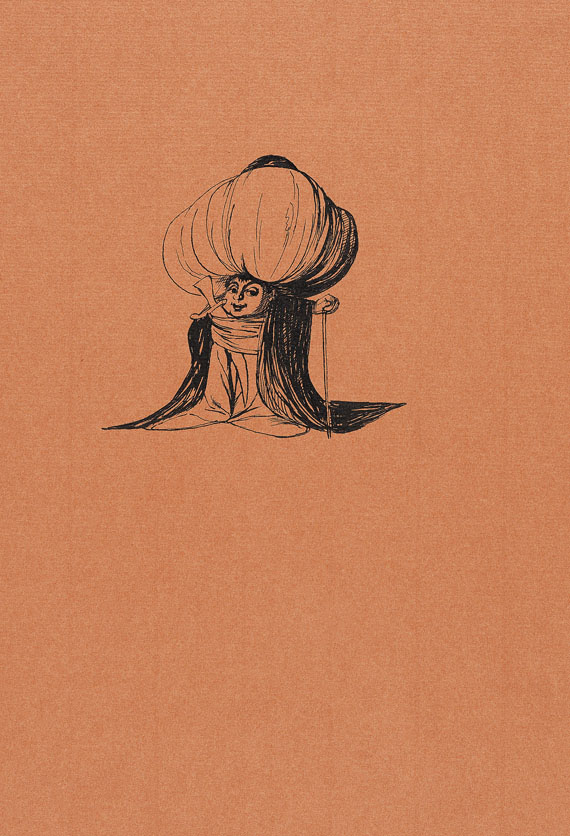 125
Hauff, Die Geschichte von dem kleinen Muck. 1957
Estimate:
€ 2,000 / $ 2,340
Sold:

€ 1,800 / $ 2.106
(incl. 20% surcharge)
Lot description
Fischer. - Hauff, W., Die Geschichte von dem kleinen Muck. Tuschemanuskript mit 28 (3 doppelblattgr.) Orig.-Tuschefederzeichnungen von F. Fischer. Weibach 1957. Geglättetes Maroquin d. Zt. mit Orig.-Tuschezeichnungen auf dem VDeckel und den Vorsatzbll. 38,5 : 27,5 cm.

Unikat mit den bezaubernden Illustrationen von Fritz Fischer (1911-1968) zu Hauffs Erzählung vom kleinen Muck. - Laut Verfasser handelt es sich hierbei um die zweite Folio-Fassung; eine erste nicht nachweisbare Folio-Fassung fertigte Fischer - laut eigenem Vermerk - im August 1955. Bisher bekannt sind lediglich zwei Entwürfe, die der Künstler im Mai bzw. zum Jahresende 1955 fertigte. Das früheste Manuskript wurde im Jahr 2000, also 45 Jahre nach Entstehung, von der deutschen Schillergesellschaft in Marbach als Druck veröffentlicht. - Fischers Zeichnungen sprühen vor Esprit, die Figuren vibrieren förmlich in ihrer zackigen Kontur, mit welcher der Illustrator sie über die Seiten springen, rennen und hüpfen lässt und bilden so ein dynamisches Gegengewicht zu den harmonisch geordneten Textfeldern: "Ich kenne das Märchen aus dem ff, liebe es seit Jahren wegen seiner Anspruchslosigkeit und als Zeichner hat es mich immer wegen der vielen Bewegungsmotive gereizt", schreibt Fischer 1955 an F. Michael vom Insel Verlag, der es jedoch nie veröffentlichte - und das trotz der meisterhaften Umsetzung, die sich im vorliegenden Manuskript offenbart: "Fritz Fischer nutzt alle Spielarten des Übertreibens: Der Spieler mit der Zeichen- oder Schreibfeder läßt seiner Phantasie freien Lauf, knüpft einen aufgelesenen Leitfaden mit anderen bunten Fäden zu seiner Ideenkette zusammen. Aus einem Einfall erfindet er ein Weltsystem. Die poetische Logik gehorcht keinem Kausalgesetz." (L. Harig). - Schönes Exemplar.

Vgl. Deutscher Schillergesells. Marbach 2000.

Unique copy of the enchanting illustrations by Fritz Fischer (1911-1968) to Hauff's tale of "Der kleine Muck". Ink manuscript with 28 (3 double-page) orig. ink illustrations. Contemp. Morocco with orig. ink illustration on the front cover and endpapers. 38,5 : 27,5 cm. Fine copy.


125
Hauff, Die Geschichte von dem kleinen Muck. 1957
Estimate:
€ 2,000 / $ 2,340
Sold:

€ 1,800 / $ 2.106
(incl. 20% surcharge)
More Images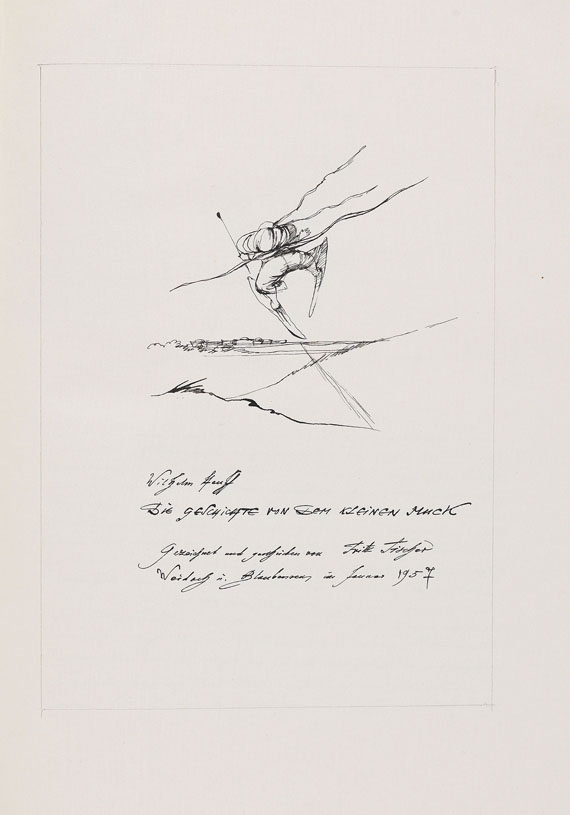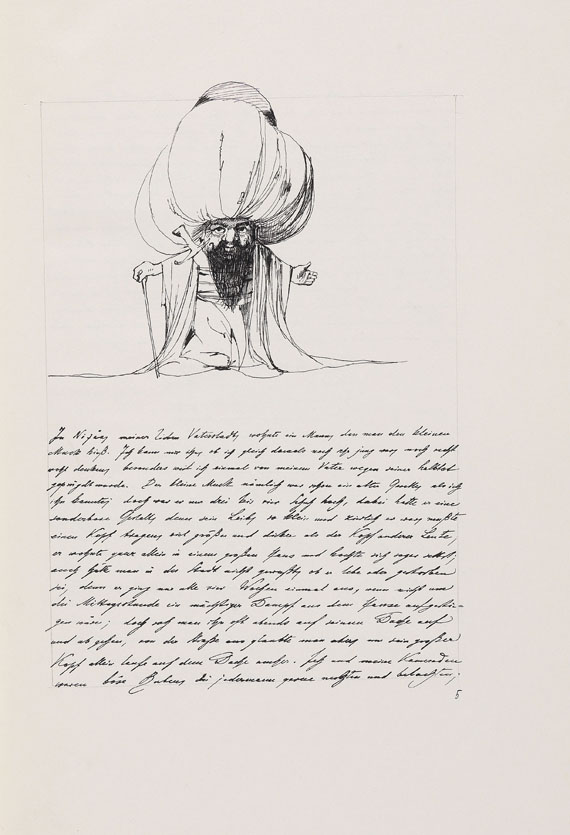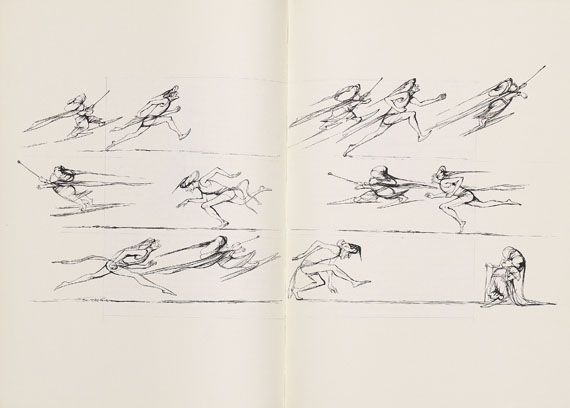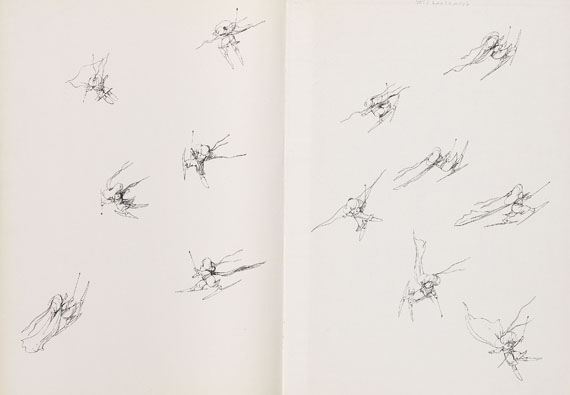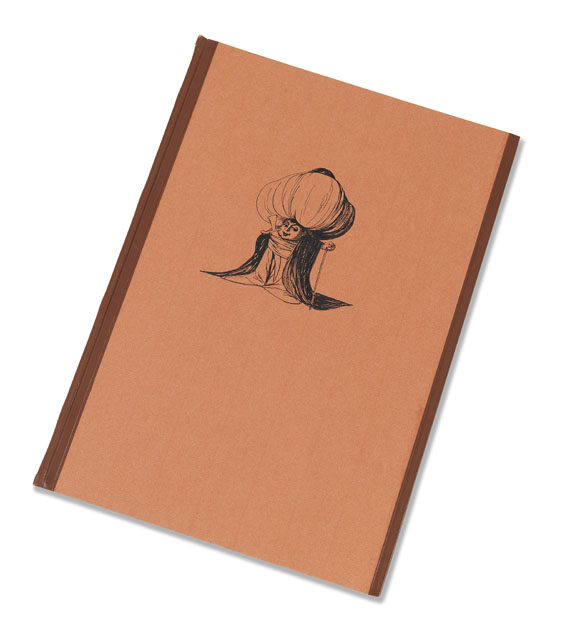 You might also be interested in