Sale: 405 / Rare Books, May 27./28. 2013 in Hamburg

Lot 38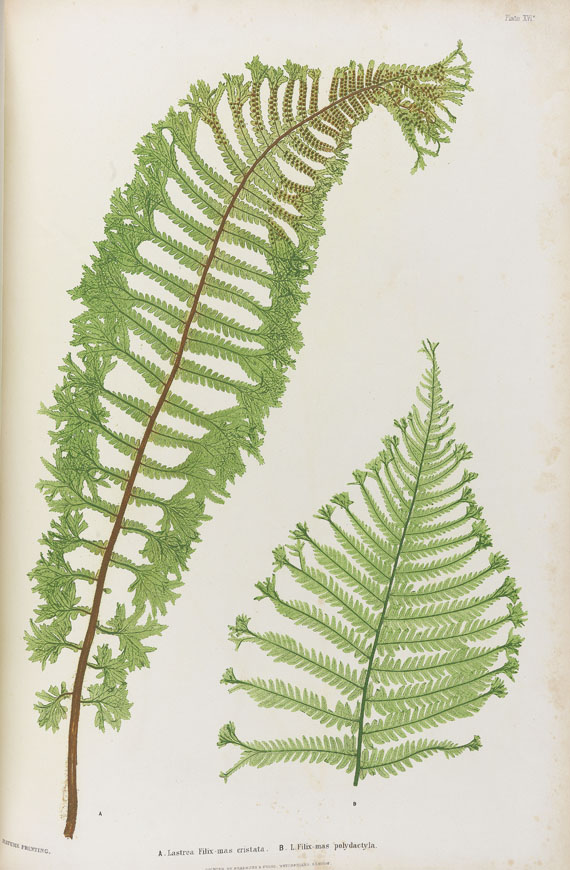 38
The Ferns. 1855
Estimate:
€ 6,500 / $ 7,605
Sold:

€ 5,400 / $ 6.318
(incl. 20% surcharge)
Lot description
Moore, Th., The ferns of Great Britain and Ireland. Edited by J. Lindley. Nature-printed by H. Bradbury. Mit 240 Abbildungen auf 51 farb. Tafeln in Naturselbstdruck . London, Bradbury und Evans 1855. Neuer bordeauxroter HLdr. mit RVerg. unter Verwendung der alten Deckel. Gr.-Folio (56 : 37,5 cm). 83 Bll.

Erste Ausgabe . - "This work, Bradbury's chef d'½uvre and one of the finest pieces of nature-printing ever achieved was published in seventeen monthly parts" (De Belder). - Der engl. Botaniker und Farn-Spezialist Thomas Moore (1821-87) gab verschiedene botanische und Garten-Zeitschriften heraus und war ab 1848 Kurator des botanischen Gartens in Chelsea. - Der Wiener A. Auer hatte die Entdeckung des Naturselbstdruckes für sich reklamiert, aber schon 100 Jahre zuvor beschrieb der Däne P. Kyhl diese Methode. H. Badbury hatte in der Wiener Staatsdruckerei gelernt und das Verfahren als sein eigenes geschützt. Die detaillierten Arbeiten von Henry Bradbury zählen zu den schönsten dieser aufwendigen, ungewöhnlich naturgetreuen und vor allem sehr seltenen Technik. "Dieses Prachtwerk zeigt die Pflanzen, vielfach mit der Wurzel, in verschiedenen Entwicklungszuständen, so daß auf den 51 Tafeln 240 Einzeldarstellungen zu sehen sind, die in den natürlichen Farben gedruckt wurden. Es sind 102 ganze Pflanzen und 1387 Zweige dargestellt, unter letzteren geknickte, die entfaltet bis zu 85 cm messen." (Fischer) - Tafeln meist nur im Rand etw. gebräunt und stockfl. (ca. 5 Taf. stärker), Text kaum stockfleckig. Einbd. beschabt und bestoßen. Exlibris. Prachtvolles botanisches Werk.

Nissen 1400. - Pritzel 6405. - Freemann 2639. - Fischer 89. - De Belder 237. - Vgl. Geus 38 (spät. Ausg.).

Contains 240 printings on 51 colored plates in nature-printing. New half calf using contemp. boards. - First edition. Some foxing, mostly in the margins (ca. 5 plates stronger). Binding scraped and bumped. Exlibris. Magnificent botanical work.


38
The Ferns. 1855
Estimate:
€ 6,500 / $ 7,605
Sold:

€ 5,400 / $ 6.318
(incl. 20% surcharge)
More Images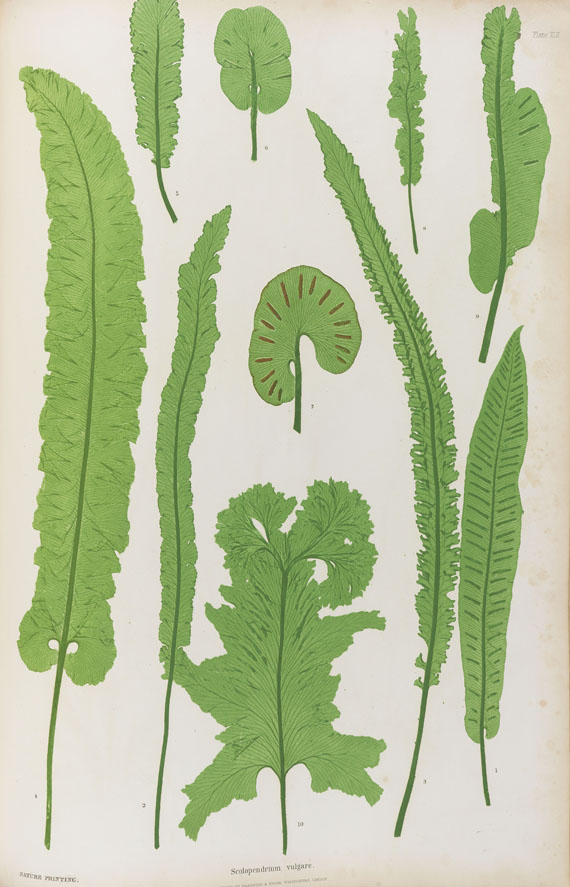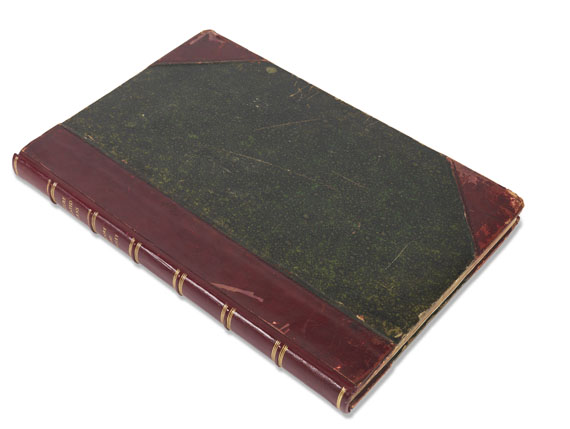 You might also be interested in

Thomas Moore - lots sold by Ketterer Kunst