Sale: 405 / Rare Books, May 27./28. 2013 in Hamburg

Lot 55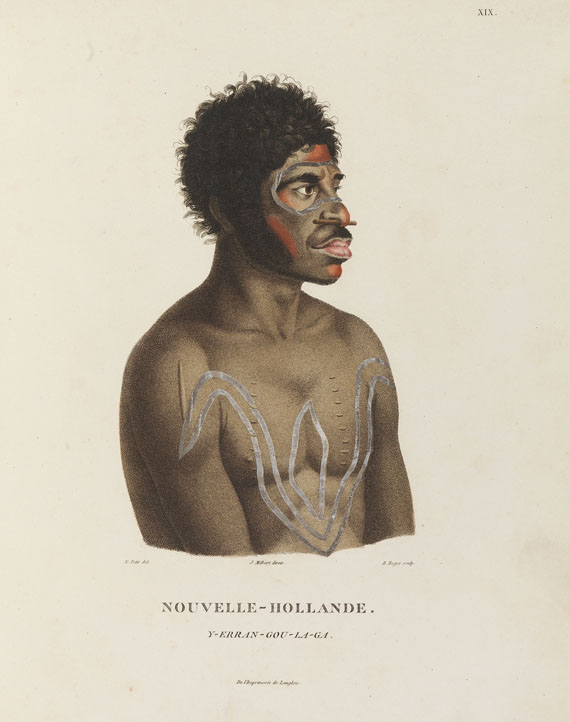 55
Voyage de découvertes aux Terres australes. 3 Bde. 1807-16.
Estimate:
€ 15,000 / $ 17,850
Sold:

€ 12,000 / $ 14.280
(incl. 20% surcharge)
Lot description
Péron, F. [A.], Voyage de découvertes aux terres australes exécuté .. pendant les années 1800-1804 (Bd II: Continué par L. Freycinet). 2 Textbde. und Atlas in 2 Tln., zus. 3 Bde. Mit 1 gest. Titel mit Vignette, gest. Porträt, 14 gest. Karten (2 gefalt.) und 40 Kupfertafeln (23 in Farbstich oder kol.; 2 doppelblattgr.). Paris, Imprimérie impériale 1807-16. Ldr. d. Zt. mit goldgepr. Deckelfilete, Rücken mit goldgepr. "P H"-Monogramm und farb. Schild. 4to. (Atlasformat etw. größer). 2 Bll., XV, 496 S., 1 Bl.; XXXI, 471 S.

Erste Ausgabe. Sehr seltenes vollständiges Exemplar der Reisebeschreibung von Australien und Tasmanien mit Text und Atlas. - Péron (1770-1810), Mediziner und Naturwissenschaftler, nahm als Zoologe an der französischen Südsee-Expedition unter N. Baudin (1754-1803) teil, deren Ziel hauptsächl. die Erforschung der Küsten Australiens und Tasmaniens war. Während die Reise vom geographischen und kartographischen Gesichtspunkt her hinter der zeitgleichen britischen Expedition unter Matthew Flinders zurückstand, konnte die große Ausbeute an naturwissenschaftlichen und zoologischen Erkenntnissen und Sammlungen als der größte Gewinn bezeichnet werden. "Aufopfernd unterstützt bei seinen Arbeiten, die alle Erscheinungen der Natur wie des Menschen erfaßten, wurde [Péron] durch den trefflichen Zeichner Lesuer, der .. unterwegs dann über 2000 Zeichnungen anfertigte .. und in fruchtbarem Zusammenwirken an der Herausgabe des wissenschaftlichen Reisewerks mitarbeitete." (Henze) - Nach Pérons Tod 1810 wurde das Werk von einem weiteren Expeditionsteilnehmer, L. de Freycinet, vollendet und herausgegeben. - Die prachtvollen Kupfer zeigen Eingeborene von Tasmanien und Australien mit typischer Haartracht u. Schmuck, Jagdwerkzeuge, ferner die australische Fauna (Wombat, Schnabeltier, Beutelmarder, Kasuar, Quallen, Schnecken), sowie Gesamt- und Teilkarten von Australien, Küstenreliefs, Plan von Sydney u. a. Das Porträt zeigt Péron. - Vorwieg. in den Rändern etw. stockfleckig, die Faltkarten mit Falzriß (1 ca. 10 cm). Einbde. beschabt. - Exemplar aus der Privatbibliothek von Herzog Peter Fr. Ludwig von Oldenburg mit dessen Monogramm "P v H" (= Peter von Holstein) auf den Buchrücken und kl. gekröntem Monogr.-Stempel auf den Titelblättern.

Ferguson 449. - Henze II, 79. - Monglond VII, 675. - Nissen, Zool. 3120. - Lipperheide Me 2 (Atlas).

First edition. Rare complete copy with text and atlas containing all plates and maps: engr. portrait, 1 engr. title page with vignette, 14 engr. maps (2 folding) and 40 copperplates (23 in color, 2 doublepage). Contemp. calf with some gilt decoration and label on spine. - Somewhat foxed mainly in the margins, the large maps split in 2 folds (up to 10 cm). Bindings scraped. - Copy from the private library of Duke Peter of Holstein with his monogr. stamp (partly gilt) on spines and title pages.


55
Voyage de découvertes aux Terres australes. 3 Bde. 1807-16.
Estimate:
€ 15,000 / $ 17,850
Sold:

€ 12,000 / $ 14.280
(incl. 20% surcharge)
More Images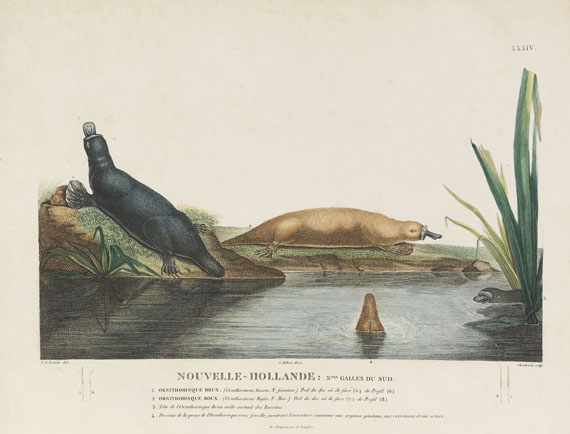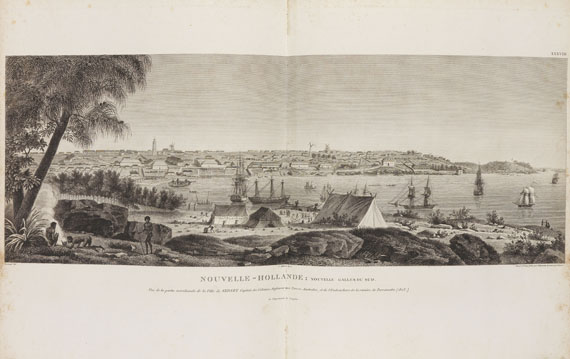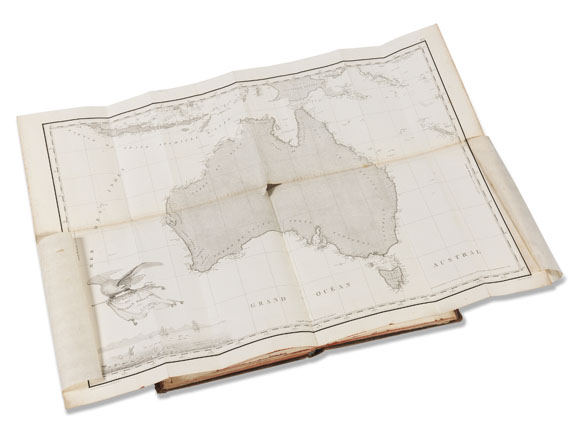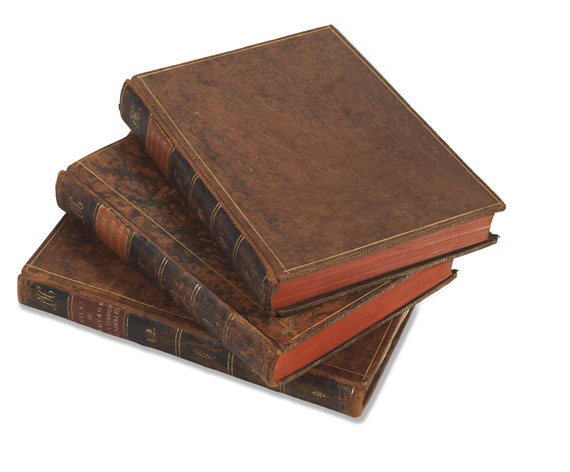 Francois Auguste Péron - lots sold by Ketterer Kunst