Sale: 418 / Rare Books, Nov. 17./18. 2014 in Hamburg

Lot 155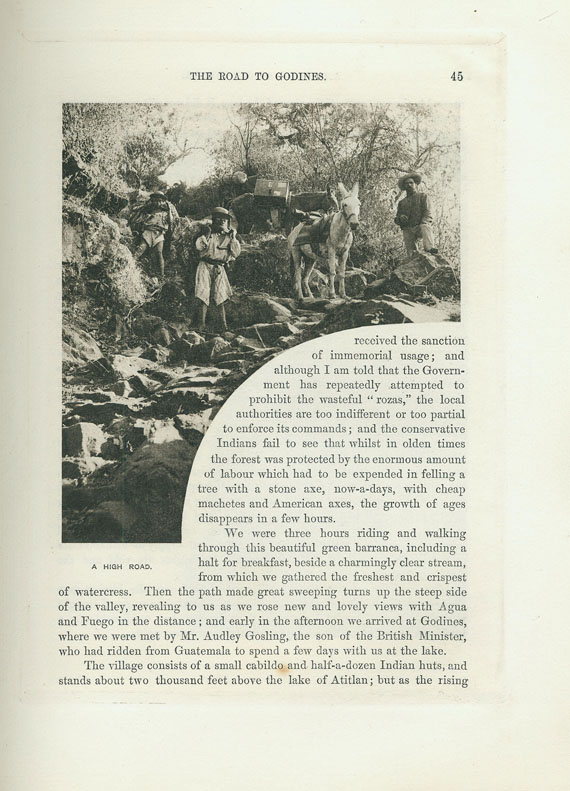 155
A Glimpse at Guatemala. 1899
Sold:

€ 324 / $ 385
(incl. 20% surcharge)
Lot description
Maudslay, A. C. und A. P. Maudslay, A glimpse at Guatemala, Mit 44 (37 fotogr., 2 chromolithogr.) Tafeln, 13 (7 gefalt. bzw. doppelblattgr.) Karten und Plänen sowie zahlr. Illustrationen, Plänen und fotogr. Abbildungen im Text. London, J. Murray 1899. OHLwd. mit RTitel und farb. VDeckel-Vignette. 4to. 1 Bl., XVII S., 2 Bll. (d. l. Errata), 289 S.

Erste Ausgabe. - Beschreibung von Maudslays letzten großen Reise in das Land der Maya, ausgeschmückt mit zahlr. Fotografien und Karten. Eines der Höhepunkte der engl. Beschreibungen des 19. Jhs. zu Guatemala. Der britische Archäologe Alfred Perciaval Maudslay (1850-1931) geht hierbei nicht nur vom archäologischen Standpunkt aus, sondern erfaßt auch das Land und die Leute. Seine Reisebeschreibung umfaßt u. a. Antigua, Godines, den See Atitlan, Rio Negro, Vera Paz, Zacapa, Ruinen der Ixkun, Chichen Itza, Copan, Quirigua, Palenque, Laguna, Tikal, Menche. - Unbeschnitten. - Vereinz. gering fleckig, Tafeln tls. angefalzt (1 mit transparentem Klebefilm hinterl.), 1 Bl. mit Randeinriß (mit transparentem Klebeband hinterl.), gr. Faltkarte mit tls. hinterl. Randeinrissen, vord. Innengelenk leicht angebrochen. Einbd. etw. fleckig und berieben. - 1 Beilage (The Pan American Union, On certain antiquities in Western Guatemala, Washington 1924).

First edition of Maudslays last expedition to Guatemala. With 44 (37 photogr., 2 chromolithogr.) plates, 13 (7 folding or doublepage) maps and plans and numerous (partly photogr.) illustrations. Orig. half cloth with lettering and col. front cover vignette. - Untrimmed. - Here and there minim. stained, plates partly mounted on extended guards (1 backed with glue strip), 1 marignal tear (backed with glue strip), folding map with marginal tears (partly backed), front inner joint slightly broken. Binding slighty stained and rubbed. - 1 addition.


155
A Glimpse at Guatemala. 1899
Sold:

€ 324 / $ 385
(incl. 20% surcharge)
Anne Cary Maudslay - lots sold by Ketterer Kunst