Sale: 421 / Rare Books, May 18./19. 2015 in Hamburg

Lot 518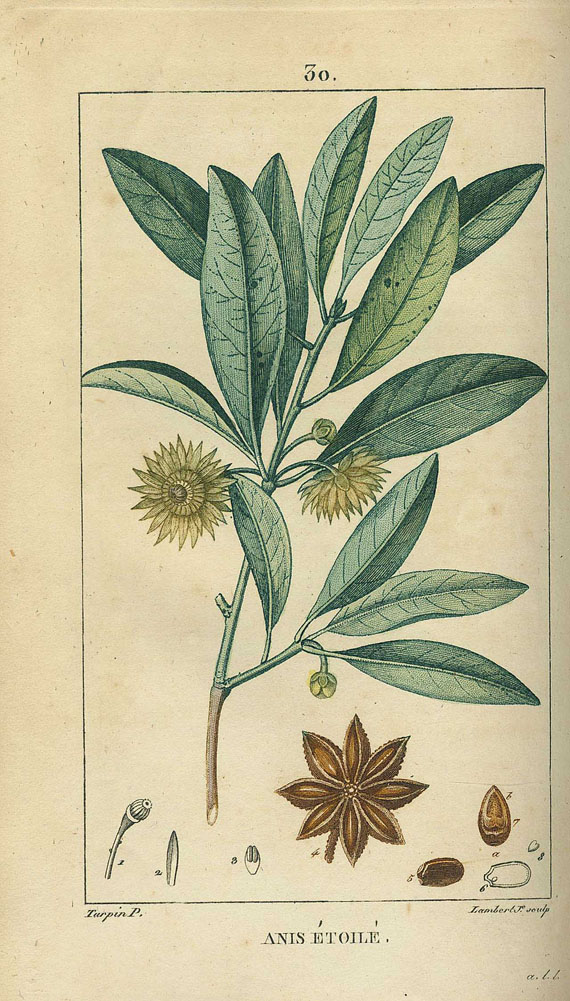 518
Francoise Pierre Chaumeton
Flore medicale. 8 Bde. 1814-20
Estimate:
€ 1,200 / $ 1,428
Sold:

€ 960 / $ 1.142
(incl. 20% surcharge)
Lot description
Chaumeton, (Francois Pierre), Poiret (Jean Louis Marie) und (Joseph Tyrbas de) Chamberet, Flore médicale. Peinte par Mme. E. P(anckoucke), et par P. J. F. Turpin. 7 in 8 Bdn. Mit 424 kolor. Kupfertafeln und 2 Falttafeln. Paris, C. L. F. Panckoucke 1814-1820. HLdr. d. Zt. mit RVerg. 8vo.

Erste Ausgabe des umfangreichen Werkes. Mit dem oft auch separat erschienenen und häufig fehlenden zweiteiligen Bd. VII unter den Titeln Partie élémentaire par J. L. M. Poiret und Essai d'une iconographie élémentaire et philosophique des végétaux, avec un texte explicatif par M. Turpin . - "A work most notable for its fine illustrations in the Redouté style of stipple-engraving by P. J. F. Turpin and Anne-Ernestine Panckoucke" (De Belder). - Redoutés Zeitgenosse Turpin (1775-1840) überzeugte durch die "Schärfe seines Beobachtens" und seine "bewundernswerte Zeichenfertigkeit". "Vorbildlich in ihrer überzeugenden Typik sind die Figuren, die er neben der Redoutéschülerin Mme. E. Panckoucke zur Flore médicale .. beigesteuert hat .. Sie mögen in ihrer künstlerischen Wirkung unbedenklich neben die des Fuchs'schen Kräuterbuchtyps gestellt werden, während sie sie in ihrer Aussageträchtigkeit, dem Stand der Wissenschaft entsprechend, naturgemäß übertreffen. Sie allein würden Turpin unter die ersten Botanikmaler aller Zeiten einreihen" (Nissen S. 147). - Die schönen Kupfer zeigen nicht nur Blumen und Kräuter, sondern vor allem auch eine Vielzahl von Früchten sämtlicher Nutzpflanzen (Kakao, Kaffee, Bananen, Zitrusfrüchte etc.). - Etw. gebräunt und tls. stockfl., Falttaf. mit hinterl. Randeinriß. Einbd. berieben, 2 Kap. mit Ldr. ausgebessert.

Nissen 349 (425 Taf.). - Pritzel 1679. - De Belder 65. - Plesch Coll. 131. - Wellcome II, 332.


518
Francoise Pierre Chaumeton
Flore medicale. 8 Bde. 1814-20
Estimate:
€ 1,200 / $ 1,428
Sold:

€ 960 / $ 1.142
(incl. 20% surcharge)
Francoise Pierre Chaumeton - lots sold by Ketterer Kunst