Sale: 421 / Rare Books, May 18./19. 2015 in Hamburg

Lot 528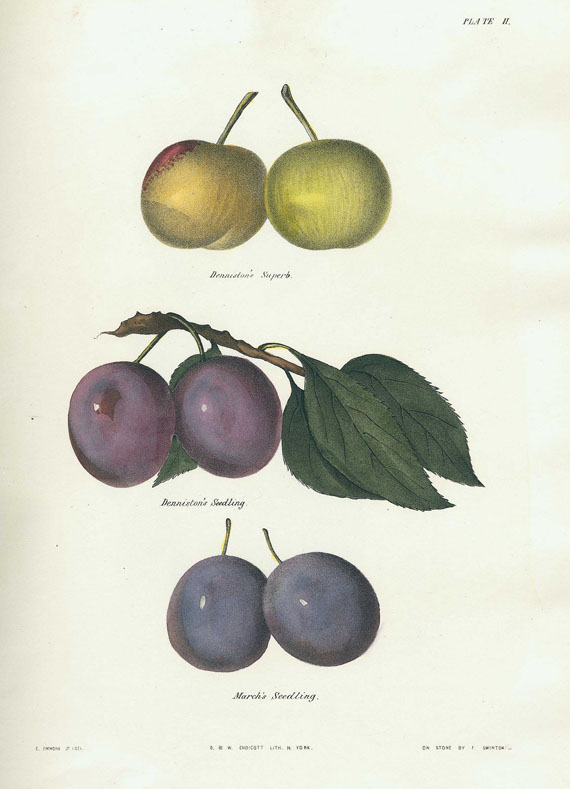 528
Agriculture of New York. 1851
Sold:

€ 240 / $ 285
(incl. 20% surcharge)
Lot description
Emmons, Ebenezer, Agriculture of New-York .. Together with a condensed view of the climate and the agricultural productions of the state.. Bd. III (von 4). Tafelband. Mit gest. Titel und 100 kolor. lithogr. Tafeln . Albany, C. van Benthuysen 1851. HLdr. d. Zt. mit goldgepr. RTitel. 4to. VII S.

Natural History of New York . - Erste Ausgabe des pomologischen Tafelbandes. - "Vol. III is devoted partly to the description and illustration of the fruits of the State, and partly to the principles of Practical Agriculture" (Sabin). - Die Tafeln mit Darstellungen von Äpfeln (50), Birnen (22), Himbeeren, Stachelbeeren, Johannisbeeren, Kirschen, Pflaumen (8), Pfirsichen (11) und Pfirsich-Stämmen. - Tafeln meist mit unschön nachgebräunter Farbfixierung. Einbd. etw. berieben. ob. Rücken ausgebessert.

Nissen, Zool. 1064, 5. - Sabin 53794 (99 Taf.).


528
Agriculture of New York. 1851
Sold:

€ 240 / $ 285
(incl. 20% surcharge)