Sale: 426 / Rare Books, Nov. 23./24. 2015 in Hamburg

Lot 459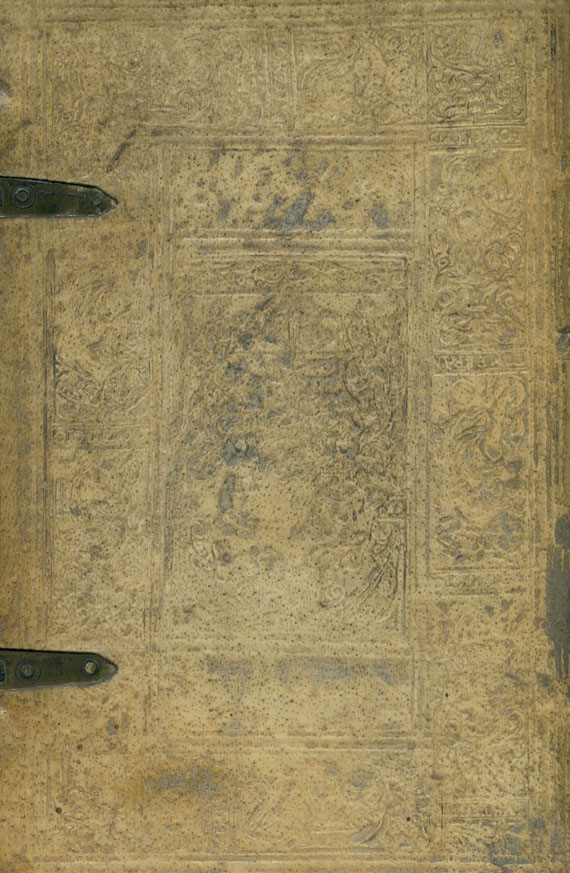 459
Marcus Fabius Quintilianus
Oratiarum institutionum., 1548.
Sold:

€ 204 / $ 224
(incl. 20% surcharge)
Lot description
Quintilianus, Marcus Fabius, Oratoriarum institutionum libri XII. Mit einigen figürl. Holzschnitt-Initialen und Holzschnitt-Druckermarke auf dem Titel und am Ende. Basel, N. Brylinger 1548. Schweinslederband d. Zt. (datiert 1553) über Holzdeckeln mit reicher Blind- und Rollenprägung. sowie 2 Messing-Schließen. 8vo. 4 nn. Bll., 716 S., 16 nn. Bll.

Seltenere, von J. Camerarius und J. Sichard besorgte Ausgabe des Hauptwerkes von Quintilian. Enthält alle 12 Bücher des Textes und am Ende ein umfangreiches Register. - Angeb.: Ders. , Oratoris eloquentissimi declamationum liber. Mit Holzschnitt-Druckermarke auf dem Titel. Ebd. 1549. Titel, 297 S., 2 w. Bll. - Zwei lateinische Klassikerausgaben in einem Band aus der Baseler Offizin von Nicolaus Brylinger, "the first printer who issued editions of the Latin authors with all objectionable passages omitted" (Ch. W. Heckethorn). - Titel mit hinterl. Fehlstelle und 2 hs. Besitzeinträgen, Einbd. berieben, Bindung partiell gelockert; insges. schönes Exemplar.

VD 16, Q 96 und 107. - Schweiger II, 838. - BM STC, German Books S. 721 (nur I). - Beide Ausgaben nicht bei Adams.


459
Marcus Fabius Quintilianus
Oratiarum institutionum., 1548.
Sold:

€ 204 / $ 224
(incl. 20% surcharge)
You might also be interested in

Marcus Fabius Quintilianus - lots sold by Ketterer Kunst