Dictionary

Group Les Vingt

The group "Les Vingt", also known as "Société des Vingt" or short "Les XX", was founded on 28 October 1883 by eleven Belgian artists and artists living in Belgium, that were close to the ideas of Symbolism. They invited nine further artists, so that there were "Twenty" (French: "vingt") artists in the end. Between 1884 and 1893 "Les XX" organized an annual exhibition to which they also invited other artists with a similar mindset, however, it did not necessarily have to be a symbolist one.
"Les Vingt" reacted to the academic art of the official "Salon" and partly also to the conservative policies of the association "L'Essor". Unlike the latter, the group did have neither a board of directors nor a jury or a chairman. The group's head was at the same time its secretary, Octave Maus (1856-1919), who founded the magazine "L'Art moderne" together with his friend, the jurist Edmond Picard (1836-1924). In this important organ of "Les Vingt", Picard defended their idea of art against conservative critics, however, he also deliberately made for foes within the "Société des Vingt" with his at times sharp commentary. Thus some artists left the "Société des Vingt" in 1887, but they were soon replaced by other like-minded people.
The group's most important contribution to the development of Modernism was the organization of exhibitions and other events. In line with the association's program, they all had a concept of art which was both international as well as style- and genre spanning. Music and literature were just as important as visual art, which is why "Les Vingt" also organized concerts and readings that took place together with the annual exhibitions. The then popular concept of the gesamtkunstwerk found successful expression in their activities.
Among the 126 exhibition guests were different avant-garde artists from Europe and the USA, representing Symbolism but also various other styles such as Realism, Impressionism, Post-Impressionism and Art Nouveau. Among those worthwhile mentioning were James Abbott MacNeill Whistler, Odilon Redon, Paul Cézanne, Claude Monet, Auguste Renoir, Henri de Toulouse-Lautrec, Georges Seurat, Paul Signac and Walter Crane. This cooperation brought forward connections with other artists' circles in Paris, London, Brussels and Vienna , whereas styles like Seurat's Neo-Impressionism, William Morris` "Arts and Crafts Movement" and, not least, French Symbolism were met with great enthusiasm in Brussels. In return, Belgian art was widely spread and its influence could be observed in France, Germany and Austria. "Les Vingt" broke up proactively after it had been in existence for ten years.
The most important members of the "Société des Vingt", to which a total of 32 artists belonged, were Frantz Charlet, Paul Dubois, James Ensor, Alfred William Finch, Fernand Khnopff, Théo Van Rysselberghe, Guillaume Van Strydonck, Henry De Groux, Georges Lemmen, George Minne, Auguste Rodin, Félicien Rops, Paul Signac, Jan Toorop, Henry Van de Velde and Isidore Verheyden.
+
Sold lots Top 100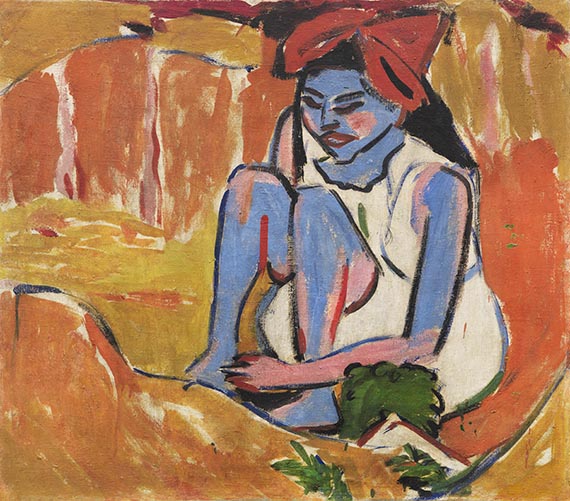 Ernst Ludwig Kirchner