Dictionary

Laren School

The Laren School counts among the most important Dutch artists' colonies, named after the small village of Laren, located some 30 km east of Amsterdam, surrounded by undulating heathlands. The village attracted numerous artists as early as in the 1870s, the real boom began in 1882, when the village was connected with Amsterdam by a railway line.
Artists strongly influenced by the Hague School, such as Jozef IsraŽls, Albert Neuhuys, Hein Kever and Evert Pieters, were especially active between 1880 and 1900. Realistic interiors of Laren farm houses, as well as plein air landscapes were the preferred subjects of the paintings. The artist Anton Mauve was particularly active in the latter, his views of the heathlands were quite popular with American art lovers. The German impressionist Max Liebermann was also a frequent guest in Laren - as well as in the Dutch painters' village of Katwijk.
The second generation of Laren artists in the 20th century, the colony lasted into the 1920s, was shaped by important representatives of Modernism. New ideas were brought to Laren as early as in the 1890s, for instance by Gijs Bosch Reitz, who was a representative of Dutch Art Nouveau, or "Nieuwe Kunst", later by Co Breman and Hart Nibbrig, who worked in an neo-impressionist style. Numerous further artists were part of the Laren School in the 20th century, such as the sculptor Joseph Mendes da Costa, the luminist and expressionist Jan Sluijters, the Belgian Gustave de Smet or Nico van Rijn. Pete Mondrian is definitely the most remarkable among them, who was working in Laren between 1912 and 1919.
The collection of the "Singer Museum", founded in Laren in 1956, gives today's art lovers an idea of the Laren School's multifaceted history.
+
Sold lots Top 100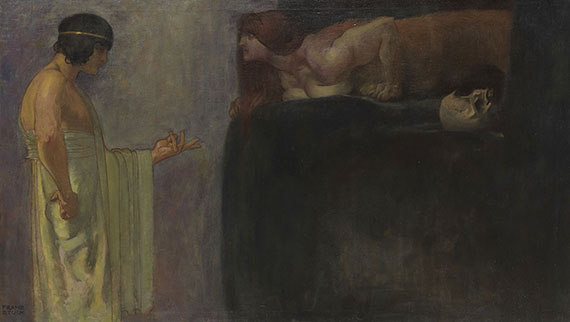 Franz von Stuck