Dictionary

Late Gothic and Nothern European Renaissance

In the 15th century, radical artistic changes took place in Northern Europe. Applying the term "Renaissance" to Northern Europe, however, remains controversial, and why the neutral term "Late Gothic" is more frequently used. The Late Gothic style was characterised by a new naturalism, which spread rapidly from the work of the early Netherlandish pioneers to the rest of Northern Europe. In Basel, Konrad Witz (c. 1400-46) became a leading figure of the movement, and in Cologne, Stefan Lochner (c. 1400/10-51), adopted and developed the lyricism of the Soft Style.
The unidentified Master of the Darmstadt Passion, (active 1435-50/60) and the Master of Marienlebens (active 1460-90), put the specifications of the Flemish "Ars Nova" into practise. The early Ulm School and their partially powerful naturalism can be attributed to the painter Lucas Moser (c. 1390-after 1434), and the doubly-talented Hans Multscher (c. 1400-67). .
The North European Renaissance was particularly successful in France, mediated through the Dutch book illustrators and the sculptor Claus Sluter (c. 1350-1405) who brought it to early fruition within the context of International Gothic. Jean Foquet's (1420-c. 78/81) work represents a highpoint of the North European Renaissance.
In Italy, artists and collectors were clearly inspired by the North European Renaissance, as demonstrated in the reception of Hugo van der Goes' (c. 1435/40-82) "Portinari Altar" (c. 1475). His work also represented a trend, already demonstrated in the work of Rogier van der Weyden (1399/1400-64), for expressive, dynamic, and ornamental formal language. This trend also architecture - in increasingly playful and expressive tracery. The work of Van der Goes' and the Dutch sculptor Nikolaus Gerhaert van Leyden (c. 1420-c. 73), contained this kind of dynamic, as well as the art of Master E. S (c.1420-68) and Erasmus Grasser Grasser (c. 1450-1518) and the oeuvre of Veit Stoss (c. 1447-1533) or Michael Pacher (c. 1435-98).
At the turn of the century, the classical ideal also reached the North European Renaissance. The main exponents of this development included the France, Jean Perreal (c. 1460-1530) and the book illustrator Jean Colombe (1467-1529), in Spain, Pedro Berruguete (c. 1450-1504), in the Netherlands Quentin Massys (c. 1466-1530) and Jan Gossaert (Mabuse, c. 1478-1532), and in Germany both Hans Holbeins (the Older c. 1465-c. 1524; the Younger c.1498-c.1543). All artists were, however, eclipsed by one person, whose name became synonymous with the Northern European Renaissance: Albrecht Dürer.

+
Sold lots Top 100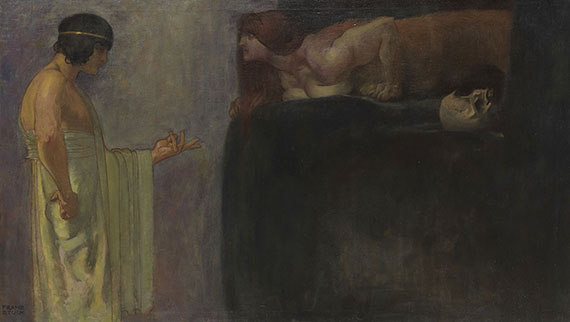 Franz von Stuck