Dictionary

Le Style Mucha

The enormous success of Alphonse (Alfons) Maria Mucha (1860-1939), who was mostly active as a poster artist, was responsible for the description "Le Style Mucha", which accounted for certain works of Art Nouveau, which carried Mucha's stylistic features, most of all his special type of women.
Mucha was born in Moravia and went to Paris in 1887, after he had spent his training years in Vienna and Munich. In 1894 he designed a poster for the play "Gismonda", in which the famous actress Sarah Bernhardt had the leading part. Even though he had already made poster designs in earlier times, the "Gismonda" commission made for the artistic breakthrough of Alfons Maria Mucha. The both monumental and elegant figure concept and the dignified allusion to Byzantine mosaics enthused the actress so much that she signed a six-year contract with her new favorite artist. He also created designs for her costumes, the stage and other theater decorations and wasawarded numerous commissions for posters, illustrations and calendars.
Despite the supposedly superficial character of poster art, Alfons Maria Mucha always tried to convey deeper contents and developed a very intricate symbolism of blossoms just for this purpose. Besides Byzantine art, his style was shaped by the works of Hans Makart, Eugène-Samuel Grasset and the Pre-Raffaelites. Alphonse Maria Mucha's illustrations are characterized by a stylized female figure, an elegant line management and most of all by splendid ornaments that called reminiscence of Viennese art at the turn of the century. He created a very delicate and gentle type of dancing women with long and undulating hair that was often framed by an aureole. Many contemporaries were inspired by Mucha and made works in various genres that were in the so-called "Style Mucha".
Even though the Czech denied any kind of connection with Art Nouveau and always plead for a single everlasting art, his style was celebrated as the epitome of the movement. The connection even went to a point around 1900 when "Le Style Mucha" was synonymously used for Art Nouveau.
+
Sold lots Top 100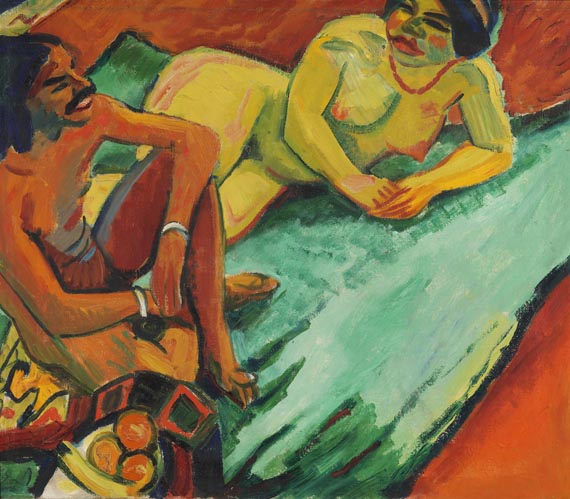 Hermann Max Pechstein