Dictionary

Ruppelwerk

The metalware factory Ruppelwerk in Gotha was producing goods in a Bauhaus style for just a short period of time. Marianne Brandt (1893-1983) was the one to whom the co-operation can be ascribed, as she had already delivered proof of her talents in industrial design in the co-operation with Kandem.
After leaving the Bauhaus, Marianne Brandt at first worked for some time in Walter Gropius` Berlin architecture firm. Even though Gropius was quite content with her works, she had to look for new fields of activity, which is why she joined the Ruppelwerk GmbH in Gotha on 10 December 1929 as head of the "design department for metal goods in coated steel panel". Besides making new designs, she was also in charge of revising the Ruppelwerk's artisan products. It was her declared goal to "bring the confusing and uncharming product range of the Ruppelwerk in line with the Bauhaus philosophy", as she wrote in a letter to Gropius.
This was indeed not an easy task: The Ruppelwerk's line of products was completely old-fashioned and full of useless and brummagem objects; additionally, the company's management structure was coined by a rigid hierarchy. Marianne Brandt was quite frustrated by this very uncreative environment. Her innovative ideas did not catch on, the Ruppelwerk retained its old-fashioned and ornate products. Marianne Brandt wrote in a letter to László Moholy-Nagy that she would not mind to be made redundant, as she had to support many things she could not really identify with and that she was on everything but on harmonious terms with the management. The fact that she still stayed up until the end of October 1932, when she lost her job because of the Ruoppelwerk's financial situation, was largely due to her social conscience, as Marianne Brandt was able to support friends and family with her income at the Ruppelwerk.
Even though the situation at the Ruppelwerk was more than difficult, Marianne Brandt still managed to introduce important changes by entirely removing luxury goods and joke articles from the product line, replacing them with useful products. In terms of the product's design, she also managed to overcome the ornate forms and decorations. Instead, she enlivened the reduced works of coated steel plate with glass elements, wooden balls and chrome parts. The combination of glass and matte black coated metal is typical for many works that Marianne Brandt created for the Ruppelwerk and that show a certain closeness to Art Deco.
Among the remarkable works that Marianne Brandt made for the Ruppelwerk is a ball-shaped, matte black inkpot of metal with a hemispherical lid made of molded glass. Elegant desk sets or clocks made of steel plate in a plain style that is up to date even today are other examples of the Ruppelwerk's Bauhaus product line. Marianne Brandt presumably was also involved in the Ruppelwerk's most famous product the "Tastlicht" (Tactile Light).
After Marianne Brandt had left the Ruppelwerk in 1932, many of her products were anonymised or changed, so that it is quite hard to tell which part can be ascribed to the Bauhaus artist.

Cf.: Otto, Elizabeth (editor): Tempo, Tempo! Bauhaus-Photomontagen von Marianne Brandt (= Tempo, Tempo! The Bauhaus photomontages of Marianne Brandt), published for the Bauhaus archive, Berlin 2005.
+
Sold lots top 100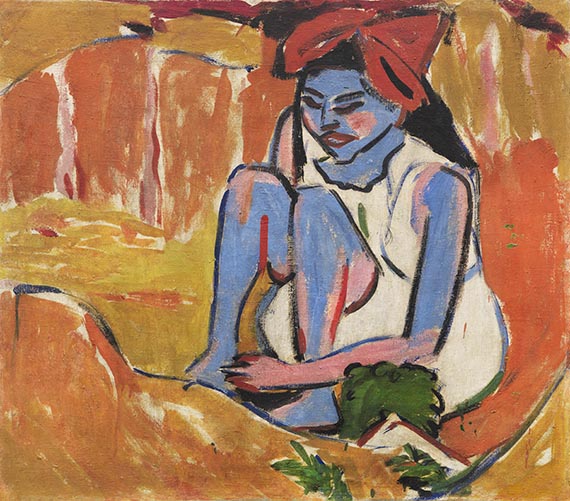 Ernst Ludwig Kirchner