Dictionary

Skagen Paintings

A group of artists congregated to form the "Skagen painters" in Skagen, a small fishing village in the north of Denmark, situated on both North and Baltic Sea, at the end of the 19th century. Following the model of the School of Barbizon, the artists wanted to make pleinair paintings and capture nature in a realistic manner in their paintings. The "Skagen painters" found the subjects of their paintings in the surroundings of the small village, which proved to be quite suitable for pleinair painting, as Skagen is situated where Baltic and North Sea converge, thus the "Skagen painters" often depicted the breaking waves and the water's light reflections. Additionally, they observed the people doing their work or watched the children playing on the beach. The "Skagen painters" were especially fascinated by the northern lights, their depiction making for the painting's special appeal. However, the "Skagen painters" did not only depict outside scenes in their paintings, they also used the light and its effects for interior scenes.
Just as later in Impressionism, to which their art was already on the brink, the "Skagen painters" used colors to paint shadows; additionally, they employed complementary contrasts in order to intensify the coloring's luminance.
The "Skagen painters" regularly met in the hotel of the father of the painter Anna Ancher, in order to exchange ideas. This is also were the "Skagens Museum" was found in 1908, its collection comprising some 1700 works. Among the most prominent "Skagen painters" are Michael Ancher (1849-1927) and the group's only local member, his wife Anna Ancher (1859-1935), also Holger Drachmann, Viggo Johansen, Peder Severin Krĝyer (P.S. Krĝyer) and his wife Marie Krĝyer, Christian Krohg, Carl Locher, Karl Madsen and Lauritz Tuxen.

+
Sold lots top 100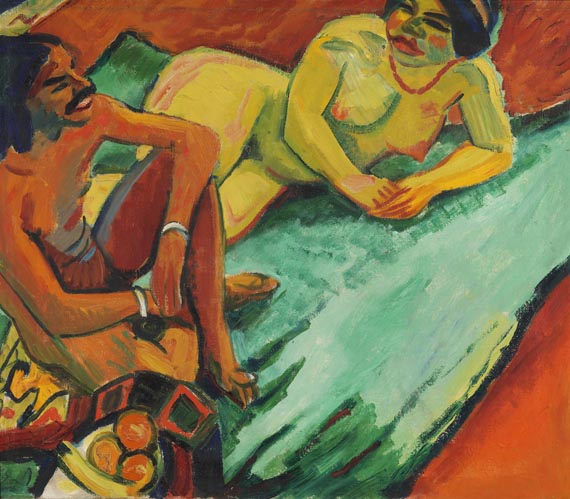 Hermann Max Pechstein