Dictionary

Venetian Late Baroque

Venice was Italy's leading artistic centre during the late baroque period, and graceful, idealised and simultaneously realistic style emerged from the city. Striking painterly and colourly qualities were accompanied by an increased dynamism and lightness, in contrast with the works of the Neapolitan school. Key early masters of the Venetian late baroque included the well-travelled Sebastiano Ricci (1659-1734), and Giambattista Piazzetta (1683-1754). The latter studied under Giuseppe Maria Crespi in Bologna and left an equally exciting painterly oeuvre. The late baroque reached its zenith in the work of Giovanni Battista Tiepolo (1696-1770), who consolidated Ricci and Piazetta's efforts and created an art full of contrasts, which attempted to unify idealisation and naturalism, as exemplified in works such as "The Robbery of Europe". Tiepolo's painting, which developed from a dark, heavy, and palate to lighter tones, also included panel painting. Tiepolo's preferred medium was however, monumental decoration, in it was in this context that his painting was most effective. Tiepolo's style was not only influential within Europe: he executed the frescoes of the Würzburg Residenz, an altar painting in Madrid, where he was employed as court painter.
Veduta painting, predominantly depicting cityscapes, took on an important role in Venetian art of the Settecento (Piranesi was influential in Rome). Canaletto (real name Giovanni Antonio Canal, 1697-1768) and his nephew Bernardo Bellotto, who also called himself Canaletto (1721 or 1722-80), executed skilled, precise reproductions of their home city, with classically influenced, clear composition. Other key Venetian artists of the period include Francesco Guardi (1712-93), who had a free, impulsive palate, and whose use of light and colour, could be said to have been a forerunner to the impressionism. Rosalba Carriera (1675-1757) was one of the leading Venetian portrait painters, who executed lively and graceful portraits in pastels.
+
Sold lots Top 100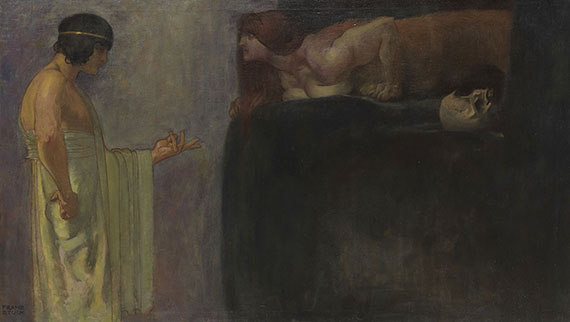 Franz von Stuck