Auctions of Modern Art / Post War / Contemporary Art in Munich
Strong Autumn Offer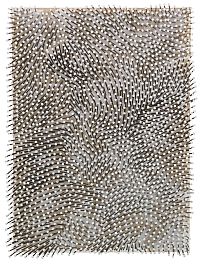 Günther Uecker
Weißes Feld, 1980
Nails and white paint on canvas, on wood, 2002
105 x 75 x 16 cm
Estimate: € 200.000-300.000
Munich, 12 November 2015, (kk) -
The enthusiasm for ZERO art remains unbowed. After the largest range of works by the Duesseldorf artist group ever offered in an auction realized record results last spring, the thrill is pre-programmed when excellent ZERO works will be called up in the auction Modern Art / Post War / Contemporary Art once again on 3-5 december 2015.
"As we already occupy first and second place in the world ranking of auction results for works by Günther Uecker, and because of the numerous records we realized in our spectacular ZERO auction this spring, I am already looking forward to this autumn with excitement", says Robert Ketterer, owner and managing director of Ketterer Kunst.
Naturally, the range of ZERO offerings is once again led by the triad Heinz Mack, Otto Piene and Günther Uecker. More than 50 lots, among them half a dozen with estimates in six-digit Euro realms, come from the famous triumvirate. While
Günther Uecker
is represented with works such as his nailed "Dunkles Feld" (estimate: € 150,000-250,000),
Heinz Mack
contributes sculptures like the "Lichtschleier (Veil of light)" (estimate: € 100,000-150,000) from the year 1964 and
Otto Piene
fascinates with fire / smoke works such as "Maitag" (estimate: € 50,000-70,000) from the early 1990s.
Additionally, the range of ZERO offerings is increased by works from acclaimed artists like Bernard
Aubertin
, Rupprecht
Geiger
, Hermann
Goepfert
, Gotthard
Graubner
, Adolf
Luther
, Jan Johannes
Schoonhoven
and Herbert
Zangs
.
The offers in the section of
Post War Art
is completed by high-class works from
Gerhard Richter
("Abstraktes Bild", estimate: € 400,000-600,000),
Robert Longo
("Untitled (Starfield #2"), estimate: € 250,000-350,000),
Anselm Kiefer
("Maria im Rosenhag", estimate: € 250,000-350,000),
Sean Scully
("Uist", estimate: € 200,000-300,000) and
Shozo Shimamoto
(estimate: € 150,000-250,000), as well as by works from Agostino
Bonalumi
, Günther
Förg
, Roy
Lichtenstein
, Marino
Marini
and Sigmar
Polke
..
The department of
Contemporary Art
is represented with a work by
Jonas Burgert
that has been estimated at € 60,000-80,000, as well as with works by acclaimed artists like
Anselm Reyle
(estimate: € 50,000-60,000),
Dan Colen
("Gum painting", estimate: € 50,000-70,000),
Jason Martin
("Chaperon", estimate: € 40,000-60,000),
Don Eddy
("Bumper Section VI: Berkeley", estimate: € 30,000-35,000) and
David Schnell
("Pilze", estimate: € 28,000-32,000).
In the section of
Modern Art
it is works by
Egon Schiele
("Mädchen mit Federboa", estimate: € 600.000-800.000),
Erich Heckel
("Hügellandschaft", estimate: € 450,000-550,000),
Paula Modersohn-Becker
("Kinder vor Bauernhaus/Birkenstämme und Haus", estimate: € 300,000-400,000),
Lyonel Feininger
("The Baltic (V-Cloud)", estimate: € 250,000-350,000),
Ernst Barlach
("Der Bettler", estimate: € 200,000-250,000),
Emil Nolde
("Das Meer (Bewegte blaue See mit mächtigen Wogen)", estimate: € 150,000-250,000),
Karl Schmidt-Rottluff
("Stillleben mit Astern-Strauss", estimate: € 150,000-200,000) and
Georg Schrimpf
("Stillende Mutter", estimate: € 140,000-180,000) that fascinate the audience as much as works by Otto
Dix
, Conrad
Felixmüller
, Karl
Hofer
, Alexej von
Jawlensky
, Max
Liebermann
, Franz
Marc
, Otto
Mueller
and Pablo
Picasso
. A special highlight will be more than 20 lots from the oeuvre of Gabriele Münter that will be called up (see separate press release).
Preview
30 Oct.-01 Nov.
Ketterer Kunst
Am Holstenwall 5, 20355 Hamburg*
03/04 November
Galerie Schwind
Fahrgasse 8, 60311 Frankfurt*
09-11 November
Ketterer Kunst
Malkastenstr. 11, 40211 Düsseldorf*
14-16 November
Erlengut
Erlengutstr. 1A, 8703 Erlenbach, CH*
20-27 November
Ketterer Kunst
Fasanenstr. 70, 10719 Berlin*
29 Nov-04 Dec
Ketterer Kunst
Joseph-Wild-Str. 18, 81829 Munich**
* selected works ** all works
Auctions in Munich
03-05 December
Modern Art / Post War / Contemporary Art
Since it was founded in 1954, Ketterer Kunst has been firmly established in the front ranks of auction houses dealing in fine art and rare books, with its headquarters in Munich and a branch in Hamburg. Gallery rooms in Berlin as well as representatives in Heidelberg, Duesseldorf and Modena (Italy) contribute substantially to the company's success. In addition, exhibitions, special theme and charity auctions as well as permanent online auctions on www.ketterer-internet-auctions.com are regular events at Ketterer Kunst. Robert Ketterer is owner and director of Ketterer Kunst.
| Press inquiries: | Client inquiries: |
| --- | --- |
| Ketterer Kunst | Ketterer Kunst |
| Joseph-Wild-Str. 18 | Joseph-Wild-Str. 18 |
| 81829 Munich | 81829 Munich |
| Michaela Derra M.A. | |
| phone: +49-(0)89-55244-152 | phone: +49-(0)552440 |
| fax: +49-(0)89-55244-177 | fax: +49-(0)89-55244-177 |
| e-mail: m.derra@kettererkunst.de | e-mail: infomuenchen@kettererkunst.de |