Exhibition in Berlin: Visiting Ketterer Kunst - The Collection Dr. Harald and Kornelia Frisch
Fresh Perspectives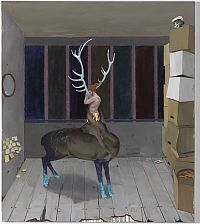 Gama
Oil and acrylic on canvas
160 x 140 cm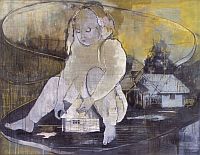 Miriam Vlaming
Schlafwandel, 2004
Egg tempera on canvas
140 x 180 cm

Berlin, 20 October 2017 (kk) - They just can't stop collecting. Dr. Harald Frisch and his wife Kornelia have been pursuing their passion for art for more than 50 years. In doing so they put a focus on new and different positions in art. The art lovers will present around 35 works from their unconventional collection at Ketterer Kunst in Berlin as of 15 December.

"I am delighted that we were able to win the collection of Dr. Harald and Kornelia Frisch, as this is the first time that our gallery in Berlin presents a collection from the capital that reflects the city's spirit in such a remarkable manner", says Robert Ketterer, owner of the Munich art auctioneer Ketterer Kunst. He continues: "The works have a very special aesthetic value, they have rough edges. They are bizarre, morbid, phantasmagorical and, first and foremost, they are characterized by a quest for ever new perspectives".

The collection's rich diversity is owed to the couple's distinct ideas and passion. With great joy they go on discovery tours to artist's workshops, as the personal exchange is a heart matter to the two art lovers. Understanding the artist's idea, intention and position is as important as the artwork itself.

At first sight the collection may appear to be quite heterogeneous, however, the artists primarily have one thing in common: their unadapted artistic positions. Next to surreal landscapes and mythological imagery we also find fantastical mythical creatures that appeal to the observer's subconsciousness. The enigmatic contents are captivating and allow us to submerge in entirely different worlds.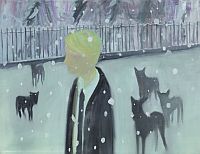 Takeshi Makishima
Ohne Titel, 2006,
Oil and acrylic on canvas,
65 x 72 cm

The opening reception for the exhibition "Visiting Ketterer Kunst Berlin - The Collection Dr. Harald and Kornelia Frisch" on Friday 15th December at 7 pm will be introduced by a speech from Kristian Jarmuschek, director of the German Association of Gallery Owners and Art Traders.
Some of the works on display are for sale, as the Frischs permanently strive to enhance the collection's profile.
What ?
Exhibition of around 35 works by, among others, Axel Anklam, Martin Assig, Steven Black, Manuele Cerutti, Tim Ernst, Valerie Favre, Gama, Thomas Hartmann, Anton Henning, Karl Horst Hödicke, Yury Kharchenko, Bernd Koberling, Lucici, Takeshi Makishima, Charlotte Mumm, C. O. Paeffgen, Albert Pümpel, Michael Ramsauer, Wolfram Sachs, Eugen Schönebeck, Bernd Schwarting, Walter Stöhrer, Miriam Vlaming, Brigitte Waldach und Thomas Zipp.
When ?
Opening reception: Friday, 15 December 2017, 7 pm
Exhibition: 16 December 2017 to 10 February 2018
Opening hours: Mon.-Fri. from 10 am - 6 pm
Saturday from 11 am - 4 pm
Where ?
Ketterer Kunst, Fasanenstr. 70, 10719 Berlin, Germany
Since it was founded in 1954, Ketterer Kunst has been on the forefront of auction houses dealing in Fine Art and Rare Books, with its headquarters in Munich, and a branch in Hamburg. Representatives' offices in Berlin, Heidelberg, Duesseldorf, the Benelux Union, France, Italy, Switzerland and the US have contributed substantially to the company's success. In addition, exhibitions, special thematic and charity auctions as well as monthly online auctions at www.ketterer-internet-auctions.com are regular events at Ketterer Kunst. Robert Ketterer is the company's managing director and owner.
| Press inquiries: | Client inquiries: |
| --- | --- |
| Ketterer Kunst | Ketterer Kunst |
| Joseph-Wild-Str. 18 | Fasanenstr. 70 |
| 81829 Munich | 10719 Berlin, Germany |
| Michaela Derra M.A. | |
| phone:+49-(0)89-55244-152 | phone:+ +49-(0)89-55244-152 |
| fax: +49-(0)89-552440 | fax: +49-(0)89-55244-177 |
| e-mail: m.derra@kettererkunst.de | e-mail: infoberlin@kettererkunst.de |