€ 1 Online Auction on 15 July 2017
Big Artists - Small Pictures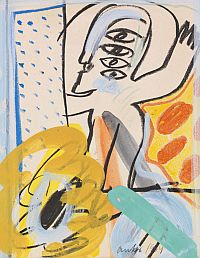 Horst Antes
Ohne Titel, 1964
Oil chalks, 20.3 x 16 cm
estimate: € 4.000
calling price: € 1

Munich, 24 May 2017, (kk) -
The gallery owner and paintbrush maker Hansfried Defet knew all of them. Horst Antes, Günter Fruhtrunk, Gotthard Graubner and C. O. Paeffgen were more than his acquaintances. Works from his unique collection of small-size artworks will be called up with starting prices of € 1 on
www.ketterer-internet-auctions.com.
Hansfried Defet was always willing to listen to the artists' wishes. For some of them he even made custom brushes, which at times were returned after use since his wife had compiled a huge collection of brushes from famous artists. Many of the small artworks sold in this auction were also gifts from the artists he was friends with.
Defet, who was also active as gallery owner, had a weakness for small works: "It doesn't always need large formats (...). Intimate works are also a source of joy and inspiration", said the artist. In the 1960s he even explicitly asked Horst Antes for a small-size picture. For a long time Antes didn't answer, when one day Defet received a small picture of a typical Antes figure with the following written on the rear:
"FOR THE MAN WHO WANTED SMALL PICTURES"
.
Last year the NEUE MUSEUM in Nuremberg dedicated an own exhibition to the collection of Hansfried Defet, who had passed away one month after his 90th birthday. The proceeds of the internet auction will go to the Museum's foundation.
What?
Ketterer Kunst 1 € online auction with works from the collection Hansfried Defet
When?
From 15 June 2017, 3 p. m. to 15 July 2017, 3 p. m.
Where?
www.ketterer-internet-auctions.com
Preview at Neue Museum in Nuremberg as of 15 June
Prices?
Calling price is 1 €. The bid is the final price (incl. VAT and shipping)
Since it was founded in 1954, Ketterer Kunst has been on the forefront of auction houses dealing in Fine Art and Rare Books, with its headquarters in Munich, and a branch in Hamburg. Representatives' offices in Berlin, Heidelberg, Duesseldorf, the Benelux Union, France, Italy, Switzerland and the US have contributed substantially to the company's success. In addition, exhibitions, special thematic and charity auctions as well as monthly online auctions at www.ketterer-internet-auction.com are regular events at Ketterer Kunst. Robert Ketterer is owner and CEO of Ketterer Kunst.
| Press inquiries: | Client inquiries: |
| --- | --- |
| Ketterer Kunst | Ketterer Kunst GmbH & Co KG |
| Joseph-Wild-Str. 18 | Joseph-Wild-Str. 18 |
| 81829 Munich | 81829 Munich |
| Michaela Derra M.A. | |
| Phone:+49-(0)89-55244-152 | Phone:+49-0800-53883737 |
| Fax: +49-(0)89-55244-177 | Fax: +49-(0)89-55244-166 |
| e-mail: m.derra@kettererkunst.de | e-mail: service@ketterer-internet-auktion.de |