On the Road to Success: Online Auction with Starting Prices of € 1
Superstars - Sold Out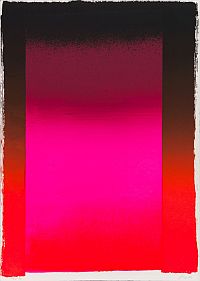 Rupprecht Geiger
Schwarz auf verschiedenen Rot,
1964/72, 58 x 41,5 cm
calling price: € 1,
result: € 1.904

Munich, 20 June 2017, (kk) -

The new online concept of Ketterer Kunst on

www.ketterer-internet-auctions.com

passed its test with flying colors: Good quality coupled with a starting price of just € 1 provided excellent results on 15 June.

Company owner Robert Ketterer knows that the idea of selling art with starting prices of € 1 reflects the zeitgeist and convinces buyers. Online registrations continuously rise and record results make the first term of 2017 the best since the beginning of the Ketterer Kunst internet auctions.

"The major interest and the top results prove that the market also honors good art with excellent prices in online sales", says managing director Robert Ketterer. He continues: "

The online auctions gain in importance and compete with the saleroom auctions

. I am proud to push the online art trade with innovative ideas".

The select offer of 35 top works from international superstars appealed to art lovers from all over the world and offered pure thrills up to the last minute. Scores of bidding fights made sure that the Ketterer Kunst internet auction once again realized top results in the department of

Post War Art

.

A signed embossing print by Günther Uecker, for example, soared to a price of € 9,356 without difficulty. Rupprecht Geiger's appealing work "Schwarz auf verschiedenen Rot" from 1964/72, a rarity on the auction market, let the hearts of collectors beat faster and climbed to a result of € 1,904*. A small cast sculpture from Stephan Balkenhol was also well received, more than 100 bids on the lot kept the race exciting till the result of € 3,756* was met in the end. The wide range of offers, which was entirely sold, also included works of

Modern Art

and online clients obviously enjoyed it, showing a serious bidding interest from the beginning on.

Thrills guaranteed

- that's also true for the latest online auction on www.ketterer-internet-auctions.com, which will end on 15 July. It is the third time that artworks with starting prices of € 1 are offered. What makes this auction so special is that an entire collection is on offer.

* The result is the hammer price incl. all costs such as buyer's premium, insurance, shipping etc.
Since it was founded in 1954, Ketterer Kunst has been on the forefront of auction houses dealing in Fine Art and Rare Books, with its headquarters in Munich, and a branch in Hamburg. Representatives' offices in Berlin, Heidelberg, Duesseldorf, the Benelux Union, France, Italy, Switzerland and the US have contributed substantially to the company's success. In addition, exhibitions, special thematic and charity auctions as well as monthly online auctions at www.ketterer-internet-auctions.com are regular events at Ketterer Kunst.
| Press inquiries: | Client inquiries: |
| --- | --- |
| Ketterer Kunst | Ketterer Kunst GmbH & Co KG |
| Joseph-Wild-Str. 18 | Joseph-Wild-Str. 18 |
| 81829 Munich | 81829 Munich |
| Michaela Derra M.A. | |
| Phone:+49-(0)89-55244-152 | Phone:+49-0800-53883737 |
| Fax: +49-(0)89-55244-177 | Fax: +49-(0)89-55244-166 |
| e-mail: m.derra@kettererkunst.de | e-mail: service@ketterer-internet-auktion.de |