Graphic Art: A German Private Collection
Expressionism at its best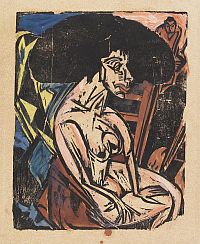 Ernst Ludwig Kirchner
Die Geliebte, 1915
Woodcut, hand-colored, (17.4 x 11.4 in)
Estimate: € 100.000-150.000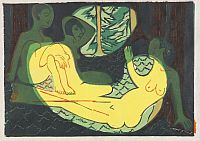 Ernst Ludwig Kirchner
Drei Akte im Walde, 1933/34
Color woodcut, (15.3 x 23 in)
Estimate: € 40.000-60.000
Munich, 5 April, 2017 (kk) - The small but fine collection of a German art lover offers nothing less but extraordinary works of art. The selection, which has a focus on expressionist works by the "Brücke artists", will be called up in context of the Ketterer Kunst auctions from 8-10 June in Munich.

"I was totally blown away", is how the collector describes his feelings when he saw paintings by Karl Schmidt-Rottluff for the first time upon a visit to the 'Frankfurter Kunstkabinett' shortly after World War II. He fell for his rough woodcut style. In the following he developed a liking for works from other members of the artist group "Die Brücke" as well. He was fascinated by their style, especially as it was so different from everything that had been considered "beautiful" by then. Together with his wife, who was particularly taken with the works by Otto Mueller, he visited scores of exhibitions.

It didn't take long before they would not settle with just viewing any longer, eventually the couple bought its first expressionist work, Ernst Ludwig Kirchner's "Drei Akte im Walde", in 1962. The auction at the 'Stuttgart Kunstkabinett' of Roman Norbert Ketterer, uncle of Robert Ketterer, today owner and managing director of Ketterer Kunst, marked the beginning of a marvelous collection characterized by great passion.

The former businessman bought another sheet from the Kirchner estate from Roman Norbert Ketterer: the hand-colored woodcut "Die Geliebte" from the portfolio "Bilder zu Peter Schlemihls wundersamer Geschichte von Albert von Chamisso" from 1915. Both works will be called up in context of the summer auctions with estimate prices of € 40,000-60,000 and € 100,000-150,000 respectively.

"I am delighted", says Robert Ketterer, "that now the circle closes and that we have the wonderful opportunity to offer the Kirchner works that once were acquired from my uncle, as well as 30 other gems from a collection compiled with outstanding expertise and passion". Every single item from the range has some sort of unique character, as the collector put strong focus on works of which only very few copies were made, we also find trial proofs or works that have something special to them, such as an additional coloring.

Next to Hermann Max Pechstein's woodcut "Badende XI" from 1911 (estimate: € 30,000-40,000), other exciting works are Otto Mueller's lithograph "Zigeuner-Liebespaar 2", Erich Heckel's woodcut "Kinder auf der Bank" and Emil Nolde's etching "Dampfer (Groß Dunkel)" (estimates: € 18,000-24,000 each), as well as three more works on paper by Ernst Ludwig Kirchner (estimates: € 20,000-30,000 each).

Further significant works in the June auctions come from, among others, Josef Albers, Stephan Balkenhol, Georg Baselitz, Willi Baumeister, Max Beckmann, Chuck Close, Heinrich Maria Davringhausen, Gabriele Münter, Ernst Wilhelm Nay, Serge Poliakoff and Gerhard Richter (see separate press release).


Previews in Germany and Switzerland

04-06 May Ketterer Kunst Holstenwall 5, 20355 Hamburg*
09/10 May Galerie Römerapotheke Rämistr. 18 , 8001 Zürich, CH*
14-16 May Galerie Schwind Fahrgasse 8, 60311 Frankfurt*
19-22 May Ketterer Kunst Malkastenstr. 11, 40211 Düsseldorf*
26 May-01 June Ketterer Kunst Fasanenstr. 70, 10719 Berlin*
03-09 June Ketterer Kunst Joseph-Wild-Str. 18, 81829 Munich**
* selected works ** all works

Auctions in Munich 08 - 10 June Modern- / Post War- /Contemporary Art

Since it was founded in 1954, Ketterer Kunst has been on the forefront of auction houses dealing in Fine Art and Rare Books, with its headquarters in Munich, and a branch in Hamburg. Representatives' offices in Berlin, Heidelberg, Duesseldorf, the Benelux Union, France, Italy, Switzerland and the US have contributed substantially to the company's success. In addition, exhibitions, special thematic and charity auctions as well as monthly online auctions at www.ketterer-internet-auction.com are regular events at Ketterer Kunst. Robert Ketterer is owner and CEO of Ketterer Kunst.
| Press inquiries: | Client inquiries: |
| --- | --- |
| Ketterer Kunst | Ketterer Kunst |
| Joseph-Wild-Str. 18 | Joseph-Wild-Str. 18 |
| 81829 Munich | 81829 Munich |
| Michaela Derra M.A. | |
| phone: +49-(0)89-55244-152 | phone: +49-(0)552440 |
| fax: +49-(0)89-55244-177 | fax: +49-(0)89-55244-177 |
| e-mail: m.derra@kettererkunst.de | e-mail: infomuenchen@kettererkunst.de |