Previously only in museums – as of June at Ketterer Kunst
Auction Start for

"The Gerlinger Collection – Brücke Artists"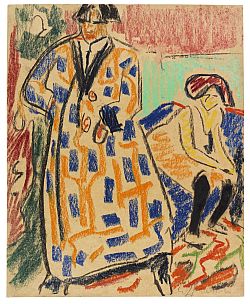 Ernst Ludwig Kirchner
Selbstbildnis mit Modell - 1910
Color chalks, 59,8 x 49,1 cm
Estimate: € 200.000-300.000
Munich, April 5, 2022 (KK) -

The art year in Germany started with a bang that will have an international impact: After the businessman Professor Hermann Gerlinger from Würzburg, Germany had announced that his "Brücke" art collection will be auctioned, Ketterer Kunst was flooded with requests from international media outlets, museums and collectors from the U.S.A. over Europe all the way to China. Now Ketterer Kunst takes action. A first tranche of works by Erich Heckel, Karl Schmidt-Rottluff and Ernst Ludwig Kirchner and Hermann Max Pechstein will be called up in the

Spring Auctions on June 10/11

in Munich.

Robert Ketterer, auctioneer and company owner, regards the sale of the vast and significant collection as a strategic project: "We will pursue a systematic approach for the presentation of the works to the next generation of collectors. The first top-quality set of works by the protagonists of the "Brücke", which forms the core of the collection, will be offered in June. The fantastic pieces also illustrate the conception of the "The Gerlinger Collection – Brücke Artists".

Works on paper make for a large part of the collection, as they are a trademark of "Brücke" art: Spontaneity and immediacy. Emotional drawings and breathtaking woodcuts from editions of a very small print run are going to elate art lovers."

The Collection comprises more than 1,000 objects, among them paintings, drawings, watercolors, woodcuts, etchings, lithographs, sculptures and scores of documents.

Ketterer Kunst plans to put the collection on the international art market over a period of several years. This June there will be a focus on paper works such as color woodcuts and drawings, some paintings and other collectibles, like jewelry objects (see list below).

Hardly any other artist group of such renown has attained a comparably strong museum presence and lasting popularity as it is the case with the "Brücke". Their key works are widely known in Germany and their exhibitions are crowd pullers. Overall, they have gained an increasing appeal among a younger generation of art lovers.

"We want to support this trend with our multi-part auction, so we will release accompanying catalogs full of background information, as well as various extra publications on the 'The Gerlinger Collection – Brücke Artists'," says Robert Ketterer. Ketterer Kunst has already identified a strong interest in the first catalog, which will provide insight into the great and extremely vast range of the collection and will also convey an idea of the profound knowledge of the collector Hermann Gerlinger.

"The Autumn Auction will have a different focal point, as we are going to offer some of the paintings that are currently still on display in museum exhibition from where they will come straight to us," announced Robert Ketterer.

Over nearly 70 years Hermann Gerlinger has compiled what probably is the most significant private collection of works by the artists of the "Brücke" group. "This form of excessive collecting - the lifework of Hermann Gerlinger - with its inventory catalog and many other publications, will outlast our time," says Dr. Mario von Lüttichau, acclaimed art historian and former curator at the Folkwang Museum in Essen.

Professor Gerlinger did not just settle for artworks from the key period of "Brücke" between 1905 and 1913, he also put a strong focus on earlier and especially on later works. His collection contains a large representative cross-section of the œuvre of Max Pechstein, characteristic works from short-time Brücke members Emil Nolde and Otto Mueller, as well as pieces by Cuno Amiet.

Over many years Hermann Gerlinger was in a personal exchange with Karl Schmidt-Rottluff and the Heckel family, and he always included the historic dimension of the "Brücke" artists in his publications: During their main creative period before World War I, the artists were reformers and enfants terribles for those still devoted to the traditional academy style. Especially their spontaneous form of painting, the exuberant colors and a focus on pure nature evoked resentment.

The collection's documentation of Kirchner's break with Berlin Urban Expressionism and his turn to a new objectivity and abstraction all the way to his suicide in Swiss exile in 1938, or Heckel's changed personality as a consequence of the terrors of the war, make the historic dimension particularly visible.

When numerous works by the "Brücke" artist's featured the exhibition "Degenerate Art" in 1937, Heckel, Pechstein, Nolde and Schmidt-Rottluff experienced the full force of the condemnation of their art during the National Socialism.

Professor Hermann Gerlinger recalls: "When I started my collection in the 1950s, many older contemporaries still saw the dark shadow of 'degenerate art' in the works. But that was also the reason why I was able to acquire some works at affordable prices when I was a young student. That's how it all began."

For around 30 years the "The Gerlinger Collection – Brücke Artists" has been on display at museums in Schleswig-Holstein (Schloss Gottorf), Saxony-Anhalt (Kunstmuseum Moritzburg) and Bavaria (Buchheim Museum).

Ketterer Kunst expects that the "The Gerlinger Collection – Brücke Artists" will be met with great attention, and it identifies this setting as the perfect environment for more consignments of expressionist works. Overall, the present demand for Modern Art is very strong. However, there is also a strong surplus demand for top-class works of Contemporary Art. Ketterer Kunst currently invites potential sellers to consign to the auction.

Apart from the "The Gerlinger Collection – Brücke Artists", the auction offers other fascinating works of

MODERN ART

, among them several works from Emil Nolde, including the oil painting "Rittersporn und Silberpappeln" (estimate: € 500,000-700,000) and André Derain's "Arbres aux environs de Martigues" (estimate: € 100,000-150,000). Other big names in this section are Max Beckmann, Lovis Corinth, Karl Hofer, Käthe Kollwitz, Wilhelm Lehmbruck, Max Liebermann, Gabriele Münter, Pablo Picasso, Josef Scharl and Renée Sintenis.

The department of

POST WAR ART

will offer captivating works like Gerhard Richter's "Abstract Painting 665-4" (estimate: € 600,000-800,000) and Andy Warhol's color silkscreen "Goethe" (estimate: € 180,000-240,000). Other top-class pieces come from, among others, Horst Antes, Stephan Balkenhol, Eduardo Chillida, Katharina Grosse, Rudolf Hausner, Konrad Klaphek, Ernst Wilhelm Nay and Steven Perrino.

Selection of works from the Collection Gerlinger in Ketterer Kunst's June Auction:
| | |
| --- | --- |
| Erich Heckel | Erich Heckel |
| Kinder | Fränzi mit Decke |
| Oil on canvas, 1910 | Watercolor and gouache, 1909 |
| 58,5 x 77,5 cm | 22,2 x 28,3 cm |
| Estimate: € 600.000-800.000 | Estimate: € 80.000-120.000 |
| | |
| --- | --- |
| Ernst Ludwig Kirchner | Ernst Ludwig Kirchner |
| Wintermondnacht | Nacktes Paar auf einem Kanapee |
| Color woodcut, 1910 | Woodcut, 1908 |
| 30,7 x 29,5 cm | 66,7 x 48 cm |
| Estimate: € 250.000-350.000 | Estimate: € 70.000-90.000 |
| | |
| --- | --- |
| Karl Schmidt-Rottluff | Karl Schmidt-Rottluff |
| Afrikanische Schale | Fob band |
| Oil on canvas, 1926 | Silver, around 1913 |
| 66,5 x 74 cm | 8,4 x 3,7 cm |
| Estimate: € 200.000-300.000 | Estimate: € 6.000-8.000 |
Auction in Munich
| | |
| --- | --- |
| June 10 | Post War / Cont. Art / Evening Sale |
| June 11 | 19th Century Art / Modern Art |
Ketterer Kunst (www.kettererkunst.com and www.ketterer-internet-auctions.com) with headquarters in Munich and branches in Hamburg, Duesseldorf, Berlin as well as with a global network of representatives in, among others, the USA and Brazil, was founded in 1954. The auction house has a focus on Fine Art from the 19th to the 21st Century and Rare Books. In its market segment Ketterer Kunst is not only Germany's number one but also the leading house in the European Union. Ketterer Kunst is a specialist for German art, as well as for many international artist who are sought-after on the European market and who regularly realize record prices at Ketterer Kunst. According to the annual 2021 artprice database, Ketterer Kunst is the only and best-selling family business represented in the global Top 15.
| Press inquiries: | Client inquiries: |
| --- | --- |
| Ketterer Kunst | Ketterer Kunst |
| Joseph-Wild-Str. 18 | Joseph-Wild-Str. 18 |
| 81829 Munich, Germany | 81829 Munich, Germany |
| Dr. Rainer Ohler (April 1 – September 30, 2022) . | |
| Tel.: +49 172-4890353 | Tel.: +49-(0)89-55244-0 / Fax: -177 |
| E-Mail: r.ohler@kettererkunst.de | E-Mail: infomuenchen@kettererkunst.de |
Follow us on www.instagram.com/kettererkunst.de