Sale: 350 / Modern Art, June 19. 2009 in Munich

Lot 245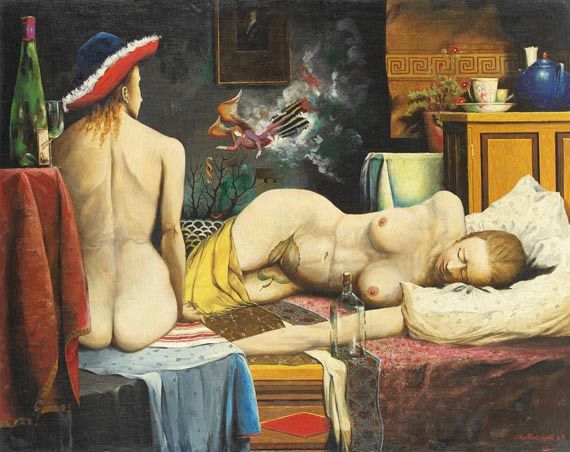 245
Gespräch über einen Paragraphen, 1929.
Oil on canvas
Estimate:
€ 150,000 / $ 165,000
Sold:

€ 356,240 / $ 391,864
(incl. 22% surcharge)
Lot: 245
Franz Radziwill
1895 Strohausen bei Rodenkirchen - 1983 Varel-Dangast
Gespräch über einen Paragraphen. 1929.
Oil on canvas, laid on wood.
Firmenich/Schultze 308. Signed and dated lower right. With the own work number "102" on verso. 79,3 x 101 cm (31,2 x 39,7 in).
Originally mentioned under the title "Nackte Frauen" (Naked Women) by Radziwill in his lists, the painting was completed around 1960 by the artist and a few attributes were added: The big hat of the seated person, the half transparent sheet on the reclined person's lap, the hovering angel with the paragraphs and the empty bottle in the foreground. In original frame.

PROVENANCE: Galleria del Levante, Milan/Munich.
Private collection Italy.

EXHIBITION: Der schöne Mensch in der neuen Kunst. Interessengemeinschaft fortschrittlicher Künstler Hessens/Darmstädter Sezession/Darmstädter Gruppe, Mathildenhöhe Darmstadt, 16 June - 6 October 1929, no. 120.
Franz Radziwill, Kaiser Friedrich Kunsthalle, Wilhelmshaven, spring 1936, no no.
Franz Radziwill, department store "Alsterhaus", Hamburg, 12 December 1946 - January 1947, no no.
Franz Radziwill, Galerie Baukunst, Cologne, 11 September - 9 November 1968, no. 32.
Franz Radziwill, Galleria Il Fante di Spade, Rome/Galleria "La Mutina", Modena, as of 18 October 1969/as of 29 November 1969, cat. no. 12 (with illustration on p. 15) (with the gallery's label on verso).
Franz Radziwill, Galleria Eunomia, Milan, as of 20 April 1971, cat. no. 12.
Franz Radziwill, Nuova Galleria del Teatro, Parma, 9 June - 20 June 1971, no no.
Franz Radziwill, Neue Gesellschaft für Bildende Kunst, Staatliche Kunsthalle Berlin, 22 November 1981 - 3 January 1982, cat. no. 51.
Nuova Oggettivita. Germania e Italia 1920-1939, Palazzo Sociale, Milan, 11 February - 12 March 1995 (with label on stretcher).

LITERATURE: Radziwill-Liste 4, no. 120.
Ulenspiegel, issue 4, January 1947, p. 7 (with illustration).
Emilio Bertonati, Il Realismo in Germania, Milan 1969 (with illustration in colors on plate XLV).
Gerd Presler, Ein famoser Kerl, in: art, Hamburg 1980, issue 1, p. 110.
Iko Chmielewski, Franz Radziwill - Übermalungen in seine Werken, master thesis University Oldenburg 1989, p. 64 (not published).

After serving an apprenticeship as a mason, Franz Radziwill studied architecture in Bremen until 1915 while taking evening courses in figurative drawing. His teacher, Karl Schwally, introduced him to the artists' circles in Fischerhude and Worpswede, where the artists he met included Bernhard Hoetger, Otto Modersohn and Heinrich Vogeler. Radziwill immersed himself in studying the work of van Gogh, Cézanne and Chagall. On his return in 1919 from internment in an English prisoner of war camp, Radziwill settled for some years in Berlin, where he became a member of both the "Free Secession" and the "November Group". In 1923 Radziwill moved to Dangast on the North Sea. Two years later he had his first solo show, in Oldenburg. From that year on, Radziwill began to distance himself from his early Expressionist work. His new friendship with Otto Dix introduced him to the circle of artists working in the style known as New Objectivity. Radziwill worked in Dix's Dresden studio until 1928.
As is so often the case, Radziwill has given us an encrypted message with this painting, which - and this is unusual - was not originally inherent in the composition. At a time when vehement debate flared up in Germany about abolishing the notorious paragraph 218 that made abortions illegal, the painter might seem to be an advocate of the paragraph if one follows the hand of the angel blessing the paragraph. However the hat the seated woman is wearing so jauntily is unequivocally in the three colors of the French flag, which might be interpreted as an allusion to the more liberal laws governing abortions in France. However other symbols such as the empty bottle and the leaf, which is obviously not a fig leaf, reposing on the reclining figure's mound of Venus, leave a great deal of scope for the viewer's imagination. In thus altering a classic theme, Franz Radziwill has here produced a prime example of iconographic referentiality of the kind familiar from the heyday of Baroque art. Because of the additions, nothing is as it once was. Everything must be viewed in a new context, which provides the work with a provocative statement in respect of content that goes far beyond what is otherwise usual in Radziwill's work. The handling typical of this artist, which is oriented towards 19\up6 th -century realism, contributes to a discrepancy between form and content, which, on closer scrutiny, eliminates the possibility of simplistic interpretation.
In 1933 Radziwill succeeded to Paul Klee's chair at the Düsseldorf Art Academy but was forbidden to practise his profession only two years later by the National Socialist regime. After serving in the military again throughout the entire second world war from 1939 to 1945, Radziwill was able to return to Dangast, where he addressed primarily religious subject matter. From the mid-1960s Radziwill began to alter his earlier pictures by overpainting them. The artist died in Dangast in 1983. [KD].

In very good condition. With small marginal retouchings.

EUR: 150.000 - 250.000 DIFF.(19%)
US$: 204.600 - 341.000


245
Gespräch über einen Paragraphen, 1929.
Oil on canvas
Estimate:
€ 150,000 / $ 165,000
Sold:

€ 356,240 / $ 391,864
(incl. 22% surcharge)
You might also be interested in
Franz Radziwill - lots sold by Ketterer Kunst