Sale: 360 / Modern Art, Dec. 12. 2009 in Munich

Lot 126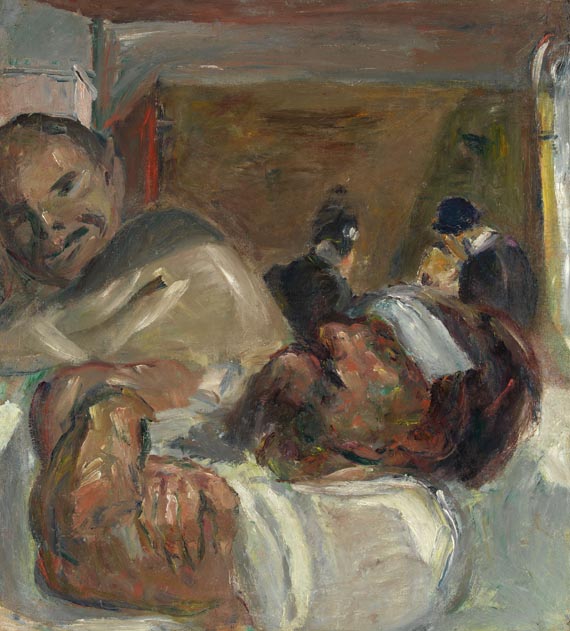 126
Idioten, 1913.
Oil on canvas
Estimate:
€ 140,000 / $ 154,000
Sold:

€ 124,140 / $ 136,554
(incl. 22% surcharge)

Oil on canvas
Göpel 169. 61,8 x 56 cm (24,3 x 22 in)
This work is accompanied by a written appraisal of the work by Prof. Dr. Klaus Gallwitz from September 1999.

We are grateful to Ms. Mayen Beckmann, Cologne, Ms. Barbara Göpel, Munich, Prof. Dr. Klaus Gallwitz, Karlsruhe, and Dr. Stephan von Wiese, Berlin, for their kind help in cataloging this lot.

PROVENANCE: Private ownership New York.
Grace Borgenicht Gallery, New York (with typed label "Idiots (Krankenzimmer) MB 297" on the stretcher.
Collection Kerstan (with stamp on the stretcher).
Private collection South Germany.

EXHIBITION: Max Beckmann, Das gesammelte Werk. Gemälde, Graphik, Handzeichnungen aus den Jahren 1905-1927, Städtische Kunsthalle Mannheim, 19 February - 1 April 1928, cat. no. 34.
Max Beckmann, Galerie Alfred Flechtheim, Berlin 22 April - 31 May 1928, cat. no. 2 (here dated 1916).

LITERATURE: Benno Reifenberg/Wilhelm Hausenstein, Max Beckmann, Munich 1949, p. 67.

In spite of his family's opposition, Beckmann managed to get their permission to become a painter after having finished school. He went to the Grand Ducal Art School in Weimar from 1900 to 1903 where he studied mainly under the Norwegian landscape painter Carl Frithjof Smith. After his graduation and several trips to Paris, Geneva and Florence, Beckmann settled in Berlin in 1907 where he joined the 'Berlin Secession'. Beckmann's early style was shaped by the German Impressionists, most of all by Lovis Corinth.

In this painting from 1913, executed in an expressive duct and a sharp chiaroscuro, the observer is confronted with a strange scene. A sick bed with two people in the foreground, unusually abrupt truncated, as well as a vaguely suggested group of figures in the background. Light and shade, calmness and motion, interest and despair sharply clash in this stage-like scene that is arranged into the depth of the room. The painting's subject and title show that Beckmann used to be occupied with the works of Dostojewski, and also show influences of artistic models such as Eugène Delacroix and Diego Velazquez who he saw in Paris. Additionally, associations with Beckmann's biographic background in those days can also be made The difficulties of interpreting the work make for the particular appeal of this strong and contradictory picture. Klaus Gallwitz wrote about it: "One of the painting's qualities is that it decisively withdraws from the genre's tradition. Eventually, the search for a motif proves to be a irreplevisable. The 'process' remains obscure when trying to find a one-dimensional interpretation. This diagnosis, however, is particularly characteristic of Beckmann's iconography in general. It reaches all the way to his late encrypted paintings."

At the outbreak of World War I Beckmann volunteered and served in East Prussia and Flanders. His experiences during the war led to a more Expressionist style close to the 'New Objectivity'. Discharged in 1915, Beckmann moved to Frankfurt am Main where he taught at the Städelschule until 1933. Beginning in the 1920s, the individualism of his style expressed itself in his intense occupation with the object world, which is reflected in an Expressive, graphic structure. Beckmann's prevailing subject was the lonely, threatened man in an apocalyptic world. With the success of the National Socialists the artist was increasingly defamed and finally dismissed from his teaching post. His works were removed from public collections in Germany. He emigrated to Holland in 1937, where he was also restricted by the political situation, however, an invitation to Saint Louis as a guest professor in 1947 was a welcome occasion to emigrate to the USA. In his late work this view culminates in large symbolical and mythological triptychs. The post at the Washington University School of Fine Arts was followed by teaching posts at the University of Colorado in Boulder in 1949, the Brooklyn Museum Art School in New York and Mills College in Oakland, California in the summer of 1950. Max Beckman died on 27 December 1950 in New York. [EH].


126
Idioten, 1913.
Oil on canvas
Estimate:
€ 140,000 / $ 154,000
Sold:

€ 124,140 / $ 136,554
(incl. 22% surcharge)
You might also be interested in
Max Beckmann - lots sold by Ketterer Kunst