Sale: 360 / Modern Art, Dec. 12. 2009 in Munich

Lot 104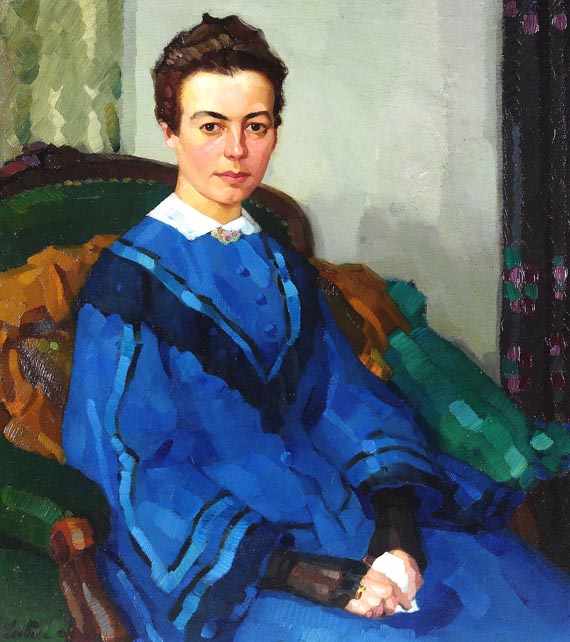 104
Porträt einer Dame im blauen Kleid, 1908.
Oil on canvas
Estimate:
€ 80,000 / $ 84,800
Sold:

€ 70,113 / $ 74,319
(incl. 22% surcharge)

Oil on canvas
Not in Putz. Signed and dated lower left. 95,5 x 85,3 cm (37,5 x 33,5 in)
The following note can be found under no. 372 in the catalog raisonné of: "Zwei weitere Bilder von Frau Bennat im blauen Kleid sind bisher nicht nachweisbar. 'Michel' [d.i. Wilhelm Michel, Leo Putz - Ein deutscher Künstler der Gegenwart, Leipzig 1908] schreibt von 'vier verschiedenen und sorgfältig ausgeführten Fassungen" (see p. 51) [translation of note:"The existence of two further paintings of Ms. Bennat in a blue dress have not been proven yet. ''Michel" (that is Wilhelm Michel, Leo Putz - Ein deutscher Künstler der Gegenwart, Leipzig 1908) mentions four different thoroughly executed versions "].

The authenticity of this work has kindly been confirmed (via e-mail) by Leo Putz, Estate Prof. Leo Putz.

PROVENANCE: Private collection Israel.

Against his fathers wish Putz moved to Munich at the age of 16, to take first drawing lessons under his stepbrother Prof. Robert Poetzelberger. He then studied began artistic training at the Academy in Munich and then, from 1891 to 1892, at the Académie Julian in Paris under the professors Adolphe Bouguereau and Benjamin Constant. After returning from Paris, Putz attended the studio class of the genre painter Paul Höcker. The Munich Secession was founded in 1892 and Putz frequently exhibited at the annual exhibition. A few years later, in 1899, Höcker's studio class founded the artist group "Scholle". Putz was one of its founding members. The the predominant academic style and Historicism was confronted with a new and spirited painting style, which had been influenced by Wilhelm Trübner. The central subject of their artistic creation was the depiction of people, mainly women.

In the 1920s, Leo Putz attained a more liberal concept of form and color. In the following he developed a painting style which was characteristically for this period of creation, combining elements of Impressionism with those of classic 19\up5 th century painting. Color sections, effectual applied with a broad stroke of the brush, add an optical and technical brilliance to his paintings, which was quite in line with the then predominant contemporary taste. His turn to Biedermeier, which the well-to-do bourgeoisie had rediscovered, was an expression of a certain lifestyle in economically stable times. Putz hit the nerve of the time. A delicate blue illuminates and emphasises the cool elegance of the depicted person, which even intensifies this impression with the hands folded and the slightly absent look, giving this composition an almost stately aura as we know it from 18\up5 th century portraits.

Putz and his family moved to Gauting in Bavaria in 1923, two years later he was honoured with an honorary membership of the Bayerische Akademie der Schönen Künste (Bavarian Academy of Fine Arts). In 1929 Putz travelled to São Paulo, his first trip overseas. He and his family spent the following years in South America, extensively travelling to Buenos Aires and to the jungle in Bahia. His work is honoured with a professorship at the Escola Nacionala de Bellas Artes in Rio. Three years in South America gave his painting new impulses, the motifs now show southern landscapes and people, his palette was increased by strong and colorful tones. In 1933 Putz once again returned to Gauting with his family. While he was honoured with a large exhibition at the Munich Künstlerverein (Artist Society), Putz still felt the need to flee to his native town of Meran in order to escape the National Socialists. An occupational ban was imposed on him in 1937 and Leo Putz died three years later his exile in Meran. [KD].


104
Porträt einer Dame im blauen Kleid, 1908.
Oil on canvas
Estimate:
€ 80,000 / $ 84,800
Sold:

€ 70,113 / $ 74,319
(incl. 22% surcharge)
You might also be interested in
Leo Putz - lots sold by Ketterer Kunst