Sale: 284 / Rare Books, Nov. 17./18. 2003

Lot 1601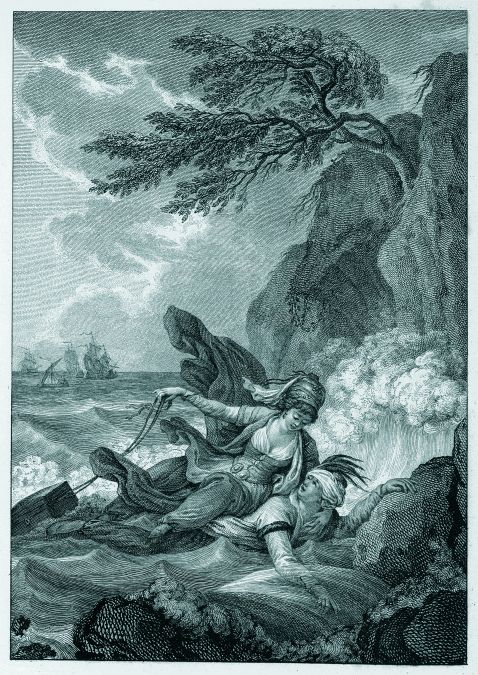 1601
Contes et nouvelles. Illustr. nach Fragonard. 2 Bde. 1795.
Estimate:
€ 1,500 / $ 1,710
Sold:

€ 1,955 / $ 2.228
(incl. 15% surcharge)
Lot description
La Fontaine, J. de,
Contes. Mit Stichen nach Fragonard. 2 Bde.. Mit
1 gest. Titelvignette
von P. Ph. Choffard und
20 Kupfertafeln zumeist nach J. H. Fragonard
. Paris, Didot L'Ainé 1795.Spät. rote HMaroquinbde. mit RVerg. und KGoldschnitt. 4to. VII, 280 S., 1 Bl.; 2 Bll., 334 S.
Hédé-Haüy S. 72ff. - Rochambeau 104. - Cohen/Ricci Sp. 573ff. (sehr ausführl.). - Lewine S. 281f. - Sander 1055/56. - Tchermerzine III, 864. - Fünf Jahrhunderte Buchillustration S. 156-57. - Fürstenberg S. 96f. - Deusch, Kat. Fürstenberg 84. -
Ein Hauptwerk der französischen Buchillustration des 18. Jahrhunderts und die wohl bedeutendste Illustrationsarbeit Fragonards, "der genialste unter allen späteren Meistern des achtzehnten Jahrhunderts
... Die Veröffentlichung seines Hauptwerkes auf diesem Gebiet, der herrlichen Illustration zu La Fontaines 'Contes', 1795, wurde durch die Revolution zwar verzögert und erschwert, aber schließlich doch nicht ganz verhindert. Allerdings erschienen von etwa achtzig Entwürfen nur zwanzig in der Buchausgabe, und auch diese waren nicht alle von Fragonard. Das Werk, in dem wir heute einen Höhepunkt der Buchkunst aller Zeiten sehen, fand damals keinen rechten Anklang mehr und konnte daher nicht in der geplanten Weise zu Ende geführt werden." (Fürstenberg)
Die Auflage dürfte insgesamt bei nur etwa 550 Exemplaren gelegen haben. Im vorlieg. Exemplar liegen drei der Kupfer in Zustandsdrucken vor aller Schrift vor, die anderen tragen neben Zeichner- und Stecherangabe auch eine Numerierung und Paginierung. Breitrandiger Druck auf chamoisfarb. Vélin (Papierformat ca. 31,5 : 23,5 cm). Bd. II hier in der bei Hédé-Haüy beschriebenen dritten Variante (die er auf etwa 1840 datiert), mit dem veränderten Vortitel ('collection des auteurs classiques francois et latins') sowie der veränderten Schriftgröße auf dem Titelblatt. - Tlw. leicht stockfl., Kanten beschabt und bestoßen.
Masterpiece and chief work of 18th century book illustration.
Engr. title vignette and 20 engr. plates mostly after Fragonard. Later half calf. - 3 plates in early imprints before letters, title of vol. II in the third version (compare Hédé-Haüy). Partly slight foxing, edges rubbed and bumped.
1601
Contes et nouvelles. Illustr. nach Fragonard. 2 Bde. 1795.
Estimate:
€ 1,500 / $ 1,710
Sold:

€ 1,955 / $ 2.228
(incl. 15% surcharge)
More offers for Jean de La Fontaine

You might also be interested in

Jean de La Fontaine - lots sold by Ketterer Kunst