Sale: 237 / Rare Books, Nov. 15./16. 1999

Lot 143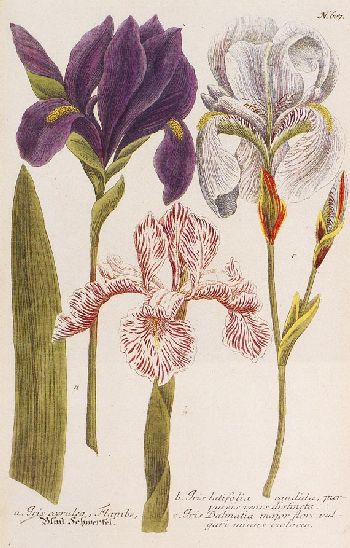 143
Phytanthoza Iconographia, 1745.
Estimate:
€ 61,355 / $ 67,491
Sold:

€ 123,477 / $ 135,824
(incl. 15% surcharge)
Weinmann, J. W.,
Phytanthoza-lconographia, oder eigentliche Vorstellung etlicher Tausend, so wohl Einheimisch- als Ausländischer, aus allen vier Welt-Theilen, in Verlauf vieler Jahre, mit unermüdetem Fleiß gesammleter Pflantzen, Bäume, Stauden, Kräuter, Blumem, Früchten und Schwämme ... 4 Bde. Mit
gest. Frontispiz und 2 gest. Porträts (jew. Schabkunst in Blaudruck) sowie 1025 (15 gefalt.) Farbstichtafeln, tlw. koloriert und retuschiert
. Regensburg, H. Lenz und (Bd. IV:) H. G. Neubauer 17(35)-45. Ldr. d. Zt. über Holzdeckeln mit RSch. und reicher RVerg. sowie 2 Metall-Schließen. Folio.
Nissen 2126.-Pritzel 10140. - Coll. A. Plesch 806. - De Belder 392. - Hunt 494. - Sitwell/Blunt, Great Flower Books S. 151. -Erste Ausgabe. - Vollständiges und sehr gut erhaltenes Exemplar des prachtvollen barocken Pflanzen- und Blumenwerkes, geschaffen von J. J. Haid, J. E. Ridinger und B. Seutter, den bedeutendsten Stechern ihrer Zeit. "Wie hoch damals selbst in Botanikerkreisen dieses Werk geschätzt wurde, dessen über mehr als 10 Jahre sich erstreckendes regelmäßiges Fortschreiten von halbjährlich 50 Tafeln allein schon eine Seltenheit in der botanischen Literatur darstellt, davon zeugt, daß Burmann nicht nur mancherlei Bilder zugesteuert hat, sondern auch dessen Übersetzung ins Holländische auf sich nahm ... Um so beachtenswerter ist dagegen die Art der Wiedergabe: Handelt es sich hier doch um die erste botanische Verwendung des später sogenannten englischen Farbdrucks, und, was Deutschland anbelangt, auch fast alleinige." (Nissen S. 165f.) - "The work may be called the first successful botanical book using color-printed mezzotint" (Hunt). - Größe der blattgr. Tafeln ca. 38,2 : 24 cm, Plattengröße ca. 32,5 : 21, 5cm.-Etwa 18 Tafeln leicht gebräunt, 2 weitere mit geringfüg. Plattenschmutz und 1 gefalt. mit kl. Einriß im Falz. Deckel beschabt und Kapitale fachgerecht restauriert. Insgesamt wohlerhaltenes und schönes Exemplar mit Kupfern in farbfrischem Altkolorit.
143
Phytanthoza Iconographia, 1745.
Estimate:
€ 61,355 / $ 67,491
Sold:

€ 123,477 / $ 135,824
(incl. 15% surcharge)
Johann Wilhelm Weinmann - lots sold by Ketterer Kunst