Sale: 305 / Rare Books, Nov. 13./14. 2006

Lot 71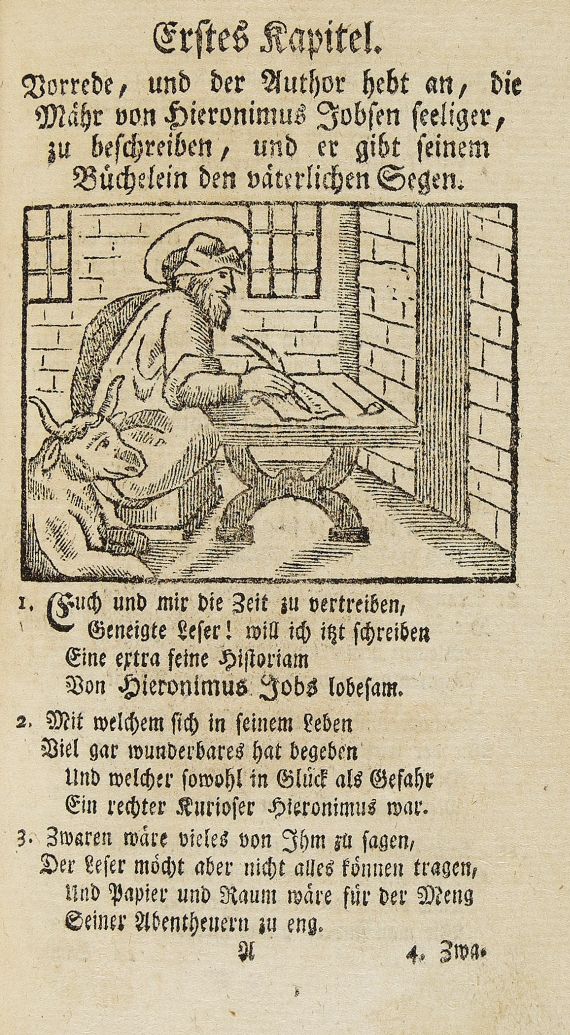 71
Leben Hieronimus Jobs. 1784.
Sold:

€ 1,309 / $ 1,387
(incl. 19% surcharge)
[Kortum, K. A.],
Leben, Meynungen und Thaten von Hieronimus Jobs dem Kandidaten und wie Er sich weiland viel Ruhm erwarb auch endlich als Nachtswächter zu Sulzburg starb. Mit
Holzschnitt-Frontispiz und 15 Textholzschnitten
(tlw. wdh.). Münster und Hamm, Ph. H. Perrenon 1784. Hellbrauner mod. Maroquinband mit VDeckelillustration. 8vo. 5 Bll., 164 S.
Goedeke IV/1, 638, 2a. - Borst 482. - Brieger 1474. - Rümann 548. - Vgl. Grisebach, Weltliteratur 1555. -
Erste Ausgabe, ausgesprochen selten.
- Die hier vorliegende, sehr rare Erstausgabe wurde aufgrund des großen Erfolges vom Autor später erweitert und erschien 1799 dann in insges. drei Teilen.
"Die Jobsiade, zuerst 1784 erschienen - also vor 150 Jahren -, gehört zu den wenigen Literaturwerken des 18. Jahrhunderts, die noch heute fleißig gelesen werden, nicht nur von geschichtlich Interessierten, sondern auch von solchen Leuten, welche ganz unbefangen genießen wollen. Dieser langdauernden Nachwirkung steht die Tatsache gegnüber, daß die Jobsiade geschichtslos ist: sie hat keine Vorgänger und keine Vorbilder. Komische Verserzählungen gab es zwar auch im Deutschen schon vor 1784, aber nichts in der Art der Jobsiade. Wie hier von Kortum die (an sich gar nicht so komischen) platten Alltags-Ereignisse und Alltags-Figuren nüchtern gesehen und in kunstvoll stolpernden Vierzeilern zur Anschauung gebracht werden, das ist in seiner Zusammenstimmung ganz einmalig und so zu einem eigenständigen Meisterwerk der Komik geworden." (O. Deneke in Philobiblon VII, 1934, S. 391f.) - Gutes und wohl erhaltenes Exemplar in einem schönen modernen Ledereinband, dessen VDeckelillustration einen der Holzschnitte des Textes wiedergibt.
Scarce first edition of this masterpiece of German comic literature. - Woodcut frontispiece and 15 (11 different) woodcuts in the text. Illustrated mod. leather binding.
71
Leben Hieronimus Jobs. 1784.
Sold:

€ 1,309 / $ 1,387
(incl. 19% surcharge)
Carl Arnold Kortum - lots sold by Ketterer Kunst