Sale: 305 / Rare Books, Nov. 13./14. 2006

Lot 2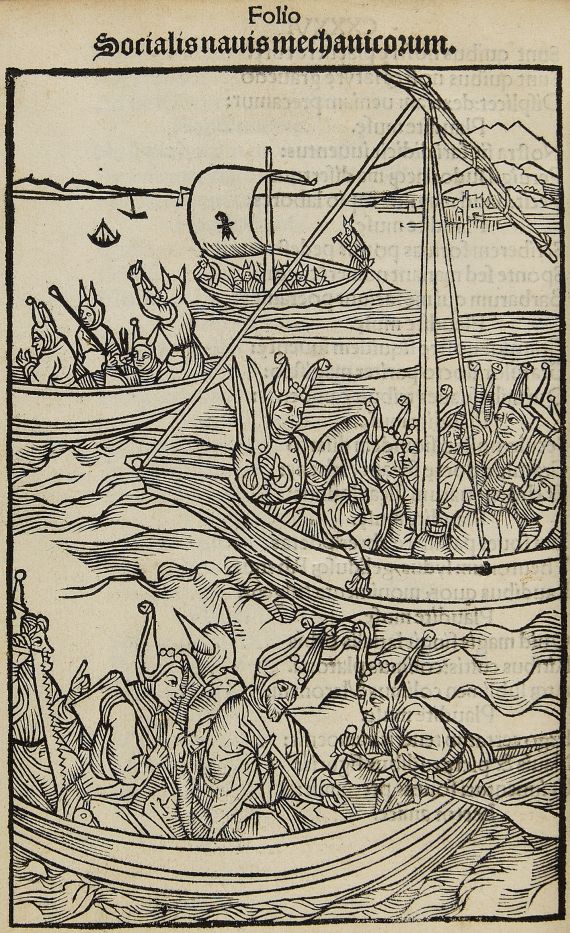 2
Stultifera navis. 1498.
Estimate:
€ 24,000 / $ 25,440
Sold:

€ 14,280 / $ 15,136
(incl. 19% surcharge)
Brant, S.,
Stultifera navis. Narragonice profectionis nuncq latis laudata navis ... Atqu(e) iam pride(m) per Iacobu(m) Locher, cognome(n)to Philomusum: Sueuu(m) in latinu(m) traducta eloquiu(m). Mit
119 Textholzschnitten
(5 wdh., 3 ganzseit.) und großer Holzschnitt-Druckermarke am Ende. Paris, [Georg Wolff für] Geoffroi de Marnef 8. März 1498. Ldr. des 18. Jhs. mit floraler RVerg. 4to. 152 röm. num., 4 nn. num. Bll.
GW 5064. - Hain/Cop. 3753. - Goff B-1092. - BMC VIII, 150. - Pellechet 2824. - Proctor 8381. - Schäfer 82. - Vgl. PMM 37. - Nicht bei Polain, in der BSB und bei Murray. - Die erweiterte Ausgabe von Brants
Narrenschiff
in der lateinischen Übersetzung von Jacob Locher, gedruckt von Georg Wolff für den Pariser Verleger Geoffroi de Marnef (für die schöne Druckermarke siehe Polain 135). Laut BMC handelt es sich um den Nachdruck einer der beiden Basler Ausgaben bei Bergmann de Olpe vom 1. Aug. 1497 oder vom 1. März 1498. Schäfer grenzt dies noch genauer ein: "Nachdruck der Basler Ausgabe vom 1.8.1497 und nicht der Lyoner des Sacon vom 28. Juni '1488', d. i. 1498". Mit den gleichen Illustrationen wie in der ein Jahr zuvor bei G. de Marnef und J. Philipp erschienenen Ausgabe, nur um 3 Stöcke vermehrt. Diese wiederum gehen auf die Holzschnitte der erweiterten Basler Serie von J. Bergmann (1. März 1497) zurück. - Die reich illustrierte Verssatire auf die Narrheiten und Schwächen des Menschen bildet das Hauptwerk Sebastian Brants und zählt zu den populärsten Büchern zum Beginn der Neuzeit. Es ist eines der ersten deutschen literarischen Werke, dessen Ruhm sich rasch in ganz Europa verbreitete. Dies ist nicht zuletzt den teilw. Dürer zugeschriebenen Illustrationen des deutschen Originals zu verdanken (vgl. zum Anteil der beteiligten Künstler ausführl. Fr. Winkler,
Dürer und die Illustrationen zum Narrenschiff
, S. 11ff.).
Zustand: 1 Bl. mit hinterl. Randeinriß, wenige Bll. im Seitensteg knapp beschnitten (dadurch 1 Holzschnitt mit Randabschnitt innerhalb der Einfassungslinie und einige gedruckte Randbemerkungen mit minim. Buchstabenverlust). Wenige Bll. gering fleckig. Rücken unter Verwendung des alten Materials erneuert. Insgesamt schöner sauberer Druck. - Mit dem Exlibris von William Howard of Hartley House (1774-1860) sowie 1 Exlibris von dem Schweizer Schriftsteller Guy de Pourtales (1881-1941).
The enlarged Latin edition of Brant's famous 'Narrenschiff', translated by Jacob Locher, printed by G. Wolff for the Parisien publisher Geoffroi de Marnef. With 119 (5 repeated) woodcuts in text, from the same blocks used in the edition by G. de Marnef und J. Philipp from 1497. "Reprint from one or other of the two original editions signed by Bergmann (de Older) at Basle on 1 August, 1497 and 1 March, 1498 respectively" (BMC). According to Schäfer Cat. a reprint of the Basler edition from 1 August 1497. The Lyoner edition by Sacon is printed after the present. - 1 l. with rebacked marginal tear, some ll. cropped close to the fore edge (1 woodcut cropped close in the border line, some printed marginal notes with slightly loss of letters). Some leaves slightly stained. Spine rebacked preserving odl spine. Otherwise a very good copy with strong impressions of the woodcuts. - Bookplate William Howard of Hartley House (1774-1860) and Guy de Pourtales (1881-1941).
2
Stultifera navis. 1498.
Estimate:
€ 24,000 / $ 25,440
Sold:

€ 14,280 / $ 15,136
(incl. 19% surcharge)
Sebastian Brant - lots sold by Ketterer Kunst